The Treason Show Season Finale Recap - The Friday AM Quickie 7/22/22
Donald Trump slamming the podium and refusing to admit he lost the election has real Bill O'Reilly "F it we'll do it live" energy. - Corey
Tell your friends to sign up for this M-F newsletter at AMQuickie.com!
---
THE BIG NEWS
The Treason Show Ep. 08: More Epic Tantrums
That season-ender was a banger! The last televised hearing by the House committee investigating Donald Trump's Jan. 6, 2021 coup attempt until September explained exactly what Trump was doing for nearly three hours as the armed and violent mob he had ordered to the Capitol sowed chaos and threatened lives. As you might imagine, he was sitting in a room watching Fox News. And as members of Congress and his own vice president ran for their lives, as his staff and children pleaded with him to end the violence and send his supporters home, he busied himself with Twitter posts riling up the crowd and calls to Senators asking them to delay the certification of the electoral college vote and back his coup. Some highlights (and more here from the Associated Press):
Committee chair Rep. Bennie Thompson, speaking in a recorded message on account of his Covid diagnosis, opened with what sounded like a call for criminal consequences for Trump and his accomplices. "There can be no doubt [Trump] commanded the mob. These facts have gone undisputed. There needs to be accountability. There needs to be accountability under the law. If there is no accountability" Thompson said, "I fear we will not overcome the ongoing threat to our democracy."
The two live witnesses -- Matthew Pottinger, a former deputy White House national security adviser, and Sarah Matthews, a former deputy press secretary and special assistant to president -- both resigned as a result of what they saw of the White House role in and response to the events of Jan. 6. Both supported videotaped testimony from other former White House staff establishing that Trump made no effort to order the military or law enforcement to restore order at the Capitol, resisted appeals from staff and his own children to put out a statement calling for peace and asking the mob to retreat, and spoke favorably of threats of violence directed toward his own vice president, Mike Pence, for refusing to go along with the coup. The committee also introduced a new anonymous witness, a White House national security employee, who confirmed White House officials were aware of armed threats within the crowd.
An instant comedy classic security video showed Republican Sen. Josh Hawley of Missouri running away from the Capitol shortly after raising a supportive fist at insurrectionists from the safety of a security cordon. As the clip went viral, Hawley ran crying to Fox News.
Text messages between Donald Trump Jr. and White House chief of staff (and coup plotter) Mark Meadows showed Jr. saying his dad has "got to condemn this shit asap," Meadows agreeing, and then Jr. wrapping up the conversation by apparently bungling a Godfather reference.
The national security whistleblower testified that Secret Service agents assigned to Mike Pence feared for their lives during the Capitol attack and even called their families to say their last goodbyes.
Raw footage of statements Trump intended to make on Jan. 6 show him repeatedly slamming the podium in frustration, refusing to concede that he lost the election, and insisting that "my only goal was to ensure the integrity of the vote." In one cutting room floor take, Trump said "We had an election that was stolen from us. It was a landslide election amd everyone knows it. But now you have to go home. This was a fraudulent election, but we can't play onto the hands of these people. We have to have peace." He insisted the word "peace" be removed from other statements staff wanted to post to Twitter.
Former Trump adviser Steve Bannon said on tape before the 2020 election that "Trump is going to declare himself the winner. That doesn't mean he's the winner. ... That's our strategy. ... If Biden is winning, Trump is gonna do some crazy sh*t."
Finally, some related news:
---
MORE STORIES TO WATCH
Biden Caught the 'Rona
Remember a couple of weeks ago when I warned you all not work through a coronavirus infection because it increased the risk of Long Covid? Well, somebody who has President Joe Biden's personal email address needs to sign him up for this newsletter, because the dude has tested positive for Covid-19 and is, in his own words, "Keeping busy!" (or as his staff puts it, isolating at the White House and "continu[ing] to carry out all of his duties fully.") The twice-boosted Biden is said to be experiencing "mild symptoms" like a runny nose and will be treated with the antiviral drug Paxlovid. The positive test result did prompt Biden to cancel a planned visit to Pennsylvania to announce a plan to spend $13 billion to help cities and towns hire 100,000 additional cops nationwide, so the silver lining here is, maybe he'll just forget he ever intended to do that.
Ukraine Update: Pelosi Prods Blinken to Drop the T-Word
Central Intelligence Agency director Bill Burns told an audience at the Aspen Security Forum in Colorado yesterday that the agency has not been able to substantiate rumors and speculation about ill health afflicting Aspiring Tsar Vladimir Putin, saying "as far as we can tell he's entirely too healthy." At the same venue, U.S. Air Force Chief of Staff Gen. Charles Brown Jr., "considered a contender to succeed Gen. Mark Milley as chairman of the Joint Chiefs of Staff," suggested to NBC News that even if Russia uses nuclear weapons in Ukraine, the U.S. may not respond using its own nukes, because "the goal is not to get into a conflict broader than the conflict that's already going on today and definitely not into a nuclear conflict." Politico reports that House Speaker Nancy Pelosi told Secretary of State Anthony Blinken that if he didn't name Russia a state sponsor of terrorism, Congress would, a step deemed rather too hawkish and risky by the Atlantic Council. Meanwhile, Russia resumed gas supplies to and through Germany at an estimated 40 percent of the usual quantity, which experts warned is not enough to prevent an energy crisis in Europe this winter. And finally, Russia is reportedly planning sham referendums to legitimize its annexation of Ukrainian territory in the east and south as early as September.
---
Quickest Quickies
---
SOME NUMBER
$2.8 billion
That has been the daily profit of the oil and gas industry for the last 50 years, enough to "buy every politician, every system," according to a new analysis by University of Antwerp economist Aviel Verbruggen, who previously served as lead author of a report by the Intergovernmental Panel on Climate Change.
---
ON THE SHOW TODAY
7/22: It's Casual Friday! Sam and Emma host Jamelle Bouie, opinion columnist at the New York Times and co-host of the Unclear and Present Danger podcast, to discuss his recent piece "Joe Manchin Is a Symptom, but It's the Senate That's Sick."
---
Don't Miss MR Clips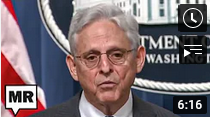 How Bad Is AG Merrick Garland at His Job? Pretty crazy that the Justice Department has been surprised by Jan. 6 committee revelations!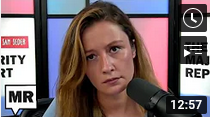 Debating a 'Liberal Republican' Who Swears He's Not a Democrat We all know someone like Miguel from Texas who keeps kidding themselves, don't we?
---
PARTING WORDS
"It's insulting that he didn't get the maximum amount of time. If it was me and that was accessory to murder, they would've gave me the maximum amount of time. And you're a police officer who was sworn to protect, who took an oath..."
-- Philonise Floyd, one of George's brothers, responding yesterday to the 2.5-year prison sentence handed down to former Minneapolis cop Thomas Lane, who held down George's legs while Derek Chauvin crushed his windpipe with his knee. Judge Paul Magnuson called Lane a man of "outstanding character."
---
Quickie Discount Code Corner
Hey check it out! Stuff on sale!
LATEST ADDITIONS!
Established Titles: Get an amazing gift for your dad this Father's Day! Go to https://establishedtitles.com/majority and get 10% off today.
Vessi: Go to https://vessi.com/majority and use code MAJORITY for $25 off each pair of adult Vessi shoes! Free shipping to US, CA, AUS, NZ, JP, TW, KR, SGP
ALL THE REST!
ExpressVPN: Secure your online data TODAY by visiting this link. That's https://www.expressvpn.com/majority and you can get an extra three months FREE.
Fast Growing Trees: Go to this link right now, and you'll get FIFTEEN PERCENT OFF your entire order.
Ritual: Get key nutrients without the B.S. Ritual is offering our listeners 10% off during your first three months. Visit here to start your Ritual today.
Aura: Protect yourself from America's fastest-growing crime. Try Aura for 14 days for free: https://aura.com/majority
Quip: If you go to this link RIGHT NOW, you'll get your first refill FREE.
Shopify: Go to this link here for a FREE fourteen-day trial and get full access to Shopify's entire suite of features.
LiquidIV: You can get 25% off when you go to liquidiv.com and use code MAJORITYREP at checkout.
Stamps.com: Start mailing and shipping with stamps.com, and keep more money in your pocket every day. Sign up with promo code MAJORITYREPORT for a special offer that includes a 4-week trial, plus free postage and a digital scale.
ZipRecruiter: Find the right employees for your workplace with ZipRecruiter. Try it FOR FREE at this exclusive web address.
Nutrafol: For FIFTEEN DOLLARS OFF go to https://nutrafol.com/men/ with promo code MAJORITY.
Outer: See the difference at go.liveouter.com/MAJORITY. Plus, for a limited time, get $300 off and FREE shipping.
Sunset Lake CBD: Visit sunsetlakecbd.com.
Grove: Go to this link here today to get a free gift set worth up to fifty dollars with your first order. Plus, shipping is fast and FREE.
Headspace: Try this link, with discount code MAJORITY and get one month FREE of their entire mindfulness library.
StartMail: Start securing your email privacy with StartMail. Sign up today and you'll get 50% off your first year! Go to this link here for our special promotion!.
CozyEarth: Go to this link here and enter the special promo code MAJORITY at checkout to SAVE thirty-five percent now.https://www.youtube.com/watch?v=fyOocF3wW8I