Doctors Warn Working Through Covid Is Dangerous - The Friday AM Quickie 7/8/22
Here's a weird one: Someone tried to blow up a monument in Georgia that right-wing conspiracy theorists thought played a part in a Satanic plot of some kind, but whoever did the deed only managed to blow up part of the monument. Then, "for safety reasons," police immediately demolished what was left. I guess they collected all the evidence they needed from the crime scene, and it wasn't worth taking chances where Luciferian influence is concerned. - Corey
Tell your friends to sign up for this M-F newsletter at AMQuickie.com!
---
THE BIG NEWS
Former Japanese Prime Minister Shinzo Abe Shot
The apparent assassination attempt took place as the right-wing leader was giving a campaign speech. Japanese public broadcaster NHK reported, via the Associated Press, that Abe had suffered heart failure but as of this writing there was no official pronouncement of his death. A man in his 40s was arrested.
Please Don't Try to "Power Through" Covid
Jack mentioned the other day that omicron BA.5 is now the dominant Covid-19 variant in the United States. Here is some reporting from the New York Times about what that means. One of the most important things to know is that immunity from prior infection appears to be less effective in warding off these omicron subvariants, which are said to be "highly immune-evasive." Bottom line, there's another wave underway and most people aren't really hearing about it or taking it seriously, and that's making things worse in every respect. Cases and hospitalizations are rising again; per the Times, "the share of tests that come back positive is shooting upward and is now higher than during most other waves of the pandemic."
We like to do some service journalism here at the Quickie, which is why I'm passing along this Los Angeles Times story about another concerning pandemic trend. It opens by naming a number of public officials who should know better -- including federal coronavirus czar Anthony Fauci -- who, after testing positive for Covid, stated their intention to continue working through their infection. This is obnoxious office martyr behavior for sure, but it also sets a dangerous example. The more extra stress and exertion you endure during infection, the sicker you'll be -- and with this disease, the consequence could be permanent and disabling. Don't take it from me! Listen to the experts:
The public messages from prominent officials saying they'll keep working from home are "minimizing the risk of long COVID and encouraging others to think, 'If I have the virus, I can just push through it,'" said David Putrino, director of rehabilitation innovation for the Mount Sinai Health System.
Long COVID occurs when symptoms persist for months or longer beyond an initial infection. So far, data tracking rest and COVID outcomes are sparse, "but point us towards the idea that individuals who did not adequately rest had a higher incidence of persistent symptoms," Putrino said.
Got that? Don't try to work through Covid! Another doctor says "at a minimum, you really should unplug for three to five days."
At the start of the pandemic, when governments were at least pretending to take the threat to public health and welfare seriously, this advice would have seemed obvious. Instead we have "a growing notion that Covid is now a part of everyday life" and therefore an illness that can be safely ignored -- which sadly feels like yet another triumph for the people who write Republican talking points. Of course a huge part of the problem here, as the LA Times notes, is that "sick leave is not guaranteed for many hourly workers, and taking even a day off can be an economic blow to their households." Democrats could have used the pandemic to champion workers' rights and point out how many evil bosses belong to the Republican Party. Instead, well, here we are, reminding sick people that it's necessary to actually get some rest, despite all the pressures they face from a capitalist system that will grind their bodies down and bury them without a second thought.
---
MORE STORIES TO WATCH
BoJo Is (Almost) No Mo'
In a move almost perfectly timed to coincide with the delivery of yesterday's newsletter saying he had vowed not to resign, British Prime Minister Boris Johnson yesterday announced that he would step down after all, blaming "the herd" for turning against him and saying "them's the breaks." True to form, the announcement came with the caveat that BoJo won't actually step down until the Conservative Party chooses his successor -- and the leading candidates are a truly miserable bunch, which is to say, a representative selection of Tories. Johnson has promised not to enact any major new policies during this lame-duck period. That should come as a relief, seeing as the last major policy he adopted was a cruel and twisted scheme to deport asylum-seekers to Rwanda, supposedly as a cost-saving measure. The British press is speculating that the real reason for Johnson's delayed departure is that he has a party planned for the end of the month at the prime ministerial retreat, and invitations have already been posted. I've been looking forward to writing BoJo's political obituary for a long time, but this ain't it; today, I can only think Johnson is lucky that he won't be prime minister when Scotland votes to separate from the United Kingdom next year, once again avoiding the consequences of his actions (namely, advocating for Brexit, and the slow-motion dissolution of the country that it made almost inevitable).
IRS Defends Suspicious Audits of Trump Enemies
Donald Trump named Beverly Hills tax attorney Charles Rettig to head the Internal Revenue Service in 2018 and, since President Joe Biden decided to keep him on board, his term expires in November. There will be a lot of questions for Rettig between now and then. The New York Times reports that former Federal Bureau of Investigation director James Comey and his deputy, Andrew McCabe, were both selected for intensive IRS audits after provoking Trump's anger. The odds of this happening randomly, which the agency insists is what happened, are really very low. "For two guys who are enemies of President Trump to be selected together, although in different years, would have to be viewed as unusual," former IRS commissioner John Koskinen tells the Washington Post. For what it's worth, Comey's audit found that he and his wife had overpaid their taxes, and they got a $347 refund, which didn't cover the accountants' fees they incurred.
---
Quickest Quickies
---
SOME NUMBER
19
That's how many months the FBI waited to contact David George Hannon of Florida after being notified that he sent death threats to Squad Reps. Ilhan Omar of Minnesota, Alexandria Ocasio-Cortez of New York, Ayanna Pressley of Massachusetts and Rashida Tlaib of Michigan. Hannon was sentenced yesterday to three years probation and a $7,000 fine. He told the judge he was "very, very sorry" and his daughter said he made the threats "because Trump told him to."
---
ON THE SHOW TODAY
7/8: It's Casual Friday! Sam and Emma host Alex Pareene, Contributing Editor at The New Republic and proprietor of the AP newsletter on Substack, to round up the week in news. Then Sam and Emma are joined by comedian Lizz Winstead, co-host of the Feminist Buzzkills Live! podcast.
---
Don't Miss MR Clips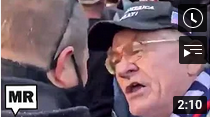 Confused Old Trumper Unloads on Young MAGA Supporters He Thinks Are Antifa
"Antifa! This MF'er is antifa!" -- an instant classic.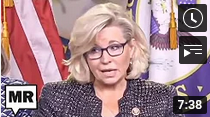 Democrats Should Not Trust Liz Cheney
Continuing with today's theme of making what should be obvious absolutely clear.
---
PARTING WORDS
"Chad Meredith should not be nominated to a lifetime judgeship. This is unacceptable at any time, but especially on the heels of six Supreme Court justices taking away a fundamental right from millions of people."
-- The National Women's Law Center, NARAL, Planned Parenthood and other groups, in a statement calling on President Joe Biden to drop his pick for a federal judgeship in Kentucky. Meredith, whose views are likened to those of far-right extremist Supreme Court Justice Clarence Thomas, was reportedly selected by Biden as part of a half-baked deal with Senate Majority Leader Mitch McConnell, outraging Kentucky Democrats and supporters of abortion rights nationwide.
---
Quickie Discount Code Corner
Hey check it out! Stuff on sale!
LATEST ADDITIONS!
Established Titles: Get an amazing gift for your dad this Father's Day! Go to https://establishedtitles.com/majority and get 10% off today.
Vessi: Go to https://vessi.com/majority and use code MAJORITY for $25 off each pair of adult Vessi shoes! Free shipping to US, CA, AUS, NZ, JP, TW, KR, SGP
ALL THE REST!
ExpressVPN: Secure your online data TODAY by visiting this link. That's https://www.expressvpn.com/majority and you can get an extra three months FREE.
Fast Growing Trees: Go to this link right now, and you'll get FIFTEEN PERCENT OFF your entire order.
Ritual: Get key nutrients without the B.S. Ritual is offering our listeners 10% off during your first three months. Visit here to start your Ritual today.
Aura: Protect yourself from America's fastest-growing crime. Try Aura for 14 days for free: https://aura.com/majority
Quip: If you go to this link RIGHT NOW, you'll get your first refill FREE.
Shopify: Go to this link here for a FREE fourteen-day trial and get full access to Shopify's entire suite of features.
LiquidIV: You can get 25% off when you go to liquidiv.com and use code MAJORITYREP at checkout.
Stamps.com: Start mailing and shipping with stamps.com, and keep more money in your pocket every day. Sign up with promo code MAJORITYREPORT for a special offer that includes a 4-week trial, plus free postage and a digital scale.
ZipRecruiter: Find the right employees for your workplace with ZipRecruiter. Try it FOR FREE at this exclusive web address.
Nutrafol: For FIFTEEN DOLLARS OFF go to https://nutrafol.com/men/ with promo code MAJORITY.
Outer: See the difference at go.liveouter.com/MAJORITY. Plus, for a limited time, get $300 off and FREE shipping.
Sunset Lake CBD: Visit sunsetlakecbd.com.
Grove: Go to this link here today to get a free gift set worth up to fifty dollars with your first order. Plus, shipping is fast and FREE.
Headspace: Try this link, with discount code MAJORITY and get one month FREE of their entire mindfulness library.
StartMail: Start securing your email privacy with StartMail. Sign up today and you'll get 50% off your first year! Go to this link here for our special promotion!.
CozyEarth: Go to this link here and enter the special promo code MAJORITY at checkout to SAVE thirty-five percent now.https://www.youtube.com/watch?v=fyOocF3wW8I
Democrats Should Not Trust Liz Cheney
Continuing with today's theme of stating what should be obvious.