Will Newsom Primary Biden in 2024? - The Thursday AM Quickie 7/7/22
I lived in the United Kingdom for quite a while and I don't pretend to understand what gets people there worked up. It took me several years to figure out that small talk with strangers must pertain to the weather, otherwise it's perceived as vaguely threatening. Talk about the weather, and suddenly everybody's your friend. - Corey
Tell your friends to sign up for this M-F newsletter at AMQuickie.com!
---
THE BIG NEWS
What Biden Has in Common with BoJo
Well, his party is abandoning him, but British Prime Minister Boris Johnson is still refusing to resign. When Jack checked in the other night, 10 of his cabinet members and ministers had resigned in an effort force his ouster and let the Conservative Party choose a new leader. As of this writing, that number is up to 39, and the BBC has been doing its best to keep a live running tally of all the officials who've bailed from the sputtering BoJo train as it chugs toward its inevitable end. "Frankly," Johnson said, by way of explaining his continued presence in public, "the job of the prime minister in difficult circumstances, when he's been handed a colossal mandate, is to keep going. And that's what I'm going to do."
In yesterday's especially lively Prime Minister's Questions session, Labour Party members shouted at Johnson to "go! go!" and yelled "Bye, Boris!" as he left the chambers. And this is what Johnson has most in common with President Joe Biden: he can't read the room, even when everyone in that room is shouting at him. Johnson has warned that it would be "chaos" if he leaves office due to his massive unpopularity, but clearly he is the chaos. Even elected Tories increasingly admit that "we no longer have a functioning government in place."
Relatable! Am I right, fellow Americans? As Biden's presidency demonstrates, you don't need to be mired in constant petty and lurid scandals to lose the confidence of the public and your own voters. The latest polling has him at around 36 percent approval, the lowest point yet in his presidency. With the midterms upon us and fascism on the march, it's probably past time to stop asking when and how Biden will turn his White House around. Indeed, some Democrats are clearly tired of waiting.
California Gov. Gavin Newsom recently spent more than $100,000 in campaign funds to buy airtime on Fox News in Florida to run an ad dissing his East Coast Republican counterpart, Gov. Ron DeSantis. Why would he do that? According to Newsom's campaign spokesman, it's because "Governor Newsom believes now is not the time for Democrats to roll over and accept defeat. Now is the time for Democrats to fight." However, as Politico reports, Newsom's aides are still "dutifully reject[ing] the notion that the ongoing feud with Republicans and recent ad in Florida was a warm-up for a presidential run." The denial is a charade. Newsom wouldn't have spent the money if he didn't want people to talk about him running for president.
Another Democratic governor, J.B. Pritzker of Illinois, is also being talked about as a potential 2024 presidential contender -- especially after his "furious" response to the Highland Park shooting, which made Biden's vague comments look by contrast even more mumbly and out-of-touch than usual. Vice President Kamala Harris must also be considered a contender, but don't forget she's also part of the reason Biden's administration is widely seen as so utterly useless. Witness her comments on visiting Highland Park: "we have to take this stuff seriously." Which was actually arguably even worse than Biden's almost pathetic plea, given his position, that "We've got to get this under control. We've got to get this under control."
Personally, I think there are better candidates than the Newsom, who is far too cozy with the rich. But Newsom is very clever to make himself known as a contender while other ambitious Democrats are waiting for some kind of signal from Biden, who is so aloof these days it makes you wonder how he got to be known as Mr. Empathy. That said, Biden should make his intentions clear regarding 2024, and he should do it soon. Between the Supreme Court and the shootings, not to mention everything else America is dealing with, we don't need any politician desperately clinging to power Boris-style, all the while pretending it's for the good of the country.
---
MORE STORIES TO WATCH
July 4 Shooter's Dad Helped Him Get a Gun After Threats
An Illinois judge ordered the accused Highland Park shooter, 21-year-old Robert Crimo III, held without bail yesterday, and prosecutors said he confessed in detail to the attack on an Independence Day parade that left at least seven people dead and dozens injured. His motives remain unclear, but state police confirmed that Crimo's father had sponsored his application for a gun license even after another relative warned police that the young man had in 2019 "said he was going to kill everyone." Separately, a new Texas law enforcement report contains new details about the bungled response to the Uvalde elementary school massacre, including a number of missed opportunities police had to take down the shooter; in one case, an officer declined to shoot the gunman outside the building because he was waiting for a supervisor's permission. Seriously, since when do American cops wait for permission to shoot somebody?
Trump White House Lawyer Will Testify to Jan. 6 Committee
Former White House counsel Pat Cipollone will reportedly provide testimony tomorrow morning to the House committee investigating his old boss Donald Trump's Jan. 6, 2021 coup attempt. Readers may remember that Cipollone made a scene-stealing secondhand cameo in the last episode of the Treason Show, when it emerged that he had warned White House staff "we're going to get charged with every crime imaginable" because of the plot. The Washington Post describes him as a "cigar smoker with deep ties in the Federalist Society" who "never agreed with Trump's claims that the election was stolen" and "argued against broadly distributed pardons" after Jan. 6. So maybe he'll dish! Separately, lawyers for Republican Sen. Lindsey Graham of South Carolina will challenge a subpoena from a Fulton County, Georgia grand jury that's part of a separate investigation of Jan. 6, which Jack covered yesterday.
---
Quickest Quickies
---
SOME NUMBER
150 million
That's how may more people around the world were suffering chronic undernourishment at the end of last year as compared to before the pandemic, according to new United Nations figures. The estimated 828 million people going hungry represent more than 10 percent of the total human population, and the war in Ukraine is making the problem worse.
---
ON THE SHOW TODAY
7/7: Emma hosts Matt Huber, professor of geography at Syracuse University, to discuss his recent book "Climate Change as Class War: Building Socialism on a Warming Planet."
---
Don't Miss MR Clips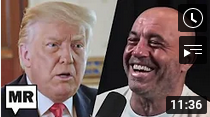 Joe Rogan Claims Trump Is Not Welcome on His Podcast
Sam breaks down Rogan's hypocrisy nicely.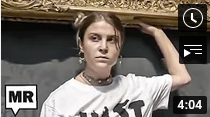 Climate Activists Glue Their Hands to Famous Paintings Across UK in Protest
They definitely got my attention!
---
PARTING WORDS
"We refuse to watch a member of Congress play baseball while the world burns."
-- Jamie DeMarco, federal policy director for Chesapeake Climate Action Network, speaking to the Washington Post about plans by environmental groups to protest the annual bipartisan Congressional Baseball Game, scheduled for July 28. Organizers are particularly frustrated with the Democrats they helped elect and say "there will be a component of direct action for activists who are willing to risk arrest."
---
Quickie Discount Code Corner
Hey check it out! Stuff on sale!
LATEST ADDITIONS!
Established Titles: Get an amazing gift for your dad this Father's Day! Go to https://establishedtitles.com/majority and get 10% off today.
Vessi: Go to https://vessi.com/majority and use code MAJORITY for $25 off each pair of adult Vessi shoes! Free shipping to US, CA, AUS, NZ, JP, TW, KR, SGP
ALL THE REST!
ExpressVPN: Secure your online data TODAY by visiting this link. That's https://www.expressvpn.com/majority and you can get an extra three months FREE.
Fast Growing Trees: Go to this link right now, and you'll get FIFTEEN PERCENT OFF your entire order.
Ritual: Get key nutrients without the B.S. Ritual is offering our listeners 10% off during your first three months. Visit here to start your Ritual today.
Aura: Protect yourself from America's fastest-growing crime. Try Aura for 14 days for free: https://aura.com/majority
Quip: If you go to this link RIGHT NOW, you'll get your first refill FREE.
Shopify: Go to this link here for a FREE fourteen-day trial and get full access to Shopify's entire suite of features.
LiquidIV: You can get 25% off when you go to liquidiv.com and use code MAJORITYREP at checkout.
Stamps.com: Start mailing and shipping with stamps.com, and keep more money in your pocket every day. Sign up with promo code MAJORITYREPORT for a special offer that includes a 4-week trial, plus free postage and a digital scale.
ZipRecruiter: Find the right employees for your workplace with ZipRecruiter. Try it FOR FREE at this exclusive web address.
Nutrafol: For FIFTEEN DOLLARS OFF go to https://nutrafol.com/men/ with promo code MAJORITY.
Outer: See the difference at go.liveouter.com/MAJORITY. Plus, for a limited time, get $300 off and FREE shipping.
Sunset Lake CBD: Visit sunsetlakecbd.com.
Grove: Go to this link here today to get a free gift set worth up to fifty dollars with your first order. Plus, shipping is fast and FREE.
Headspace: Try this link, with discount code MAJORITY and get one month FREE of their entire mindfulness library.
StartMail: Start securing your email privacy with StartMail. Sign up today and you'll get 50% off your first year! Go to this link here for our special promotion!.
CozyEarth: Go to this link here and enter the special promo code MAJORITY at checkout to SAVE thirty-five percent now.