What's Up With "Sloppy Steve" Bannon's Gross Courtroom Attire? - The Thursday AM Quickie 7/21/22
I really appreciated all the tributes to Michael Brooks yesterday on MR and elsewhere online. Like many of you I still feel his loss, and I think often how lucky I am to have called him a friend. - Corey
Tell your friends to sign up for this M-F newsletter at AMQuickie.com!
---
THE BIG NEWS
Senators Want to Make Clear the Veep Doesn't Decide Elections
There's another episode of The Treason Show airing tonight in prime time -- specifically, at 8 p.m. Eastern -- and I'll be here to recap it for you tomorrow. In case you need a refresher on what we've learned so far thanks to the The House select committee investigating Donald Trump's Jan. 6, 2021 coup attempt, the Washington Post has woven recent testimony and evidence into a digestible narrative about how Trump's actions set the stage for violence. And there's a bunch of related news from yesterday to get caught up on prior to tonight's hearing.
---
MORE STORIES TO WATCH
The Climate Emergency Remains Undeclared for Now
The heatwave in Europe is receding, after killing more than 1,000 people, but now it's America's turn. More than 105 million people in 28 states are under excessive heat warnings. Temparatures in Magnum, Oklahoma hit 115 degrees Farenheit as a heat dome formed over the country from the central states to the Northeast, where temperatures aren't expected to peak until this weekend. In Britain, the extreme heat is prompting calls for the government to actually do something to cut greenhouse gas emissions, as critics describe the ruling Tories as being "out of touch with reality" regarding climate change and its consequences. In the U.S., President Joe Biden responded to the gutting of his climate agenda by West Virginia coal baron Sen. Joe Manchin III by announcing federal aid to communities affected by extreme heat, and a program to boost offshore wind energy. He is reportedly still dithering about whether to declare a climate emergency, even though he used that phrase in remarks yesterday. Oh, and the federal office that deals with the health effects of climate change has no money.
Ukraine Update: First Lady Appeals for More Weapons
Russian Foreign Minister Sergey Lavrov yesterday announced that the country's war aims include southern Ukraine in addition to the eastern provinces of Donetsk and Luhansk it already seeks to annex; these provinces would create a link to Crimea, which Russia annexed in 2014, and the Black Sea. In Kherson, one of the occupied cities Russia wants to absorb, Ukrainian forces used American-supplied artillery to strike a bridge that was vital to the occupiers' supply lines, although it remains unclear whether a full counteroffensive is in the works. Ukraine's first lady, Olena Zelenska, was in Washington, D.C. yesterday to ask Congress for more weapons. Finally, the Associated Press offers a detailed look at the terrifying bureaucracy of mass deportation and "filtration" that has moved up to 2 million Ukrainians to unfamiliar places deep inside Russia; many have since fled with the help of an underground network of Russians opposed to the war.
---
Quickest Quickies
---
SOME NUMBER
50 cents
That's how big of a wage increase Kimberly Lane has received after two years of working at an Amazon warehouse, bringing her compensation to $15.70 an hour. The low pay led Lane to join a local organizing committee for the independent Amazon Labor Union, which is now seeking an election at the Albany, New York warehouse where she works.
---
ON THE SHOW TODAY
7/21: Emma is joined by Paris Marx, host of the Tech Won't Save Us podcast, to discuss their recent book Road to Nowhere: What Silicon Valley Gets Wrong About the Future of Transportation.
---
Don't Miss MR Clips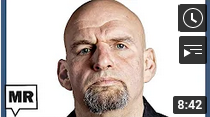 Likely U.S. Voters Favor Democrats in 2022 Midterm Elections, Polling Shows For instance, John Fetterman is way up on Dr. Oz and it's no mystery why.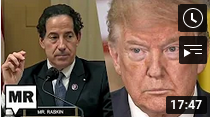 Jan. 6 Hearings Could Push Trump to Announce Presidential Run Early Which many think would be good for Democrats in the midterms.
---
PARTING WORDS
"If anything, I want to be just a true Confederate."
-- Michael Peroutka, the former League of the South board member nominated this week as the Republican candidate for attorney general in Maryland, explaining why he doesn't like the term "neo-Confederate."
---
Quickie Discount Code Corner
Hey check it out! Stuff on sale!
LATEST ADDITIONS!
Established Titles: Get an amazing gift for your dad this Father's Day! Go to https://establishedtitles.com/majority and get 10% off today.
Vessi: Go to https://vessi.com/majority and use code MAJORITY for $25 off each pair of adult Vessi shoes! Free shipping to US, CA, AUS, NZ, JP, TW, KR, SGP
ALL THE REST!
ExpressVPN: Secure your online data TODAY by visiting this link. That's https://www.expressvpn.com/majority and you can get an extra three months FREE.
Fast Growing Trees: Go to this link right now, and you'll get FIFTEEN PERCENT OFF your entire order.
Ritual: Get key nutrients without the B.S. Ritual is offering our listeners 10% off during your first three months. Visit here to start your Ritual today.
Aura: Protect yourself from America's fastest-growing crime. Try Aura for 14 days for free: https://aura.com/majority
Quip: If you go to this link RIGHT NOW, you'll get your first refill FREE.
Shopify: Go to this link here for a FREE fourteen-day trial and get full access to Shopify's entire suite of features.
LiquidIV: You can get 25% off when you go to liquidiv.com and use code MAJORITYREP at checkout.
Stamps.com: Start mailing and shipping with stamps.com, and keep more money in your pocket every day. Sign up with promo code MAJORITYREPORT for a special offer that includes a 4-week trial, plus free postage and a digital scale.
ZipRecruiter: Find the right employees for your workplace with ZipRecruiter. Try it FOR FREE at this exclusive web address.
Nutrafol: For FIFTEEN DOLLARS OFF go to https://nutrafol.com/men/ with promo code MAJORITY.
Outer: See the difference at go.liveouter.com/MAJORITY. Plus, for a limited time, get $300 off and FREE shipping.
Sunset Lake CBD: Visit sunsetlakecbd.com.
Grove: Go to this link here today to get a free gift set worth up to fifty dollars with your first order. Plus, shipping is fast and FREE.
Headspace: Try this link, with discount code MAJORITY and get one month FREE of their entire mindfulness library.
StartMail: Start securing your email privacy with StartMail. Sign up today and you'll get 50% off your first year! Go to this link here for our special promotion!.
CozyEarth: Go to this link here and enter the special promo code MAJORITY at checkout to SAVE thirty-five percent now.https://www.youtube.com/watch?v=fyOocF3wW8I