What to Expect from Tonight's Hearing - The Thursday AM Quickie 6/9/22
Sorry this is late today, I forgot to click a button. - Corey
Tell your friends to sign up for this M-F newsletter at AMQuickie.com!
---
THE BIG NEWS
New Variants Spreading Fast, But U.S. Has No New Funds for Vaccine Development
Is it over? Nope. Still nope. Two new omicron subvariants are spreading rapidly in the U.S. and the latest data from the Centers for Disease Control and Prevention shows they comprise an increasing share of cases. Not much is known about the new variants, BA.4 and BA.5, except they seem to spread even more easily than old-fashioned omicron and, as the New York Times reports, "may be better at dodging the immune system's defenses" -- although it's still unclear whether that translates to more severe disease. Nationwide counts of daily new coronavirus cases have tripled since March, and they still significantly underestimate the spread since the authorities have pretty much stopped trying to get people tested.
A World Health Organization report released yesterday says Covid-19 case numbers and deaths are declining almost everywhere in the world, although the figures are dependent on what each country is doing, or not doing, to test, track, and report new cases. Director-General Tedros Adhanom Ghebreyesus called the apparent trend "very encouraging" even as he warned people not to get the idea the pandemic is over. "A new and even more dangerous variant could emerge at any time, and vast numbers of people remain unprotected," he said.
About that: the White House said yesterday that it's taking $10 billion in allocated funds originally intended for coronavirus testing and protective gear for frontline health workers and putting it toward purchasing vaccines and antiviral treatments for Americans ahead of expected waves of cases in the fall and winter. The diversion of funds means that the Department of Health and Human Services won't have sufficient stockpiles of protective gear and won't be investing in research for vaccines to deal with new variants like those that we just told you about. Why is the White House doing this? Because Congress declined to approve the Biden administration's last request for emergency pandemic aid. Funding also ran out months ago to cover pandemic testing, vaccination, and treatment for uninsured Americans, even though a new survey by Politico found "nearly 60 percent of U.S. adults said continuing such programs is 'extremely' or 'very' important, compared to just 9 percent who said it was 'not important at all.'"
It might be easier to accept all this if you just give up on the idea that the government exists to serve the popular will, protect people from harm, or really do anything but funnel your money up the chain to corporations and oligarchs. Something to think about as you go about your workday!
MORE STORIES TO WATCH
Proud Boys Filmmaker, Capitol Cop to Testify in Jan. 6 TV Hearing Tonight
As a reminder, the first televised hearings by the U.S. House Select Committee to Investigate the Jan. 6th Attack on the United States Capitol kick off tonight at 8 pm Easter time on all major networks (minus Fox), but personally I like C-SPAN for these types of things. The first witnesses will include police who fought with the Trumpist mob, including Capitol Police officer Caroline Edwards, who suffered a severe injury. Documentary filmmaker Nick Quested, who was following some Proud Boys (now charged with sedition for their role in the plot), will also testify. Ahead of the hearings, a federal judge ordered Donald Trump's weirdo lawyer John Eastman to hand over another big batch of documents to commitee investigators; as Politico reports, the documents concern "meetings Eastman held with a secretive pro-Trump group that included a 'high-profile' leader discussing strategies for overturning the 2020 election." The documents include communications directly from Trump and also implicate at least one sitting member of Congress in the failed coup plot. Will these hearings make it more likely any of these criminals suffer consequences? Hard to say. Is it still important to know what happened? Of the utmost.
Primary Updates: Runoffs Abound
A lot of people were foolishly (in my view) drawing sweeping conclusions yesterday from California's very low-turnout primary and saying the recall of a progressive prosecutor in San Francisco meant Democrats were spurning the left. That's nonsense. Here's a smarter take about what the Chesa Boudin recall means for criminal justice reform. But the election will certainly have consequences. As the Associated Press reports, control of the Congress could depend on the outcome of House races in California; among them, Democrat Christy Smith will get a rematch in November with GOP Rep. Mike Garcia, a Trumpist who took office in 2020 and supported his coup plot. In the Los Angeles mayoral race, billionaire Rick Caruso and U.S. Rep. Karen Bass will compete in a runoff, as will the imperious LA County Sheriff Alex Villanueva, who faces retired Long Beach Police Chief Robert Luna. In Mississippi, Republican Rep. Steven Palazzo, who is under an ethics investigation for misusing campaign funds, was also forced into a runoff.
Quickest Quickies
SOME NUMBER
13,811
That's how many more miles than the Earth is round that Colorado Republican Rep. Lauren Boebert claimed to have traveled on the campaign trail in 2020 when she submitted mileage reimbursements totaling $22,259; state authorities are now investigating "whether legal actions are justified" as Boebert, who faces a primary on June 28, apparently used the campaign funds to pay off eight tax liens on the restaurant she owns with her husband.
---
ON THE SHOW TODAY
6/9: Emma hosts John S. Huntington, professor of history at Houston Community College, to discuss his recent book Far-Right Vanguard: The Radical Roots of Modern Conservatism.
---
DON'T MISS MR CLIPS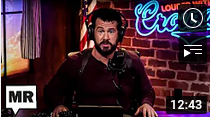 Crowder Says Drag Queens Are Just Like Hitler The guy is just not smart.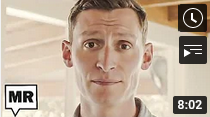 GOP Candidate Blames Black People for Gun Violence Blake Masters is one of Peter Thiel's minions.
---
PARTING WORDS
"My son Zaire has a hole in the right side of his neck, two on his back, and another on his left leg. As I clean his wounds, I can feel pieces of that bullet in his back. Shrapnel will be left inside of his body for the rest of his life. Now I want you to picture that exact scenario for one of your children."
-- Zeneta Everhart, whose son was injured in the recent Buffalo, New York, shooting, addressing the House Oversight Committee yesterday. She added that if members of Congress fail to act on gun control, they were free to come to her house to help clean her son's wounds.
---
Quickie Discount Code Corner
Hey check it out! Stuff on sale!
LATEST ADDITIONS!
Established Titles: Get an amazing gift for your dad this Father's Day! Go to https://establishedtitles.com/majority and get 10% off today.
Vessi: Go to https://vessi.com/majority and use code MAJORITY for $25 off each pair of adult Vessi shoes! Free shipping to US, CA, AUS, NZ, JP, TW, KR, SGP
ALL THE REST!
ExpressVPN: Secure your online data TODAY by visiting this link. That's https://www.expressvpn.com/majority and you can get an extra three months FREE.
Fast Growing Trees: Go to this link right now, and you'll get FIFTEEN PERCENT OFF your entire order.
Ritual: Get key nutrients without the B.S. Ritual is offering our listeners 10% off during your first three months. Visit here to start your Ritual today.
Aura: Protect yourself from America's fastest-growing crime. Try Aura for 14 days for free: https://aura.com/majority
Quip: If you go to this link RIGHT NOW, you'll get your first refill FREE.
Shopify: Go to this link here for a FREE fourteen-day trial and get full access to Shopify's entire suite of features.
LiquidIV: You can get 25% off when you go to liquidiv.com and use code MAJORITYREP at checkout.
Stamps.com: Start mailing and shipping with stamps.com, and keep more money in your pocket every day. Sign up with promo code MAJORITYREPORT for a special offer that includes a 4-week trial, plus free postage and a digital scale.
ZipRecruiter: Find the right employees for your workplace with ZipRecruiter. Try it FOR FREE at this exclusive web address.
Nutrafol: For FIFTEEN DOLLARS OFF go to https://nutrafol.com/men/ with promo code MAJORITY.
Outer: See the difference at go.liveouter.com/MAJORITY. Plus, for a limited time, get $300 off and FREE shipping.
Sunset Lake CBD: Visit sunsetlakecbd.com.
Grove: Go to this link here today to get a free gift set worth up to fifty dollars with your first order. Plus, shipping is fast and FREE.
Headspace: Try this link, with discount code MAJORITY and get one month FREE of their entire mindfulness library.
StartMail: Start securing your email privacy with StartMail. Sign up today and you'll get 50% off your first year! Go to this link here for our special promotion!.
CozyEarth: Go to this link here and enter the special promo code MAJORITY at checkout to SAVE thirty-five percent now.