Primary Results from CA, NJ, and More - The Wednesday AM Quickie 6/7/22
I got election night pizza! - Corey
Tell your friends to sign up for this M-F newsletter at AMQuickie.com!
---
THE BIG NEWS
Low Turnout Does Not Bode Well for November
Seven states held primary elections yesterday. Here's the latest information on the highest-profile campaigns that we had when we put the newsletter to bed last night, though many results may not be available for days to come. (Which reminds me to include these updates from two super-close races in the last round of primaries: Dr. Oz won his Republican Senate primary in Pennsylvania, and progressive Jessica Cisneros filed for a recount in her House race against Texas Democratic incumbent Henry Cuellar.)
California: In the Los Angeles mayoral race, billionaire real estate developer Rick Caruso had a slight lead over Democratic Rep. Karen Bass in early returns last night. The vindictive crackpot LA County sheriff, Alex Villanueva, was polling narrowly ahead in his reelection contest. In San Francisco, voters recalled progressive district attorney Chesa Boudin following a campaign loaded with BS. Orange County incumbent Republican Rep. Young Kim fended off a challenge from Trumpist Greg Raths; she will face Democrat Asif Mahmood in the general election.
New Jersey: Republican Tom Kean Jr. will get a second chance to try and beat Democratic Rep. Tom Malinowski in hotly contested House district 7. Robert Menendez, the son of the late senator of the same name, won his primary in House district 8. Incumbent Reps. Andy Kim, Donald Payne Jr., and Donald Norcross won in their districts.
Iowa: Retired Navy vice admiral Mike Franken will be the Democrat to face Sen. Chuck Grassley, the oldest Republican in the Senate at 88, in the fall.
Mississippi: Democrat Bennie Thompson won his 2nd district primary; all four Republican incumbent House members were ahead in their races.
Montana: Donald Trump's profoundly crooked Interior Secretary, Ryan Zinke, won the Republican nomination for a House seat; he will face Democrat Monica Tranel.
New Mexico: For the open attorney general seat, prosecutor Raúl Torrez was about 10 percentage points up over state auditor Brian Colón for the Democratic nomination in early returns. Democratic Las Cruces city councilor Gabe Vasquez will challenge Republican Rep. Yvette Herrell in the fall.
South Dakota: A ballot measure requiring certain initiatives -- including a measure to expand Medicaid in November -- to receive 60 percent approval to pass, instead of a simple majority, looked like it was going down in flames with two-thirds of precincts reporting.
MORE STORIES TO WATCH
Congress Misses the Moment on Guns
Arnulfo Reyes, a teacher who was wounded in the Uvalde, Texas, shooting and lost all 11 students in his classroom, spoke publicly for the first time yesterday; he called local police "cowards" and said he would never forgive them for their inaction. Meanwhile, people in Washington, D.C. got an earful from Americans outraged over mass shootings. "Is there nothing that you personally are willing to do to stop the cancer of white supremacy and the domestic terrorism it inspires?" Garnell Whitfield Jr., the son of a woman who died in the Buffalo, New York massacre, asked Senators, going on to say that if they do nothing, they should resign. The actor Matthew McConaughey, who was born in Uvalde and recently considered running for governor in Texas, addressed reporters at the White House after meeting with President Joe Biden and lawmakers. McConaughey endorsed universal background checks, a 21-year-old age limit for purchases, red flag laws and other regulations, saying "responsible gun owners are fed up." But the Washington Post reports that it's unlikely the Senate will vote on any gun regulations this week, as "questions persist about how long the gun debate will remain front and center" -- which is great news for the mass murder lobby.
Poor Greg Gutfeld, Bumped for Jan. 6 Hearings
The Washington Post reports that the House committee investigating Donald Trump's Jan. 6, 2021 coup attempt is increasingly focused on Trump's efforts to drag the Secret Service into his scheme, including by pressuring them to find a way for him to join the mob at the Capitol on that day. Separately, the Post reports that a Trump staffer explicitly demanded "complete secrecy and discretion" of Georgia Republicans in the campaign's bogus elector scheme, which as one legal expert points out, suggests they knew they were doing something wrong. Finally comes the unsurprising news that while ABC, CBS, NBC, MSNBC and CNN are planning special coverage of the Jan. 6 committee hearings that begin Thursday night -- hearings that will, in the words of Rep. Jamie Raskin, "tell the story of a conspiracy to overturn the 2020 presidential election and block the transfer of power" -- top-rated Fox News will be sticking to its regular programming. Fox Business, however, will preempt "Gutfeld!" for late-night special coverage.
Quickest Quickies
SOME NUMBER
65 percent
That's the share of Americans who say being trans should be accepted by society, according to a new poll by the Wall Street Journal. Another extensive new survey by Pew finds 44 percent of Americans personally know a trans person.
---
ON THE SHOW TODAY
6/8: Sam and Emma host Alex Sammon, staff writer at The American Prospect, to discuss his recent article "The RNC's Ground Game of Inches."
---
DON'T MISS MR CLIPS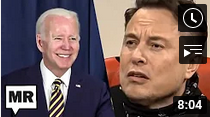 Biden Drags Elon Musk Then Wishes Him Good Luck on "Trip to the Moon" Joe at his most enjoyable.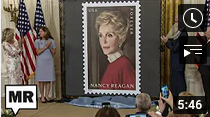 Nancy Reagan, Who Ignored HIV/AIDS, Honored by White House During LGBT+ Pride Month They should've put her astrologer on a stamp.
---
PARTING WORDS
"If you don't have water, you don't have industry, you don't have agriculture, you don't have life."
-- Utah state climatologist Robert Gillies explaining the consequences of the Great Salt Lake's rapid evaporation due to climate change to the New York Times. As the lake dries up, wind storms are expected to carry once-buried arsenic deposits into the lungs of people living nearby, which is to say, most of the people in Utah.
---
Quickie Discount Code Corner
Hey check it out! Stuff on sale!
LATEST ADDITIONS!
Established Titles: Get an amazing gift for your dad this Father's Day! Go to https://establishedtitles.com/majority and get 10% off today.
Vessi: Go to https://vessi.com/majority and use code MAJORITY for $25 off each pair of adult Vessi shoes! Free shipping to US, CA, AUS, NZ, JP, TW, KR, SGP
ALL THE REST!
ExpressVPN: Secure your online data TODAY by visiting this link. That's https://www.expressvpn.com/majority and you can get an extra three months FREE.
Fast Growing Trees: Go to this link right now, and you'll get FIFTEEN PERCENT OFF your entire order.
Ritual: Get key nutrients without the B.S. Ritual is offering our listeners 10% off during your first three months. Visit here to start your Ritual today.
Aura: Protect yourself from America's fastest-growing crime. Try Aura for 14 days for free: https://aura.com/majority
Quip: If you go to this link RIGHT NOW, you'll get your first refill FREE.
Shopify: Go to this link here for a FREE fourteen-day trial and get full access to Shopify's entire suite of features.
LiquidIV: You can get 25% off when you go to liquidiv.com and use code MAJORITYREP at checkout.
Stamps.com: Start mailing and shipping with stamps.com, and keep more money in your pocket every day. Sign up with promo code MAJORITYREPORT for a special offer that includes a 4-week trial, plus free postage and a digital scale.
ZipRecruiter: Find the right employees for your workplace with ZipRecruiter. Try it FOR FREE at this exclusive web address.
Nutrafol: For FIFTEEN DOLLARS OFF go to https://nutrafol.com/men/ with promo code MAJORITY.
Outer: See the difference at go.liveouter.com/MAJORITY. Plus, for a limited time, get $300 off and FREE shipping.
Sunset Lake CBD: Visit sunsetlakecbd.com.
Grove: Go to this link here today to get a free gift set worth up to fifty dollars with your first order. Plus, shipping is fast and FREE.
Headspace: Try this link, with discount code MAJORITY and get one month FREE of their entire mindfulness library.
StartMail: Start securing your email privacy with StartMail. Sign up today and you'll get 50% off your first year! Go to this link here for our special promotion!.
CozyEarth: Go to this link here and enter the special promo code MAJORITY at checkout to SAVE thirty-five percent now.