Ivanka Turns on Daddy? And More Hearing Highlights - The Friday AM Quickie 6/10/22
You'll want to be watching these hearings, trust me. - Corey
Tell your friends to sign up for this M-F newsletter at AMQuickie.com!
---
THE BIG NEWS
"The Treason Show" S01E01 Recap
If you missed last night's season opener of the House Jan. 6 committee hearings, you'll definitely want to find a couple of hours to stream it before the second episode airs Monday night. While some feared this series would be a snoozer, this was a jaw-dropping debut that left fans and newcomers alike begging for more.
Honestly, it was the opening salvo of a bipartisan case for treason against Donald Trump, and although no one on the committee uttered that word, Democrats like Rep. Ted Lieu of California made it clear they understood the implications of the evidence being presented: "The former President is a traitor," Lieu wrote on Twitter last night. Many Americans who watched the hearing, which aired on all major networks minus Fox News, will no doubt come to the same conclusion.
The two live witnesses were British filmmaker, Nick Quested, who was embedded with the Proud Boys in the runup to Jan. 6, 2021, and Capitol Police officer, Caroline Edwards, who was knocked unconscious by the vanguard of the mob assault led by an "Arizona group" of Proud Boys wearing orange armbands and hats, a group that coordinated their assault with Oath Keepers leader Stuart Rhodes, whose group placed weapons caches in the area in preparation for "civil war" and said in private messages he was under orders from Trump directly to storm the capitol and "make it wild." Some such details won't be a huge surprise to those who've followed the print reporting about the committee's progress, but let's be honest, most haven't.
In addition to the live testimony, there were video presentations and clips from interviews with committee witnesses. Some highlights:
Former Attorney General Bill Barr was shown on tape saying he told Trump his claims about election fraud were "bullshit" and something he didn't want to be part of; at a later date Barr reiterated Trump's conspiracy theories about voting machines were "crazy stuff" and doing grave harm to the country.
Trump's daughter Ivanka was shown on tape saying that such statements from Barr changed her perspective because she respects him and that she "accepted what he was saying."
Committee chair Rep. Bennie Thompson opened the hearing by saying those try to excuse Jan. 6 remind him of people from his state (Mississippi) who try to justify slavery, the KKK, and lynchings. He laid out the stakes plainly: "Jan. 6 was the culmination of an attempted coup, a brazen attempt to overthrow the government. The violence was no accident."
Co-chair Rep. Liz Cheney of Wyoming, one of two Republicans on the committee, made a point to emphasize how much testimony and evidence came from lifelong conservatives and Trump's own White House staff. And indeed that was the case, with new revelations from Trump appointees as well as campaign staff who made it clear to him that he had lost his election and there was no basis for the lies he would tell about the election being stolen.  
Messages between Fox star/Trump crony Sean Hannity and Trump staffer Kayleigh McEnany were shown revealing that neither belived Trump's election lies, with Hannity calling Trump's die-hards "crazy people" and endorsing his removal on grounds of mental unfitness, saying "impeachment and 25th amendment are real and many people will quit."
Joint Chiefs of Staff Chairman Mark Milley, the country's top military officer, was on tape saying that Trump's White House chief of staff Mark Meadows was, with chaos breaking out on Jan. 6, trying to convince him to "establish the narrative that the president was in charge," which Milley interpreted as "politics, politics, politics," and "a red flag." Mike Pence, by contrast, was "very animated" and ordering Milley to send forces to the Capitol to put down the insurrection.
The committee made a convincing presentation with video substantiation, which they will no doubt develop in future hearings, that Trump really in truth would have been perfectly happy if the crowd literally hanged Pence to death for not going along with his coup plot.
Officer Edwards concluded with her impressions of the day: "What I saw was a war scene. It was like something out of the movies. There were officers on the ground bleeding, there were officers throwing up. I was slipping on people blood. I was catching people as they fell. It was carnage. It was chaos. I never thought as a police officer I would find myself in the middle of a battle... I'm not combat trained. It was hours of hand-to-hand combat... things that were way beyond what any law enforcement officer has trained for."
Cheney said the committee's investigation is ongoing and that the Justice Department has information relevant to the coup plot it has not made public, including from encrypted communications.
Hopefully the final act of a democratically elected Congress will not be that it informed the American public and the world that the former president fomented a civil war. Hopefully, as Reps. Thompson and Cheney suggested, this process results in accountability and the preservation of legitimate elected government. The next two hearings are scheduled for Monday, June 13 and Wednesday, June 15 at 10 am Eastern. Finally, some related news:
The Federal Bureau of Investigation arrested a Republican candidate for governor of Michigan, Ryan Kelley, on multiple misdemeanor charges related to his participation in the Capitol insurrection. Kelley, a real estate broker, also reportedly "called together about 50 militiamen to square off against a few dozen Black Lives Matter protesters over a statue of a Confederate soldier" in the summer of 2020. Michigan Republicans are rallying to Kelley's defense.
GOP Rep. Liz Cheney's service on the Jan. 6 committee could cost her her House seat, according to NBC News. But for what it's worth, the strongest evidence in the story comes from one of Trump's pollsters.
Politico reports that Colorado Democrats are spending big to "aggressively advanc[e] the campaign of a hardline MAGA Senate candidate in a last-ditch effort to elevate him over a moderate Republican who is viewed as a more serious threat to Democratic Sen. Michael Bennet." Gee, think that could backfire? The Clintons tried this already! FFS.
MORE STORIES TO WATCH
Abbott's Order Prompted Teen's Suicide Attempt
According to a new lawsuit filed by the American Civil Liberties Union and Lambda Legal against Gov. Greg Abbott and the Texas Department of Family Services, a 16-year-old transgender boy tried to kill himself on the very day Abbott announced the state would investigate the families of trans kids for child abuse. Per the Texas Tribune, he "survived the attempt and was admitted to an outpatient psychiatric facility, where staff learned that he was undergoing hormone therapy. A week after he was discharged, an investigator from DFPS visited the family's home and, according to the lawsuit, said that the psychiatric facility had reported the family for child abuse. The family remains under investigation." Meanwhile, NBC News highlights the most recent Sunday sermon by Pastor Dillon Awes of Steadfast Baptist Church in the Fort Worth suburb of Watagua, in which he proclaims the "solution for the homosexual in 2022" is genocide: "They should be lined up against the wall and shot in the back of the head," says the pastor, whose church is designated as a hate group by the Southern Poverty Law Center.
Ukraine Update: Putin Saves His Poo
Look, I haven't been calling him Aspiring Tsar Vladimir Putin for nothing: Yesterday Putin, who recently attacked the Bolsheviks for granting Ukraine independence, celebrated Peter the Great's 350th birthday by opening an exhibition in his honor and praising his record of imperialist territorial conquest. In other Putin news, Paris Match reports that a state security agent collects his excrement and urine on foreign trips and returns it to Moscow, possibly to prevent discovery of an illness. In Russia-controlled Donetsk, a tribunal sentenced two Britons and a Moroccan to death as mercenaries yesterday after they were captured fighting for Ukraine; the British government calls it a "sham judgment" in violation of the Geneva Convetions. Finally, a new report by the Climate Action Tracker warns that by kicking off "a global 'gold rush' for new fossil gas production," Putin's war "risks locking us into another high-carbon decade" and losing the world's last chance to forestall the most catastrophic effects of climate change.
Quickest Quickies
SOME NUMBER
79 percent
That's how many Android apps designed for children collect their personal information and deliver it to the advertising industry, according to a new study. The figure is slightly lower for iPhone apps but still above two-thirds.
---
ON THE SHOW TODAY
6/10: It's Casual Friday! Emma hosts David Griscom, co-host of Left Reckoning, to round up the week in news. Then, Emma is joined by the DSA's Stylianos Karolidis and Sumathy Kumar to discuss their For the Many candidate slate in New York City.
---
DON'T MISS MR CLIPS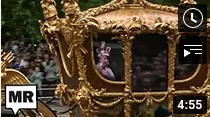 Hologram of Very Much Alive Queen of England Mesmerizes British Subjects My ride looks just like that carriage, but fancier.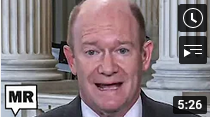 Corporate Democrats Defend Biden's Visit To Saudi Arabia Ol' reliable Sen. Chris Coons of Delaware once again defends the indefensible.
---
PARTING WORDS
"I was thinking the other day about somebody had mentioned on the radio Adolf Hitler and how he aroused the crowds. And he would get up there screaming these epithets and these people were just -- they were hypnotized by him. That's, I guess, I guess that's the kind of leader we need today. We need somebody inspirational. We need somebody that is a doer, has been there and done it, so that it's not a strange new world to him."
-- New York Republican U.S. House candidate Carl Paladino, speaking to a radio station in Buffalo last year, in an interview just brought to light by Media Matters. Paladino now says the comment was taken out of context and that he "strongly condemn[s] the murderous atrocities committed against the Jewish people by Hitler and the Nazis."
---
Quickie Discount Code Corner
Hey check it out! Stuff on sale!
LATEST ADDITIONS!
Established Titles: Get an amazing gift for your dad this Father's Day! Go to https://establishedtitles.com/majority and get 10% off today.
Vessi: Go to https://vessi.com/majority and use code MAJORITY for $25 off each pair of adult Vessi shoes! Free shipping to US, CA, AUS, NZ, JP, TW, KR, SGP
ALL THE REST!
ExpressVPN: Secure your online data TODAY by visiting this link. That's https://www.expressvpn.com/majority and you can get an extra three months FREE.
Fast Growing Trees: Go to this link right now, and you'll get FIFTEEN PERCENT OFF your entire order.
Ritual: Get key nutrients without the B.S. Ritual is offering our listeners 10% off during your first three months. Visit here to start your Ritual today.
Aura: Protect yourself from America's fastest-growing crime. Try Aura for 14 days for free: https://aura.com/majority
Quip: If you go to this link RIGHT NOW, you'll get your first refill FREE.
Shopify: Go to this link here for a FREE fourteen-day trial and get full access to Shopify's entire suite of features.
LiquidIV: You can get 25% off when you go to liquidiv.com and use code MAJORITYREP at checkout.
Stamps.com: Start mailing and shipping with stamps.com, and keep more money in your pocket every day. Sign up with promo code MAJORITYREPORT for a special offer that includes a 4-week trial, plus free postage and a digital scale.
ZipRecruiter: Find the right employees for your workplace with ZipRecruiter. Try it FOR FREE at this exclusive web address.
Nutrafol: For FIFTEEN DOLLARS OFF go to https://nutrafol.com/men/ with promo code MAJORITY.
Outer: See the difference at go.liveouter.com/MAJORITY. Plus, for a limited time, get $300 off and FREE shipping.
Sunset Lake CBD: Visit sunsetlakecbd.com.
Grove: Go to this link here today to get a free gift set worth up to fifty dollars with your first order. Plus, shipping is fast and FREE.
Headspace: Try this link, with discount code MAJORITY and get one month FREE of their entire mindfulness library.
StartMail: Start securing your email privacy with StartMail. Sign up today and you'll get 50% off your first year! Go to this link here for our special promotion!.
CozyEarth: Go to this link here and enter the special promo code MAJORITY at checkout to SAVE thirty-five percent now.