Trump's Team Knew He Had Blood on His Hands - The Wednesday AM Quickie 7/13/22
Busy day and I'm sweltering here. I hope you all enjoyed the space pics as much as I did, they really are everything you want from a summer news item. - Corey
Tell your friends to sign up for this M-F newsletter at AMQuickie.com!
---
THE BIG NEWS
The Treason Show Ep. 07: Oath Keeper Regrets His Role
There was a lot of news to come out of yesterday's long televised hearing by the House committee investigating Donald Trump's Jan. 6, 2021 coup attempt, but there was also a lot of news happening outside the hearing, so I'll move quickly.
Donald Trump tried to call a witness who interviewed with the committee after the last hearing, apparently to influence their testimony. That's called witness tampering and it's a crime as some have pointed out. So the committee referred him -- that is to say Trump, not the witness, whose identity is yet unknown -- to the Justice Department for investigation. Republican Rep. Liz Cheney of Wyoming, who co-chairs the committee, dropped this little chestnut at the very end of yesterday's hearing. She said the witness didn't take Trump's call and instead contacted their lawyer.
Rep. Jamie Raskin, Democrat of Maryland, said Jan. 6 makes the Watergate break-in seem like "a Cub Scout meeting." He named disgraced U.S. Army Gen. Mike Flynn and career dirty trickster Roger Stone as Trump's liaisons with the Proud Boys and the Oath Keepers, two rightwing extremist groups with leaders and members charged with seditious conspiracy for their role in the Jan. 6 attack. White House coordination with those groups was the focus of this hearing; Raskin noted that the two groups did not previously work together until Trump brought them together for a common task. Evidence including photographs and video showed Flynn and Stone working directly with the groups, including the specific individuals charged with seditious conspiracy. Stone was shown reciting the Proud Boys' creed.
Text messages among organizers showed Trump wanted his rally moving to the Capitol to seem spontaneous, even though the details were planned out in advance by the core group of coup plotters around Trump. The impending mob violence put Trump "in a fantastic mood" on the night of Jan. 5, White House aides testified, whereas he'd been in a foul mood for many weeks prior. The committee compiled evidence showing edits and ad-libs to Trump's speeches showed he encouraged the violence and put increasing pressure on Mike Pence to go along with his plot.
An anonymous former Twitter employee testified that the company had considered enacting tougher moderation policies after Trump urged the Proud Boys to "stand back and stand by," but decided against it, in their opinion because the company "relished" the power it had by virtue of Trump's account. The employee said any other user would have been suspended for the type of incitement Trump engaged in. They said they couldn't sleep on Jan. 5 because they expected bloodshed to take place the following day.
Two live witnesses testified. One was Stephen Ayres, some guy from Ohio who joined the Jan. 6 mob, caught charges, and now regrets blindly following Trump. Honestly he didn't add much. The other was Jason Van Tatenhove, a former spokesman for the Oath Keepers who left the group after he heard members denying the Holocaust in public. He said Oath Keepers leader Stewart Rhodes saw in Jan. 6 "a path to legitimacy" as a paramilitary force. "We need to stop mincing words and start talking about truths. What it was going to be was an armed revolution," Van Tatenhove said. "This could have been the spark that started a new civil war, and no one would have won there."
Former Trump campaign manager Brad Parscale blamed Trump's rhetoric for the loss of life. He traded these messages with Trump aide Katrina Pierson:
Parscale: This is about Trump pushing for uncertainty in our country. A sitting president asking for civil war. This week I feel guilty for helping him win.
Pierson: You did what you felt right at the time and therefore it was right
Parscale: Yeah. But a woman is dead.
Pierson: You do realize this was going to happen.
Parscale: Yeah. If I was trump and knew my rhetoric killed someone
Pierson: It wasn't rhetoric.
Parscale: Katrina. Yes it was.
Per the New York Times, Parscale still works for Trump, sending out his email blasts among other things. There are better ways to earn a paycheck, dude!
Here as a footnote: John Bolton, everybody!
---
MORE STORIES TO WATCH
Mask Up! Covid Infections Six Times Higher Than Reported
Let's start with that statistic: Centers for Disease Control and Prevention data show 100,000 new Covid-19 cases per day, but experts told the Wall Street journal the true number "may be roughly six times as high." The Los Angeles Times reports health officials are concerned enough about the "ultra-contagious" BA.5 omicron subvariant to consider bringing bask a local mask mandate; meanwhile, the New York Times reports that even though experts say people really need to be masking indoors, Cop-Mayor Eric Adams is instead "making it even harder for Covid hospitalizations to trigger a higher alert level." The Biden administration's plan for the new variant includes encouraging second booster shots for more adults. Finally, the Food and Drug Administration is expected to the announce the approval of a new vaccine by Novavaxx today; it uses an older technology that doctors hope will persuade some vaccine-hesitant people to come around.
Meet the Fickle Suburbanites Who Will Decide Our Fate
This package of stories is as an interactive map so I won't even really try to summarize it, but I thought it would make a good warm-up for today's discussion on MR of state and local races to watch. Politico put together a list of "20 counties that will decide the midterms." The selections are somewhat arbitrary but the journalists did put some serious thought into it, and when you click through to the individual stories there's a lot of good reporting on the demographics, major issues, and stakes of the key races in each county. It's all broken down regionally and I couldn't help but notice that the part of the country I hail from, the Northwest, apparently doesn't matter at all to the overall national picture, which is something many voters from non-swing districts can relate to. Again, great system we have!
---
Quickest Quickies
---
SOME NUMBER
7.942 billion
That's the total human population of the planet as of yesterday, according to the United Nations, which predicts a nice round 8 billionth human being will be born sometime in November. The UN's latest population report says that India has overtaken China as the most populous country and that in coming decades, international migration "will be the sole driver of population growth in high-income countries."
---
ON THE SHOW TODAY
7/13: Sam and Emma host Daniel Nichanian, editor-in-chief of Bolts Magazine, to discuss big upcoming races at the state and local levels in the run-up to the midterms. Then they are joined by Lupe Rodriguez, executive director for the National Latina Institute for Reproductive Justice, to discuss the Institute's ongoing efforts to protect abortion care post-Roe.
---
Don't Miss MR Clips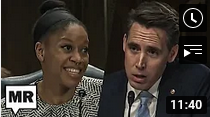 GOP Senator Josh Hawley Humiliated By Law Professor Khiara Bridges During Senate Hearing Hawley surely thought he won.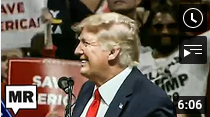 Trump Drops F-Bomb, MAGA Rally Starts Chanting 'USA! USA!' More slop for the pigs.
---
PARTING WORDS
"We're paying $4,000 a month to live in hell."
Celeste Jackson, a Los Angeles entrepreneur and unfortunate resident of one of 80,000 rental properties belonging to Invitation Homes, which the Washington Post describes as "one of several large corporations that have transformed the rental housing industry over the past decade" by buying foreclosed homes, hiring unscrupulous contractors to do shoddy work without permits, and jacking up rents.
---
Quickie Discount Code Corner
Hey check it out! Stuff on sale!
LATEST ADDITIONS!
Established Titles: Get an amazing gift for your dad this Father's Day! Go to https://establishedtitles.com/majority and get 10% off today.
Vessi: Go to https://vessi.com/majority and use code MAJORITY for $25 off each pair of adult Vessi shoes! Free shipping to US, CA, AUS, NZ, JP, TW, KR, SGP
ALL THE REST!
ExpressVPN: Secure your online data TODAY by visiting this link. That's https://www.expressvpn.com/majority and you can get an extra three months FREE.
Fast Growing Trees: Go to this link right now, and you'll get FIFTEEN PERCENT OFF your entire order.
Ritual: Get key nutrients without the B.S. Ritual is offering our listeners 10% off during your first three months. Visit here to start your Ritual today.
Aura: Protect yourself from America's fastest-growing crime. Try Aura for 14 days for free: https://aura.com/majority
Quip: If you go to this link RIGHT NOW, you'll get your first refill FREE.
Shopify: Go to this link here for a FREE fourteen-day trial and get full access to Shopify's entire suite of features.
LiquidIV: You can get 25% off when you go to liquidiv.com and use code MAJORITYREP at checkout.
Stamps.com: Start mailing and shipping with stamps.com, and keep more money in your pocket every day. Sign up with promo code MAJORITYREPORT for a special offer that includes a 4-week trial, plus free postage and a digital scale.
ZipRecruiter: Find the right employees for your workplace with ZipRecruiter. Try it FOR FREE at this exclusive web address.
Nutrafol: For FIFTEEN DOLLARS OFF go to https://nutrafol.com/men/ with promo code MAJORITY.
Outer: See the difference at go.liveouter.com/MAJORITY. Plus, for a limited time, get $300 off and FREE shipping.
Sunset Lake CBD: Visit sunsetlakecbd.com.
Grove: Go to this link here today to get a free gift set worth up to fifty dollars with your first order. Plus, shipping is fast and FREE.
Headspace: Try this link, with discount code MAJORITY and get one month FREE of their entire mindfulness library.
StartMail: Start securing your email privacy with StartMail. Sign up today and you'll get 50% off your first year! Go to this link here for our special promotion!.
CozyEarth: Go to this link here and enter the special promo code MAJORITY at checkout to SAVE thirty-five percent now.https://www.youtube.com/watch?v=fyOocF3wW8I