Lone Reporter Refutes Entire Right-Wing Echo Chamber - The Thursday AM Quickie 7/14/22
I'm still laughing about this "anarchists for Biden" insurance scammer. Which is actually a great appetizer for today's main story, come to think of it. - Corey
Tell your friends to sign up for this M-F newsletter at AMQuickie.com!
---
THE BIG NEWS
When Conservatives Act Skeptical, You Should Get Suspicious
They tried to call it fake news, but it was all too real. The Colombus Dispatch yesterday reported that police had arrested a 27-year-old Ohio man named Gershon Fuentes after he allegedly confessed to twice raping a 10-year-old girl, impregnating her. Because of the state's new abortion ban, the girl was forced to travel to Indiana for a medication abortion. The Indianapolis Star had reported on the girl's plight earlier this month based on information from an abortion provider, Dr. Caitlin Bernard. President Joe Biden, whose administration is belatedly launching a "reproductive rights task force," mentioned the case last week as he denounced the Supreme Court's decision to overturn Roe vs. Wade and allow abortion bans like Ohio's to take effect around the country, depriving Americans of established rights and prompting international condemnation.
Biden's plea to "just imagine being that little girl" apparently inspired anti-abortion conservatives to claim, without any evidence, that Dr. Bernard had made the whole story up. Just the other day the Wall Street Journal editorial board deemed it a "fanciful tale" and suggesting Biden should have named the 10-year-old rape victim to lend credence to the account. Ohio's Republican Attorney General, Dave Yost, went on Fox News and said the case was likely "a fabrication" without "a damn scintilla of evidence," and casting "shame on the Indianapolis paper that ran this thing on a single source who has an obvious axe to grind." These hacks even suckered the Washington Post's tiresome centrist fact-checker.
But a lone Dispatch reporter was in the courtroom whe Fuentes was arraigned, finally putting to rest the bogus narrative spun up by right-wing media and its enablers. Will knowledge of the truth change anything? I ask myself that question all the time these days. I don't know. Republican's Indiana Gov. Eric Holcomb seems ready to push ahead with an abortion ban in that state despite the admittedly "horrific example" of the girl from Ohio.
There are a lot of lessons in this sad tale but one of them is you simply can't take rightwing arguments in good faith or expect them to contain any serious effort at substantiation, and that's still true when centrist pundits echo those arguments. The same people who made a tremendous fuss over the safety of Supreme Court justices after an armed man called police asking for psychiatric help near Justice Brett Kavanaugh's home last month, and practically hyperventilated with concern after protesters failed to interrupt Kavanaugh's steakhouse dinner last week, had conspicuously nothing to say this week when an armed man took a gun to Democratic Rep. Pramila Jayapal's Seattle home and screamed "go back to India, I'm going to kill you." Bottom line, if someone finds it impossible to believe that a 10-year-old could get raped and impregnated, or that threats to brown-skinned people in public life might be both more commonplace and more grave than the highly exaggerated dangers faced by their white male conservative counterparts, that person's take on current events is not worth seeking out.
---
MORE STORIES TO WATCH
Trumpworld Prepares Another Human Sacrifice
Rolling Stone reports that Donald "Trump's inner circle increasingly views [former White House chief of staff Mark] Meadows as a likely fall guy for the former president's attempts to overturn the 2020 election. Members of Trump's legal team are actively planning certain strategies around Meadows' downfall -- including possible criminal charges." Meanwhile, the House committee investigating Trump's Jan. 6, 2021 coup attempt is probing Meadows' finances. As for Trump's possible attempt at witness tampering mentioned in yesterday's newsletter, legal experts consulted by Vice News and the Associated Press say it's not likely to get successfully prosecuted; however, as the Intercept notes, that was "just the latest in a series of possible criminal acts disclosed by the committee." Finally, the Washington Post reports that the recent outcome of a redistricting fight may have saved the career a House Republican who was involved in Trump's coup plot, Maryland Rep. Andy Harris; both Democratic contenders for the seat are calling Harris a traitor.
Scary and Astonishing Things Are Happening in Sri Lanka
Where to begin? I told you yeterday how the president, Gotabaya Rajapaksa, fled the country on a military jet; he was supposed to officially resign today but that didn't happen. The prime minister, Ranil Wickremesinghe, assumed the president's duties -- the opposition says illegally -- and sent security forces to deploy massive quantities of tear gas against the protesters who have stormed government buildings. The new president called the protesters a "fascist threat," but on-the-ground reporting reveals them to be hundreds of thousands of ordinary people driven to desperation by the complete collapse of the country's economy due to corruption and mismanagement. Inside the occupied prime minister's office, the AP reports, "the mood was celebratory, as people sprawled on elegant sofas, watched TV and held mock meetings in wood-paneled conference rooms. Some wandered around as if touring a museum.
'We will cook here, eat here and live here. We will stay until (Wickremesinghe) hands over his resignation,' said Lahiru Ishara, 32, a supervisor at a supermarket in Colombo who has been a part of the protests since they kicked off in April. 'There's no other alternative.'"
According to NBC News, community kitchen protesters set up in the prime minister's residence with donated supplies of food and firewood for fuel, because there is no gas to burn.
---
Quickest Quickies
---
SOME NUMBER
9.1 percent
That was the annual consumer price inflation rate as reported yesterday by the Federal Reserve, the highest such increase in more than forty years, with housing costs rising at an even faster rate.
---
ON THE SHOW TODAY
7/14: Emma hosts Daniel Laurison, visiting scholar in sociology at the University of Pennsylvania, to discuss his recent book Producing Politics: Inside the Exclusive Campaign World Where the Privileged Few Shape Politics For All of Us.
---
Don't Miss MR Clips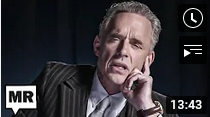 Jordan Peterson Russian Invasion Take Is Pure (Fools) Gold If this guy wore T-shirts instead of suits nobody would mistake him for an intellectual.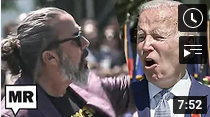 Biden Confronted By Parkland Victim's Dad in White House Rose Garden Add this to the list of things Biden could've handled better.
---
PARTING WORDS
"They started out here as a grassroots recruitment tool to recruit precinct committeemen into being involved in the Republican Party. That has evolved to a full takeover of the Republican Party."
-- Arizona Republican consultant Chuck Coughlin speaking to NBC News about Turning Point USA, the hateful right-wing propaganda shop masquerading as a non-profit organization with a charitable purpose. TPUSA increased its revenue by 40 percent to $55 million in its most recently reported fiscal year, thanks in large part to contributions from 10 anonymous donors.
---
Quickie Discount Code Corner
Hey check it out! Stuff on sale!
LATEST ADDITIONS!
Established Titles: Get an amazing gift for your dad this Father's Day! Go to https://establishedtitles.com/majority and get 10% off today.
Vessi: Go to https://vessi.com/majority and use code MAJORITY for $25 off each pair of adult Vessi shoes! Free shipping to US, CA, AUS, NZ, JP, TW, KR, SGP
ALL THE REST!
ExpressVPN: Secure your online data TODAY by visiting this link. That's https://www.expressvpn.com/majority and you can get an extra three months FREE.
Fast Growing Trees: Go to this link right now, and you'll get FIFTEEN PERCENT OFF your entire order.
Ritual: Get key nutrients without the B.S. Ritual is offering our listeners 10% off during your first three months. Visit here to start your Ritual today.
Aura: Protect yourself from America's fastest-growing crime. Try Aura for 14 days for free: https://aura.com/majority
Quip: If you go to this link RIGHT NOW, you'll get your first refill FREE.
Shopify: Go to this link here for a FREE fourteen-day trial and get full access to Shopify's entire suite of features.
LiquidIV: You can get 25% off when you go to liquidiv.com and use code MAJORITYREP at checkout.
Stamps.com: Start mailing and shipping with stamps.com, and keep more money in your pocket every day. Sign up with promo code MAJORITYREPORT for a special offer that includes a 4-week trial, plus free postage and a digital scale.
ZipRecruiter: Find the right employees for your workplace with ZipRecruiter. Try it FOR FREE at this exclusive web address.
Nutrafol: For FIFTEEN DOLLARS OFF go to https://nutrafol.com/men/ with promo code MAJORITY.
Outer: See the difference at go.liveouter.com/MAJORITY. Plus, for a limited time, get $300 off and FREE shipping.
Sunset Lake CBD: Visit sunsetlakecbd.com.
Grove: Go to this link here today to get a free gift set worth up to fifty dollars with your first order. Plus, shipping is fast and FREE.
Headspace: Try this link, with discount code MAJORITY and get one month FREE of their entire mindfulness library.
StartMail: Start securing your email privacy with StartMail. Sign up today and you'll get 50% off your first year! Go to this link here for our special promotion!.
CozyEarth: Go to this link here and enter the special promo code MAJORITY at checkout to SAVE thirty-five percent now.https://www.youtube.com/watch?v=fyOocF3wW8I