Do Republicans Really Want to Talk About the Economy? - The Friday AM Quickie 7/15/22
Try not to melt this weekend, and I'll do the same. Jack will have you covered on Monday morning. - Corey
Tell your friends to sign up for this M-F newsletter at AMQuickie.com!
---
THE BIG NEWS
Bad News for Army Recruiters Is Good News for Workers
Depending where you looked for news, the big headline yesterday was that Donald Trump might announce that he's running for president in 2024 sometime in September, before the November midterms, which could have consequences for the outcome in close races. Some Republicans increasingly thing Trump is a backward-looking distraction that hurts the party's chances of maintaining an effective death grip on the United States government even when it's out of power. Per the Washington Post:
"Of all the selfish things he does every minute of every day, [announcing his presidential campaign before the midterms] would probably be the most," said one prominent Republican strategist, speaking on the condition of anonymity to offer a candid assessment. "Everything we are doing that is not talking about the economy is going to be a disaster."
So Republicans want to talk about the economy. Okay, fine. A few headlines from yesterday suggest it cuts both ways.
So the political implications of this economy are not clear. The Republicans don't really have a message beyond "inflation bad, Biden to blame!" (while Biden in turn blames Vladimir Putin). But they're going to run with that message, because their criminal figurehead is still obsessed with denying he lost the last election, and what else can they say for themselves? They really don't want to talk about their massively unpopular abortion bans, for instance. Which brings me to the rest of the day's news...
---
MORE STORIES TO WATCH
GOP Manages to Make Abortion Ban Horror Story Even Worse
Indiana Republican Attorney General Todd Rokita announced he would criminally investigate the doctor who treated the 10-year-old rape victim who traveled to the state from Ohio because her home state had banned abortion. Rokita said his office would be "looking at her licensure" and was "gathering the evidence as we speak" although it's not at all clear the doctor, Caitlin Bernard, did anything wrong. Rokita called her an "abortion activist acting as a doctor" so I think it's fair to call him a medieval inquisitor looking for a witch to burn at the stake. A Telemundo reporter doorstepped the girl's mother yesterday as right-wing propagandists who initially denied the victim's very existence tried to decide whether to attack the journalist who broke the story, the accused rapist, or the girl's family -- anything to change the subject from the consequences of their policies. Speaking of which, Jim Bopp, the author of model anti-abortion legislation for the National Right to Life Committee, confirmed to Politico his proposed laws would force the child to give birth. Finally, as the White House dithered about whether to declare a public health emergency over state abortion bans, Texas sued the Biden administration to block new Health and Human Services guidelines requiring doctors nationwide to provide abortions in emergencies where the mother's life is at stake.
Fire Season Hits Europe; California Town Runs Out of Water
Temperatures in the United Kingdom are expected to hit 104 Fahrenheit (or 40 Celsius) for the first time in the history of meterological records in the coming days, and with the extreme heat could come "disruptions of services, including water, electricity and travel, and related illnesses such as heat exhaustion." And pretty much nobody in that country has (what they call) aircon. "This isn't just a typical July hot spell," a Met Office meteorologist warned. Of course it isn't, and extreme weather made more dangerous by climate change isn't a problem confined to the UK. As we mentioned yesterday, wildfires are sweeping through parts of Europe. Large parts of China are also enduring a record heat wave. The city of Shanghai has reportedly issued only 17 "red alert" heat warnings since 1873 -- but it has issued three such warnings in the past six days. Meanwhile in the U.S., the Los Angeles Times visits a small town near Fresno that "ran completely out of water" in the ongoing megadrought; when a small electrical fire broke out, it consumed an entire house because the fire department couldn't get water from a nearby hydrant. Southwest Virginia had the opposite problem this week -- too much water. Floods and landslides followed heavy rainfall, damaging more than 100 homes in rural Buchanan County. Nobody died, but that seems to have been on account of luck, as 44 people were reported missing for a full day; roads were impassable until the waters receded.
---
Quickest Quickies
---
SOME NUMBER
1 in 3
That's how many students in the U.S. attend a racially segregated public school, according to a new report from the Government Accountability Office.
---
ON THE SHOW TODAY
7/15: It's Casual Friday! Sam and Emma host Ryan Grim, DC Bureau Chief at The Intercept, to round up the week in news. Then, they're joined by Matthew Film Guy!
---
Don't Miss MR Clips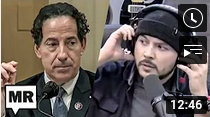 Jan. 6 Panel Exposes Tim Pool's 'Center-Left' Grift, Identifies Him as 'Pro-Trump YouTuber' I was taken out of connnnnnnnnteeeexxxxxxtttttt!!!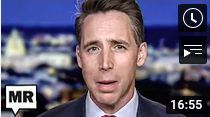 Republican Cries to Fox News After Getting Publicly Humiliated for Making Transphobic Comments More like Josh Bawley.
---
PARTING WORDS
"Every day Russia is destroying the civilian population, killing Ukrainian children, directing missiles at civilian objects. Where there is no military. What is it if not an open act of terrorism?"
-- Ukrainian President Volodymyr Zelenskyy, in a message posted to Telegram after Russian cruise missiles yesterday hit buildings in the city of Vinnytsia, southwest of Kyiv, killing 23 and injuring more than 100 people.
---
Quickie Discount Code Corner
Hey check it out! Stuff on sale!
LATEST ADDITIONS!
Established Titles: Get an amazing gift for your dad this Father's Day! Go to https://establishedtitles.com/majority and get 10% off today.
Vessi: Go to https://vessi.com/majority and use code MAJORITY for $25 off each pair of adult Vessi shoes! Free shipping to US, CA, AUS, NZ, JP, TW, KR, SGP
ALL THE REST!
ExpressVPN: Secure your online data TODAY by visiting this link. That's https://www.expressvpn.com/majority and you can get an extra three months FREE.
Fast Growing Trees: Go to this link right now, and you'll get FIFTEEN PERCENT OFF your entire order.
Ritual: Get key nutrients without the B.S. Ritual is offering our listeners 10% off during your first three months. Visit here to start your Ritual today.
Aura: Protect yourself from America's fastest-growing crime. Try Aura for 14 days for free: https://aura.com/majority
Quip: If you go to this link RIGHT NOW, you'll get your first refill FREE.
Shopify: Go to this link here for a FREE fourteen-day trial and get full access to Shopify's entire suite of features.
LiquidIV: You can get 25% off when you go to liquidiv.com and use code MAJORITYREP at checkout.
Stamps.com: Start mailing and shipping with stamps.com, and keep more money in your pocket every day. Sign up with promo code MAJORITYREPORT for a special offer that includes a 4-week trial, plus free postage and a digital scale.
ZipRecruiter: Find the right employees for your workplace with ZipRecruiter. Try it FOR FREE at this exclusive web address.
Nutrafol: For FIFTEEN DOLLARS OFF go to https://nutrafol.com/men/ with promo code MAJORITY.
Outer: See the difference at go.liveouter.com/MAJORITY. Plus, for a limited time, get $300 off and FREE shipping.
Sunset Lake CBD: Visit sunsetlakecbd.com.
Grove: Go to this link here today to get a free gift set worth up to fifty dollars with your first order. Plus, shipping is fast and FREE.
Headspace: Try this link, with discount code MAJORITY and get one month FREE of their entire mindfulness library.
StartMail: Start securing your email privacy with StartMail. Sign up today and you'll get 50% off your first year! Go to this link here for our special promotion!.
CozyEarth: Go to this link here and enter the special promo code MAJORITY at checkout to SAVE thirty-five percent now.https://www.youtube.com/watch?v=fyOocF3wW8I