That One Time Trump Tried to Hijack a Limo - The Wednesday AM Quickie 6/29/22
I've been sitting here laughing imagining the Nation of Islam Obama bits Michael would be doing if he was here to help us process the latest news out of the Jan. 6 committee. And that's how I learned McDonald's is not certified halal. - Corey
Tell your friends to sign up for this M-F newsletter at AMQuickie.com!
---
THE BIG NEWS
The Treason Show Ep. 06 Surprise Special: Ketchup Koup Krimes
When the House committee investigating Donald Trump's Jan. 6, 2021 coup attempt announced, with one day's notice, a surprise televised hearing with critical new testimony, they set high expectations among those who'd been following the investigation. We've already seen in the first five hearings how Trump and his inner circle planned to subvert the electoral process, pushed the Justice Department to go along with their corrupt scheme, raised a mob to storm the Capitol, and went ahead with their plot despite knowing full well it was all very illegal. What could the committee add to that? Yet more damning evidence splattered with colorful, ketchup-red detail about these power-mad lunatics.
Yesterday's star witness was Cassidy Hutchinson, a loyal young Republican who worked for Rep. Steve Scalise and Sen. Ted Cruz before joining Trump's White House in 2019 and rapidly rising to become the key aide to White House chief of staff Mark Meadows. She had a West Wing desk located between the vice president's office and the Oval Office as well as first-hand knowledge of most of the goings-on there, including the events leading up to the Jan. 6. The subversion of democracy didn't sit right with her -- "it was un-American," she said -- so she's speaking up. Here's what we've learned thanks to Hutchinson's testimony, in brief:
The White House coordinated with the Proud Boys and Oath Keepers, two groups with leaders now facing seditious conspiracy charges, ahead of Jan. 6; Roger Stone and Rudy Giuliani seem to have been key in this effort.
Trump and Meadows personally knew about intelligence reports about the potential for mob violence on Jan. 6; Meadows warned Hutchinson that "things might get real, real bad" on that day.
Trump and Meadows knew there were people armed with a variety of weapons in the crowd, including AR-15 rifles. Trump wanted law enforcement to let his armed supporters through security cordons because, in his words, "they're not here to hurt me." Trump wanted a larger crowd at the Capitol even as it was clear police were being overrun and injured by the mob.
White House counsel Pat Cipollone warned Hutchinson "we're going to get charged with every crime imaginable" for planning the coup, including inciting a riot, obstruction of justice, and defrauding the electoral count. Meadows was among the many plotters who sought a pardon from Trump.
But wait there's more from the hearing! And it's both very funny and incredibly horrifying!
Trump tried to hijack his own limousine by grabbing the steering wheel and assaulted his Secret Service detail leader, Bobby Engel, by lunging for his throat, because he wanted to meet the mob at the Capitol to complete his coup. The Secret Service declined to take him there on safety grounds. "I'm the fucking president, take me up to the Capitol now," Trump raged.
Trump on multiple occasions had temper tantrums that involved throwing plates of food against the wall; Hutchinson recalled cleaning up ketchup that was dripping down the White House walls after one such incident.
Disgraced general Mike Flynn took the Fifth multiple times when asked by the committee if he supported the violence at the Capitol or the peaceful transfer of power. To see this on video was quite something.
Trump and his associates have engaged in witness tampering during the committee investigation.
Trump responded to all this on Truth Social -- his floundering Twitter competitor that is now embroiled in a federal grand jury investigation -- by saying Hutchinson's handwriting indicated she was "a Whacko." In other words, he's guilty as hell, he's got no defense, and everyone around him knows it. Finally, two related updates: Feds seized coup plotter John Eastman's phone; and the grocery store worker who touched Giuliani's back had his charges reduced from felony to misdemeanor. It's not justice, but as these hearings constantly remind us, it could be worse.
---
MORE STORIES TO WATCH
States, Companies Scramble Over Abortion Decision
The Supreme Court's rightwing majority yesterday decided to allow Louisiania to go ahead with a racially discriminatory congressional district map. Meanwhile, their decsion to overturn Roe vs. Wade has moved the legal fight for human rights to state courts and legislatures as Democratic frustration grows over party leadership's inaction. In Texas, a Harris County District Court judge granted a temporary restraining order to the state's abortion ban, a "stopgap measure" that will allow some procedures to continue for two months at most. State courts in Louisiana and Utah also temporarily blocked those states' "trigger laws," allowing abortions to continue for a short time; but a federal court in South Carolina ruled that the abortion ban there can take effect. Per the Associated Press, abortions have ceased in at least 11 states so far, "either because of state laws or confusion over them." In California, the legislature approved a November ballot measure asking voters to approve a constitutional amendment guaranteeing abortion rights, and Gov. Gavin Newsom signed an executive order saying the state will not share patient medical records with or extradite doctors to states with abortion bans. CVS and Rite Aid are reportedly rationing emergency contraceptives due to a spike in demand; Instagram and Facebook are immediately removing posts offering abortion pills nationwide.
Hopes Dim for Accountability in Deadly Flint Water Scandal
The Michigan Supreme Court yesterday threw out charges against former Republican Gov. Rick Snyder and other state officials for their role in the poisoning of the residents of Flint, Michigan, when they allowed the city to switch to a lead-contaminated water supply in 2014, leading to over 100 deaths. The court's unanimous decision, which hinged on the use of a one-person grand jury to issue an indictment against the officials, returns the case to a lower court; Synder's legal team is filing to have all charges dropped. Flint residents were outraged. One community activist told the AP the decision was a "disgrace," allowing "everyone who was involved in this manmade disaster by the government [to walk] away scot-free."
---
Quickest Quickies
---
SOME NUMBER
95 percent
That's how many samples of the natural gas piped into people's homes contained the cancer-causing chemical benzene, according to a new Harvard study. Scientists found 20 other hazardous "air toxics" in the samples, indicating that gas leaks are not only a climate change concern but a public health problem.
---
ON THE SHOW TODAY
6/29: Sam hosts Mark Joseph Stern, senior writer at Slate, to discuss the recent bombshell SCOTUS opinions, and what other decisions remain to be issued. Then, Sam is joined by Matt Stoller, director of research at the American Economic Liberties Project and author of the BIG newsletter on Substack, to discuss what's been going on at the Federal Trade Commission.6/28: Sam hosts William Forbath, Associate Dean for Research at the University of Texas at Austin Law School, and Joseph Fishkin,  Professor at the UCLA School of Law, to discuss their recent book The Anti-Oligarchy Constitution: Reconstructing the Economic Foundations of Democracy.

---
Don't Miss MR Clips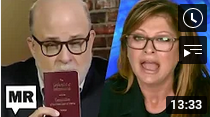 Republicans Panicking as Majority of Americans Reject Conservative SCOTUS Overturning Roe
They're trying to say the ruling won't change anything -- it's a lie.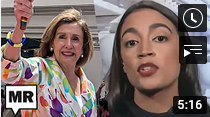 AOC Is Coming for Nancy Pelosi and the Democratic Leadership
She's absolutely right that President Joe Biden needs to address the legitimacy crisis in government.
---
PARTING WORDS
"I don't know why I am here."
-- 101-year-old Nazi concentration camp guard Josef Schuetz, speaking at his trial in Germany for complicity in the deaths of 3,518 prisoners during World War II. Despite claiming innocence and ignorance, Schuetz covered his face to avoid courtroom photographers; the court convicted and sentenced him to five years in prison yesterday.
---
Quickie Discount Code Corner
Hey check it out! Stuff on sale!
LATEST ADDITIONS!
Established Titles: Get an amazing gift for your dad this Father's Day! Go to https://establishedtitles.com/majority and get 10% off today.
Vessi: Go to https://vessi.com/majority and use code MAJORITY for $25 off each pair of adult Vessi shoes! Free shipping to US, CA, AUS, NZ, JP, TW, KR, SGP
ALL THE REST!
ExpressVPN: Secure your online data TODAY by visiting this link. That's https://www.expressvpn.com/majority and you can get an extra three months FREE.
Fast Growing Trees: Go to this link right now, and you'll get FIFTEEN PERCENT OFF your entire order.
Ritual: Get key nutrients without the B.S. Ritual is offering our listeners 10% off during your first three months. Visit here to start your Ritual today.
Aura: Protect yourself from America's fastest-growing crime. Try Aura for 14 days for free: https://aura.com/majority
Quip: If you go to this link RIGHT NOW, you'll get your first refill FREE.
Shopify: Go to this link here for a FREE fourteen-day trial and get full access to Shopify's entire suite of features.
LiquidIV: You can get 25% off when you go to liquidiv.com and use code MAJORITYREP at checkout.
Stamps.com: Start mailing and shipping with stamps.com, and keep more money in your pocket every day. Sign up with promo code MAJORITYREPORT for a special offer that includes a 4-week trial, plus free postage and a digital scale.
ZipRecruiter: Find the right employees for your workplace with ZipRecruiter. Try it FOR FREE at this exclusive web address.
Nutrafol: For FIFTEEN DOLLARS OFF go to https://nutrafol.com/men/ with promo code MAJORITY.
Outer: See the difference at go.liveouter.com/MAJORITY. Plus, for a limited time, get $300 off and FREE shipping.
Sunset Lake CBD: Visit sunsetlakecbd.com.
Grove: Go to this link here today to get a free gift set worth up to fifty dollars with your first order. Plus, shipping is fast and FREE.
Headspace: Try this link, with discount code MAJORITY and get one month FREE of their entire mindfulness library.
StartMail: Start securing your email privacy with StartMail. Sign up today and you'll get 50% off your first year! Go to this link here for our special promotion!.
CozyEarth: Go to this link here and enter the special promo code MAJORITY at checkout to SAVE thirty-five percent now.