'Nothing to See Here!' Screams Secret Service - The Thursday AM Quickie 6/30/22
In case you missed it yesterday, R. Kelly got sentenced to 30 years in prison for sex trafficking -- plenty of time to plan a lucrative comeback as another victim of cancel culture run amok. - Corey
Tell your friends to sign up for this M-F newsletter at AMQuickie.com!
---
THE BIG NEWS
Anonymous Officials Wouldn't Lie, Would They?
Former White House aide Cassidy Hutchinson's stunning testimony to the House committee investigating Donald Trump's Jan. 6, 2021 coup attempt was still the talk of the block yesterday. According to this sports betting website, gamblers rate Trump's chances of facing indictment at 22 percent, up from 14 percent, since Hutchinson's testimony. The presumably better-sourced Washington Post confirms that "Hutchinson's testimony 'contained credible nuggets of information that would support' prosecutors viewing Trump as an investigative target in a seditious conspiracy investigation."
Not everyone took this as good news. Within hours after Hutchinson spoke, anonymous sources from the Secret Service were pouring cold water on the most shocking details to any reporter who would listen (and was willing spread their anonymous claims, true or false). In particular, those sources said Trump aide Tony Ornato and Secret Service agent Bobby Engel were prepared to testify that Hutchinson's story about Trump assaulting an agent and seizing the wheel of the presidential limo never happened. Quite a few pundits took those anonymous statements at face value. That's a mistake.
Think about it. Hutchinson, a 26-year-old who became a key aide to Trump chief of staff Mark Meadows after joining the White House as an intern, faced intense pressure from Trumpworld not to testify. Committee members including the co-chair, Republican Rep. Liz Cheney of Wyoming, have already presented evidence of witness tampering by people close to Trump and likely by Trump himself -- and more evidence is to come. Facing all that pressure, why would she make up a story that could be refuted, and tell it under oath? Out of spite? Absurd.
Now consider those seeking to undermine her testimony. Everyone who was in the limo -- especially Trump but also the agents guarding him -- has multiple reasons they might be motivated to lie about what happened on that day. As for the Secret Service officials who cast doubt on Hutchinson's testimony, they did so anonymously, so if they're lying, they will face no consequences at all. Now, let's say that Ornato and Engel do end up testifying to the committee and do contradict Hutchinson's admittedly secondhand account of what happened in the presidential limo on Jan. 6. These anonymous officials have already told the world what these witnesses will say, before they have a chance to use their own words. Even if that's not witness tampering in the legal sense, it could certainly affect their testimony; those comments made it crystal clear to everyone, especially Ortano and Engel, what agency higher-ups (and perhaps Trump) expect them to tell the committee.
What's more, as Washington Post reporter Carol Leonnig told MSNBC, Ortano and Engel were known as Trump's "yes men." They may indeed remain loyal to him, even if they did have some sort of scuffle or, let's say, spirited disagreement with him while his coup attempt was underway. Given all this context, I think it's most likely that Hutchinson truthfully and accurately told the committee what she heard at the time. Even if events didn't happen precisely the way she described them -- although for all anyone knows, they did -- the most important parts of her testimony have not been contradicted by anyone but Trump, who as we all know is a serial liar. It's notable that the anonymous officials did not even try to shoot down Hutchinson's other damning claims: that Trump and his aides knew there would be violence on Jan. 6, that there was some knowledge of and coordination with extremist groups now charged with seditious conspiracy, that Trump wanted his armed supporters let through security checkpoints, or that Trump was angrily determined to get to the Capitol to join the mob. How strange that they tried to discredit the salacious detail most personally humiliating to Trump's ego. I should make clear that it isn't strange at all to anyone with a memory long enough to recall how things worked in Washington under that maniac's personality cult.
Secret Service spokesman Anthony Guglielmi -- who, for my money, is the most likely source of the anonymous quotes undermining Hutchinson -- spent yesterday complaining that the committee "didn't reach out" to the agency prior to Hutchinson's testimony. So what? Why would they? And while we're at it, why should American trust the Secret Service, given its consistently embarrassing record? They have a lot to answer for. It was only a few months ago that a member of the Biden family's personal detail got caught taking bribes from two guys posing as Homeland Security agents, whose motives remain unknown. Moreover, the prospect of Secret Service involvement in Trump's plot has already been raised by none other than Mike Pence, who, per the committee's information, was afraid to enter a Secret Service vehicle at the Capitol lest it take him somewhere he didn't want to go. Surely Pence had some reasonable basis for that suspicion. This is an agency that really doesn't want close scrutiny of its conduct, especially as it relates to Jan. 6, and for that reason alone I agree with this Washington Post columnist: bring it on. Testify away. And here's a question for the agents who, by virtue of their proximity to Trump, must have known something about his violent coup plot while it was in the conceptual stage: did they do anything to prevent it?
Some related updates:
---
MORE STORIES TO WATCH
Justice Ketanji Brown Jackson Will Be Sworn in Today
Supreme Court Justice Stephen Breyer announced his retirement yesterday with a letter to President Joe Biden. Not long afterward came the news that Ketanji Brown Jackson will be sworn in as Breyer's replacement at noon today. The court will also release its final batch of opinions from its especially ignominious current term today. Yesterday the court decided to undo substantive aspects of its own 2020 decision that found a swath of eastern Oklahoma belonged to Native American tribes and limited the state's ability to prosecute crimes on those lands. In his dissent yesterday, Justice Neil Gorsuch, who wrote the 2020 decision, called the new majority opinion "ahistorical and mistaken"; the Muscogee (Creek) Nation called yesterday's ruling "an alarming step backward for justice on our reservation" that "will have a ripple effect throughout Indian Country across the United States." The decision also inspired disgusting displays of racism from the usual suspects.
Noted Election Denier Denies She Lost Tuesday Primary
A number of states held primary elections the other day but it was a very busy news day and most weren't closely competitive races so I figured you could wait until this morning for results. In Colorado, Trumpist election denier and indicted criminal Tina Peters lost the Republican primary for secretary of state to Pam Anderson; predictably, Peters told supporters "we didn't lose, we just found evidence of more fraud." Corrupt weirdo Republican Rep. Lauren Boebert won her primary, however. In Illinois, Trumpist extremists won a number of Republican primary contests; as Politico reports, Darren Bailey emerged victories in a crowded GOP gubernatorial field thanks in part to a boost from Democrats who ran ads playing up his ties to Trump. And in New York, Gov. Kathy Hochul defeated two Democratic primary challengers by a wide margin; Andrew Giuliani, son of the beleagured liar and coup plotter Rudy, lost the Republican primary to Lee Zeldin. More results here from the AP and here from the New York Times.
---
Quickest Quickies
---
SOME NUMBER
2,500
That's how many daily and weekly newspapers in the U.S. have closed since 2005, according to a new report, leaving large parts of the country -- many in "economically struggling, traditionally underserved communities" -- with no local news coverage.
---
ON THE SHOW TODAY
6/30: Emma hosts Natasha Lennard, columnist at The Intercept, to discuss her recent reporting before, during, and after Roe v. Wade's overturning by the Supreme Court. Then, Emma is joined by Greg Casar, candidate for Congress in Texas's 35th district, to give us an update from the campaign trail.
---
Don't Miss MR Clips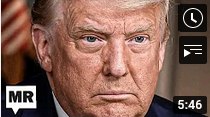 Trump Was 'F---ing Furious' His Armed Supporters Were Kept Out of Jan. 6 Rally, Witness Says
"They're not here to hurt me": Case closed.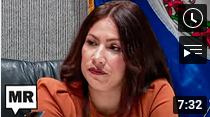 GOP Theocrats Threaten U.S. Separation of Church and State
The fundies are wilding out!
---
PARTING WORDS
"Corporate markups are real. Bringing them down would be beneficial to the economy, especially if you don't think that profits will necessarily go to more investment but simply be paid out as bonuses to shareholders and bosses."
-- Roosevelt Institute economist Mike Konczal, speaking to the Los Angeles Times about one cause of consumer price inflation that doesn't get talked about enough, much less addressed by policymakers: price-gouging by corporations to increase their profit margins.
---
Quickie Discount Code Corner
Hey check it out! Stuff on sale!
LATEST ADDITIONS!
Established Titles: Get an amazing gift for your dad this Father's Day! Go to https://establishedtitles.com/majority and get 10% off today.
Vessi: Go to https://vessi.com/majority and use code MAJORITY for $25 off each pair of adult Vessi shoes! Free shipping to US, CA, AUS, NZ, JP, TW, KR, SGP
ALL THE REST!
ExpressVPN: Secure your online data TODAY by visiting this link. That's https://www.expressvpn.com/majority and you can get an extra three months FREE.
Fast Growing Trees: Go to this link right now, and you'll get FIFTEEN PERCENT OFF your entire order.
Ritual: Get key nutrients without the B.S. Ritual is offering our listeners 10% off during your first three months. Visit here to start your Ritual today.
Aura: Protect yourself from America's fastest-growing crime. Try Aura for 14 days for free: https://aura.com/majority
Quip: If you go to this link RIGHT NOW, you'll get your first refill FREE.
Shopify: Go to this link here for a FREE fourteen-day trial and get full access to Shopify's entire suite of features.
LiquidIV: You can get 25% off when you go to liquidiv.com and use code MAJORITYREP at checkout.
Stamps.com: Start mailing and shipping with stamps.com, and keep more money in your pocket every day. Sign up with promo code MAJORITYREPORT for a special offer that includes a 4-week trial, plus free postage and a digital scale.
ZipRecruiter: Find the right employees for your workplace with ZipRecruiter. Try it FOR FREE at this exclusive web address.
Nutrafol: For FIFTEEN DOLLARS OFF go to https://nutrafol.com/men/ with promo code MAJORITY.
Outer: See the difference at go.liveouter.com/MAJORITY. Plus, for a limited time, get $300 off and FREE shipping.
Sunset Lake CBD: Visit sunsetlakecbd.com.
Grove: Go to this link here today to get a free gift set worth up to fifty dollars with your first order. Plus, shipping is fast and FREE.
Headspace: Try this link, with discount code MAJORITY and get one month FREE of their entire mindfulness library.
StartMail: Start securing your email privacy with StartMail. Sign up today and you'll get 50% off your first year! Go to this link here for our special promotion!.
CozyEarth: Go to this link here and enter the special promo code MAJORITY at checkout to SAVE thirty-five percent now.