Rogue SCOTUS Tries to Seal Our Doom - The Friday AM Quickie 7/1/22
The stories have been running a bit long lately. Granted, there's been a lot of news to cover. Jack returns Monday and I trust him to restore brevity to the newsletter. - Corey
Tell your friends to sign up for this M-F newsletter at AMQuickie.com!
---
THE BIG NEWS
Biden Must Pack the Court Before All Is Lost
First, the good news. Ketanji Brown Jackson yesterday was sworn in as the first Black woman justice on the United States Supreme Court, following, by her own count, 232 years and 115 prior appointments. NAACP pressident Derrick Johnson said her swearing-in was "the greatest news for Black America coming out of this Supreme Court in a long, long time" and that Justice Jackson will be a vote "for compassion, respect for human rights, and honor for the rule of law" at a time when "far-right extremism [is] poisoning our nation's highest court."
Indeed. Now we just need another three or four of her named to the court to undo the damage from the past few weeks alone.
More rulings dropped yesterday as the court wrapped up its last term with Justice Jackson's predecessor, Stephen Breyer. And, with one exception, they were truly abysmal decisions by this unelected panel of clerics, decisions that will have horrific global consequences. Not content with stripping people's rights, the court's far-right majority seems determined to extinguish democracy in this country just in time for the ecological collapse it has now virtually guaranteed.
By a 6-3 vote, the court ruled to prevent the Environmental Protection Agency from fighting climate change by requiring existing power plants to cut carbon emissions. Writing the dissent, Justice Elena Kagan said the conservative bloc appointed themselves, instead of Congress or agency scientists, "the decisionmaker on climate policy. I cannot think of many things more frightening." Indeed, experts warned that the ruling means "it will soon be mathematically impossible" to meet greenhouse gas reduction targets, which means -- there's no reason to sugar-coat it -- literal catastrophe. California is already facing permanent dustbowl conditions of the sort that led "to the collapse of ancient cities in Mesopotamia and the Mayan Empire." But hey, at least Charles Koch is happy!
Kagan is right to be frightened of her colleagues' ignorance. In another opinion published yesterday, Justice Clarence Thomas appeared to embrace a popular QAnon conspiracy theory, writing that "all available COVID–19 vaccines...were developed using cell lines derived from aborted children" -- which is false. "Justice Thomas has already proven that he is unfit to serve as a Supreme Court Justice. Spreading false information about a lifesaving vaccine is further evidence that he must either resign or be removed," responded Illinois Democratic Rep. Jan Schakowsky.
Yesterday's other big story out of the court was its decision to hear a case from North Carolina on the question of "independent state legislature doctrine," a crackpot Republican legal theory that would give state lawmakers -- like, potentially, this guy -- sole authority over federal elections. This theory, which is "at odds with more than a hundred years of Supreme Court precedent," is conveniently being pushed at a time when the GOP controls legislatures in 30 states. Not at all coincidentally, the theory also featured in the "sham electors" element of Donald Trump's failed coup attempt in January 2021. It must be noted that the lead plaintiff in the case, North Carolina House Speaker Tim Moore, backed Trump's "stop the steal" lies in November 2020.
"We are witnessing a judicial coup in process," New York Democratic Rep. and voice of sanity Alexandria Ocasio-Cortez warned yesterday. "If the President and Congress do not restrain the Court now, the Court is signaling they will come for the Presidential election next. All our leaders - regardless of party - must recognize this Constitutional crisis for what it is."
---
MORE STORIES TO WATCH
Biden Backs Filibuster Carveout for Abortion Rights
President Joe Biden said yesterday that he supports an exception to the Senate filibuster rule to codify abortion protections into federal law, which is the most he's done so far to address the Supreme Court's decision to strip well-established rights from millions of Americans. "Now we're talking!" AOC responded. Obstructionist Sens. Joe Manchin of West Virginia and Kyrsten Sinema of Arizona remain opposed to filibuster changes, however -- at least for now. And it must be noted, Biden isn't exactly reliable on this issue; he has reportedly backed the nomination of an anti-abortion lawyer to a federal judgeship in eastern Kentucky as part of a deal with Senate Minority Leader Mitch McConnell. In related news, a Florida judge temporarily blocked the state's abortion ban from taking effect; while in Michigan, two Republican county prosecutors announced they would defy a similar judicial injuction and proceed prosecuting doctors. Finally, conservative legal groups are pushing legislation for Republican state lawmakers across the country to establish a Texas-style bounty system encouraging private lawsuits against people who cross state lines for abortions, and anyone who helps them.
Pennsylvania Republicans Are Coming for Larry Krasner
Krasner, Philly's progressive District Attorney, will face an open-ended state House investigation following a largely party-line vote yesterday. As the Philadelphia Inquirer reports, the new House "Select Committee on Restoring Law and Order" will have subpoena power. They're looking for a reason to impeach Krasner, although that "would require evidence of corruption or clear misbehavior in office, experts say -- not simply political or ideological disagreements over how he manages his office and prosecutes crime." Krasner calls the GOP-led inquiry a "farce" and potentially unconstitutional. Four state House Democrats, including three from Philly, sided with Republicans in the vote.
---
Quickest Quickies
---
SOME NUMBER
1 in 3
That's how many Republicans agree with the statement that "it may be necessary at some point soon for citizens to take up arms against the government," according to a new poll by the University of Chicago Institute of Politics. One in five Democrats agreed.
---
ON THE SHOW TODAY
7/1: It's Casual Friday! Sam and Emma host Heather Digby Parton, contributing writer at Salon.com and proprietor of the blog Hullabaloo to round up the week in news.
---
Don't Miss MR Clips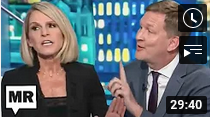 How to Destroy Republican Anti-Abortion Talking Points
Maybe it would do Biden some good to watch this segment.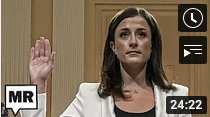 White House Ignored Warnings of Violence on Jan. 6 as Capitol Riot Unfolded, Witness Reveals
Because they planned the violence, of course.
---
PARTING WORDS
"To make this decision so hastily really flies in the face of due process and fair treatment. Quite frankly, Officer Lugo expected more from his city."
-- Daniel Griffin, the attorney for Providence Police Department officer and Republican state senate candidate Jeann Lugo, in a statement after the department placed Lugo on administrative leave for punching his Democratic opponent, Jennifer Rourke, two times in the face at an abortion-rights protest. For her part, Rourke said "This is what it is to be a Black woman running for office. I won't give up."
---
Quickie Discount Code Corner
Hey check it out! Stuff on sale!
LATEST ADDITIONS!
Established Titles: Get an amazing gift for your dad this Father's Day! Go to https://establishedtitles.com/majority and get 10% off today.
Vessi: Go to https://vessi.com/majority and use code MAJORITY for $25 off each pair of adult Vessi shoes! Free shipping to US, CA, AUS, NZ, JP, TW, KR, SGP
ALL THE REST!
ExpressVPN: Secure your online data TODAY by visiting this link. That's https://www.expressvpn.com/majority and you can get an extra three months FREE.
Fast Growing Trees: Go to this link right now, and you'll get FIFTEEN PERCENT OFF your entire order.
Ritual: Get key nutrients without the B.S. Ritual is offering our listeners 10% off during your first three months. Visit here to start your Ritual today.
Aura: Protect yourself from America's fastest-growing crime. Try Aura for 14 days for free: https://aura.com/majority
Quip: If you go to this link RIGHT NOW, you'll get your first refill FREE.
Shopify: Go to this link here for a FREE fourteen-day trial and get full access to Shopify's entire suite of features.
LiquidIV: You can get 25% off when you go to liquidiv.com and use code MAJORITYREP at checkout.
Stamps.com: Start mailing and shipping with stamps.com, and keep more money in your pocket every day. Sign up with promo code MAJORITYREPORT for a special offer that includes a 4-week trial, plus free postage and a digital scale.
ZipRecruiter: Find the right employees for your workplace with ZipRecruiter. Try it FOR FREE at this exclusive web address.
Nutrafol: For FIFTEEN DOLLARS OFF go to https://nutrafol.com/men/ with promo code MAJORITY.
Outer: See the difference at go.liveouter.com/MAJORITY. Plus, for a limited time, get $300 off and FREE shipping.
Sunset Lake CBD: Visit sunsetlakecbd.com.
Grove: Go to this link here today to get a free gift set worth up to fifty dollars with your first order. Plus, shipping is fast and FREE.
Headspace: Try this link, with discount code MAJORITY and get one month FREE of their entire mindfulness library.
StartMail: Start securing your email privacy with StartMail. Sign up today and you'll get 50% off your first year! Go to this link here for our special promotion!.
CozyEarth: Go to this link here and enter the special promo code MAJORITY at checkout to SAVE thirty-five percent now.