The Funniest Quote Yet from a Jan. 6 Hearing - The Friday AM Quickie 6/24/22
Why was Sean Penn at yesterday's big Congressional hearing? Apparently because it's more fun watching the fall of Rome from the hallowed halls of the legislature than from the comforts of one's home on TV. Anyhoo, it's back to cat-herding for me, and Jack returns Monday. - Corey
Tell your friends to sign up for this M-F newsletter at AMQuickie.com!
---
THE BIG NEWS
The Treason Show, Ep. 5: Trump's YouTube History
There was a fair bit of off-camera action ahead of yesterday's hearing by the House committee investigating Donald Trump's Jan. 6, 2021 coup attempt. In suburban Virginia, federal agents raided the home of former Justice Department official Jeffrey Clark, a shameless Trump toady whose role in the plot featured in the hearing. The raid took place on Wednesday but, in typically dramatic DOJ fashion, wasn't publicized until about an hour before yesterday's hearing. The Los Angeles Times reports that agents seized Clark's electronic devices. Whatever the raid might lead to, the fact it happened at all is quite remarkable -- Trump actually had this bootlicker Clark in mind to replace former acting Attorney General Jeffrey Rosen, who had refused to play his assigned role in the coup plot. There's more about that below. FBI agents also paid a home visit to Allegheny County, Pennsylvania Republican Party chairman Sam DeMarco yesterday, for an interview and to serve him with a subpoena; DeMarco was mixed up in the "bogus electors" aspect of Trump's coup plot, which was the focus of the previous House hearing that Jack covered in Wednesday's newsletter.
Rosen, who became acting AG after Bill Barr resigned in frustration, was one of three live witnesses in yesterday's hearing -- all of them die-hard Republicans who rejected Trump's coup plot. The other two were former acting deputy AG Richard Donoghue and Steven Engel, who led the DOJ Office of Legal Counsel. Donoghue gave some of the most compelling testimony. He said that Trump told him, regarding the 2020 election, to "just say it was corrupt, and leave the rest to us." Given how brazen Trump was about his criminal intentions, it's no wonder he provoked a near-mutiny within the DOJ -- where officials knew, just as Trump's advisers did, that there was no basis in reality for the conspiracy theories about election fraud Trump was pushing. Donoghue and Engel recalled telling Trump that if he elevated Clark to AG, it would lead to hundreds of resignations at the DOJ, which would not be good for him or the country. Those objections led Trump to back down on Clark's appointment, even though call logs dated Jan. 3 show Clark was already being referred to inside the White House as acting AG.
Some evidence presented was mind-boggling. The committee played a clip from a 20-minute YouTube video advancing a conspiracy theory that held the CIA and MI6 were using Italian satellites to alter votes in the U.S. (somehow). Trump demanded that DOJ and Pentagon officials follow up on the video. When they resisted, he said -- and I swear I'm not making this up -- "you guys may not be following the Internet the way I do." A witness described this do-your-own-research approach to governance as insanity, which is an understatement, truly. In taped testimony, Rudy Giuliani said he urged Trump to elevate unqualified loyalists at DOJ who weren't concerned about their professional reputations. Clark, a former corporate lawyer representing polluters -- who, as Donoghue told Trump, had never tried a criminal case -- certainly fit that bill. It emerged that Pennsylvania Republican Rep. Scott Perry led the push to install Clark as the nation's top law enforcement official in order to overturn the election and establish a dictatorship fronted by a game show host. Perry was one of the members of Congress who requested a pardon from Trump. These people knew what they were doing was criminal -- and it will be criminal if DOJ lets them go unpunished.
In related news, Trump is reportedly mad (even more than usual) at House Minority Leader and spineless coward Kevin McCarthy of California. Trump blames McCarthy for failing to sabotage these hearings. Fortunately for the rest of us, that decision not to participate with the committee have allowed investigators to present a clear and compelling case without interruption from people who were a party to Trump's conspiracy. Episode six of The Treason Show debuts sometime in July (TBA), and we'll keep you posted about developments in the meantime.
---
MORE STORIES TO WATCH
Beyond Guns, Even More Terrible SCOTUS Rulings
You likely heard, perhaps on MR, about the Supreme Court's 6-3 decision to strike down a New York law requiring people demonstrate some special need to carry a concealed firearm in public. Gov. Kathy Hochul yesterday called the ruling "absolutely shocking"; Manhattan District Attorney Alivn Bragg correctly noted that the decision "severely undermines public safety not just in New York City, but around the country"; even Mayor-Cop Eric Adams called the ruling "appalling." But that was not the only disastrous new decree from these unelected rightwing extremists in robes! In another 6-3 decision, the court ruled that people can't sue police officers who violate their Miranda rights. And in an 8-1 decision (with Justice Sonia Sotomayor dissenting), the court ruled in favor of Republican lawmakers in North Carolina who are seeking to implement a racially discriminatory voter ID law over the Democratic governor's veto and unfavorable state court rulings. As Teen Vogue puts it, "it's no wonder the Supreme Court is facing a crisis of legitimacy."
U.S. Sanctions Inhibit Post-Quake Aid to Afghanistan
Estimates of the death toll in Afghanistan from the earthquake that struck there early Wednesday rose to 1,000, with another 1,600 people injured. Untold thousands were left to sleep exposed in the pouring rain after the mud-brick homes in rural areas simply disintegrated; entire villages were wiped out and families lost. A woman who narrowly escaped getting crushed by her roof told the Washington Post about how she dug through rubble for eight hours searching for the bodies of two of her children; "When they stopped screaming [after one hour], I knew they were dead," she said. The Taliban government has called for international aid, which, in no small part because of U.S. sanctions, has been meager so far. And this disaster comes as 93 percent of Afghan households can't put enough food on the table, per United Nations estimates. Separately, the U.S. Special Inspector for Afghanistan Reconstruction accused the State Department and USAID of "illegal obstruction" by stonewalling its inquiry into last summer's chaotic U.S. withdrawal.
---
Quickest Quickies
---
SOME NUMBER
$200,000
That's how much compensation the Biden administration will approve for former spies and diplomats afflicted by so-called Havana Syndrome, a set of disabling ailments with unclear diagnostic criteria and an undetermined cause; per the Washington Post, the largest payments will be reserved for "those determined to have suffered the most significant setbacks, such as job loss or career derailment."
---
ON THE SHOW TODAY
6/24: It's Casual Friday! Sam hosts Jamelle Bouie, opinion columnist at the New York Times and co-host of the Unclear and Present Danger podcast, to discuss his recent piece "The Gerontocracy of the Democratic Party Doesn't Understand That We're at the Brink."
---
Don't Miss MR Clips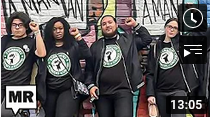 Starbucks Was Fertile Ground for Unionization Wave Great interview with a labor organizer.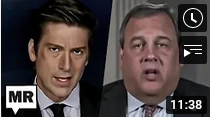 Chris Christie Proves Why 'Never Trumpers' Should Never Be Elevated By Liberals What happened to accountability?
---
PARTING WORDS
"If WHO was really worried about monkeypox spread, they could have convened their emergency committee years ago when it reemerged in Nigeria in 2017 and no one knew why we suddenly had hundreds of cases. It is a bit curious that WHO only called their experts when the disease showed up in white countries."
-- Oyewale Tomori, a Nigerian virologist and World Health Organization advisor, speaking to the AP about the group's pending decsion, expected today at the earliest, about whether to declare a global emergency over the monkeypox virus.
---
Quickie Discount Code Corner
Hey check it out! Stuff on sale!
LATEST ADDITIONS!
Established Titles: Get an amazing gift for your dad this Father's Day! Go to https://establishedtitles.com/majority and get 10% off today.
Vessi: Go to https://vessi.com/majority and use code MAJORITY for $25 off each pair of adult Vessi shoes! Free shipping to US, CA, AUS, NZ, JP, TW, KR, SGP
ALL THE REST!
ExpressVPN: Secure your online data TODAY by visiting this link. That's https://www.expressvpn.com/majority and you can get an extra three months FREE.
Fast Growing Trees: Go to this link right now, and you'll get FIFTEEN PERCENT OFF your entire order.
Ritual: Get key nutrients without the B.S. Ritual is offering our listeners 10% off during your first three months. Visit here to start your Ritual today.
Aura: Protect yourself from America's fastest-growing crime. Try Aura for 14 days for free: https://aura.com/majority
Quip: If you go to this link RIGHT NOW, you'll get your first refill FREE.
Shopify: Go to this link here for a FREE fourteen-day trial and get full access to Shopify's entire suite of features.
LiquidIV: You can get 25% off when you go to liquidiv.com and use code MAJORITYREP at checkout.
Stamps.com: Start mailing and shipping with stamps.com, and keep more money in your pocket every day. Sign up with promo code MAJORITYREPORT for a special offer that includes a 4-week trial, plus free postage and a digital scale.
ZipRecruiter: Find the right employees for your workplace with ZipRecruiter. Try it FOR FREE at this exclusive web address.
Nutrafol: For FIFTEEN DOLLARS OFF go to https://nutrafol.com/men/ with promo code MAJORITY.
Outer: See the difference at go.liveouter.com/MAJORITY. Plus, for a limited time, get $300 off and FREE shipping.
Sunset Lake CBD: Visit sunsetlakecbd.com.
Grove: Go to this link here today to get a free gift set worth up to fifty dollars with your first order. Plus, shipping is fast and FREE.
Headspace: Try this link, with discount code MAJORITY and get one month FREE of their entire mindfulness library.
StartMail: Start securing your email privacy with StartMail. Sign up today and you'll get 50% off your first year! Go to this link here for our special promotion!.
CozyEarth: Go to this link here and enter the special promo code MAJORITY at checkout to SAVE thirty-five percent now.