Why Biden's Gas Tax Break Is a "Con" - The Thursday AM Quickie 6/23/22
Hey, I'm back! I gotta say, whenever I'm not scouring the news every day like it's my job (which of course it is), I'm genuinely grateful for the work Jack does here to keep me up to speed. - Corey
Tell your friends to sign up for this M-F newsletter at AMQuickie.com!
---
THE BIG NEWS
A Gas Tax Holiday Amid Climate Chaos
Nearly half of the population of the United States today and through the weekend will, per the forecasts, cope with temperatures above 90 degrees Farenheit, and for some 17 million, the highs will surpass 100. Record highs are expected in Southern cities including Dallas, Houston, New Orleans, Memphis, and Nashville. These are dangerous levels of heat for many vulnerable people. The temperatures also mean more hurricanes than usual are likely this summer with "the potential for a rapid intensification" -- causing more coastal flooding as recently seen in Miami. Farther inland, the climate change-powered heat wave could spark "flash droughts" and thus yet more wildfires. And this heat wave is expected to continue into July.
Fire season started early in New Mexico this year, displacing thousands; this week the U.S. Forest Service admitted in an 80-page report that it failed to account for the effects of climate change, which "is leading to conditions on the ground we have never encountered." In Wyoming, Yellowstone National Park reopened, partially, following record flooding that "reshaped the park's rivers and canyons, wiped out numerous roads and left some areas famous for their wildlife viewing inaccessible, possibly for months to come." In less high-profile ways, climate change is doing damage to every single national park -- and not only to parks, of course, but to the places people live and the ecology that keeps us all alive.
What's the government doing about all this? Making it worse, of course!
President Joe Biden is asking Congress to pass a three-month gas tax holiday, an idea Barack Obama once called a "gimmick" and which Oregon Rep. Peter DeFazio, who chairs the House Transportation and Infrastructure Committee, this week described as "a short-sighted proposal that relies on the cooperation of oil companies to pass on miniscule savings to consumers." Even House Speaker Nancy Pelosi, no champion of the Green New Deal, called Biden's proposal a "very showbiz"-style "con" because "the oil companies do not necessarily pass that [savings] on to the consumer." Those companies will be meeting with Energy Secretary Jennifer Granholm today to talk about increasing supply -- which, as this summer's weather shows, is frankly the last thing we need.
But that's not all! Congressional Democrats are ready to scrap a plan to create tax credits for clean energy development to appease coal baron Sen. Joe Manchin III of West Virginia because he calls it "a handout to the private sector" -- which is pretty rich considering how he made his fortune. Meanwhile in Sri Lanka, the entire economy "has completely collapsed," in the words of Prime Minister Ranil Wickremesinghe, and one reason why relates to the massive $700 million debt held by the state oil company. Whether controlled by the state or privately held, these utterly nefarious corporations are fleecing the public and holding governments hostage the world over, and politicians would be wise to confront the problem head-on before the fires and floods get worse. If only Biden, the Amtrak guy, was announcing a national high-speed rail network today instead lower taxes for those poisoning the planet. It's never too late -- until it is.
---
MORE STORIES TO WATCH
The Treason Show Ep. 05 Preview
Today's hearing by the House committee investigating Donald Trump's Jan. 6, 2021 coup attempt begins at 3 p.m. Eastern time. It will focus on Trump's efforts to rope the Justice Department into his scheme. According to committee chair Rep. Bennie Thompson, a flood of tips that have come in since prior hearings, as well as newly obtained footage and documents, has expanded the schedule, and future hearings will take place next month following a House recess that ends July 12. It isn't just tips coming in to Congressional investigators, however: as the Washington Post reports, there's been an influx of threats against both Democratic and Republican committee members, who are all likely to get their own security details. There is no word on security for witnesses like Georgia elections worker Wandrea Moss, who said Tuesday that there is "nowhere I feel safe" after being targeted by Trump. Other updates: An Arizona Republican election official who stood up to Trump's bullying said he'd nevertheless vote for Trump again over Biden; the Justice Department doesn't want the Proud Boys charged with seditious conspiracy to face a jury until next year, and issued new subpoenas in the bogus electors investigation; across the country, Ashli Babbitt's mom continues to excite pro-coup crowds by urging them to "be proud white Americans!"
Ukraine Update: EU Set to Welcome Ukraine's Candidacy
European Union leaders are currently meeting in Brussels and Ukrainian officials put the chances they'll accept the country's candidacy for membership at 100 percent -- which could make it a safer bet than Sweden and Finland's hopes for fast-tracked NATO membership. As the Associated Press explains, attaining EU candidate status requires unanimous approval from all members, some of whom remain concerned about corruption and the rule of law -- but the skeptics now seem to think those problems can be addressed after the war. Ukrainian officials say the outcome could be decided in coming days as Russia seizes more territory in the east using overwhelming bombardment, and Ukraine relies on "undertrained units" to hold ground due to heavy casulties. Finally, Russian forces reportedly killed a Ukrainian photojournalist, at least the eighth to die since the invasion; and a second U.S. citizen fighting on the Ukrainian side was killed as reported by his hometown paper in upstate New York.
---
Quickest Quickies
---
SOME NUMBER
21.3 million
That's how many tax returns the Internal Revenue Service had received but failed to process as of May 27, according to a new report to Congress by the national taxpayer advocate, Erin Collins. It sucks for most people, but the system continues to be very good for shady far-right billionaires!
---
ON THE SHOW TODAY
6/23: Sam hosts Mike Konczal, director of macroeconomic analysis at the Roosevelt Institute, to discuss his recent paper "Prices, Profits, and Power" that he co-authored with Niko Lusiani. Then, Sam is joined by Amane Badhasso, candidate for Congress in Minnesota's 4th District, to give an update from the campaign trail.
---
Don't Miss MR Clips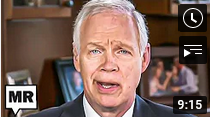 GOP Senator in Hot Water After Being Implicated in Trump's Fake Elector Scheme Watch him squirm!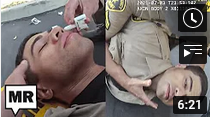 Police Are Lying About Cops Overdosing from Fentanyl Exposure Maybe one of the least harmful things they lie about, but what's the point?
---
PARTING WORDS
"I feel just awful about what's happened because there was a time when if a thing like this happened, the cops would take you home."
-- Republican Napa Valley doyenne Diane "Dede" Wilsey, referring to the recent drunk-driving arrest of Paul Pelosi, the Democratic House Speaker's husband, in this revealing look in the New York Times at the couple's almost comically out-of-touch life in California's high society enclave.
---
Quickie Discount Code Corner
Hey check it out! Stuff on sale!
LATEST ADDITIONS!
Established Titles: Get an amazing gift for your dad this Father's Day! Go to https://establishedtitles.com/majority and get 10% off today.
Vessi: Go to https://vessi.com/majority and use code MAJORITY for $25 off each pair of adult Vessi shoes! Free shipping to US, CA, AUS, NZ, JP, TW, KR, SGP
ALL THE REST!
ExpressVPN: Secure your online data TODAY by visiting this link. That's https://www.expressvpn.com/majority and you can get an extra three months FREE.
Fast Growing Trees: Go to this link right now, and you'll get FIFTEEN PERCENT OFF your entire order.
Ritual: Get key nutrients without the B.S. Ritual is offering our listeners 10% off during your first three months. Visit here to start your Ritual today.
Aura: Protect yourself from America's fastest-growing crime. Try Aura for 14 days for free: https://aura.com/majority
Quip: If you go to this link RIGHT NOW, you'll get your first refill FREE.
Shopify: Go to this link here for a FREE fourteen-day trial and get full access to Shopify's entire suite of features.
LiquidIV: You can get 25% off when you go to liquidiv.com and use code MAJORITYREP at checkout.
Stamps.com: Start mailing and shipping with stamps.com, and keep more money in your pocket every day. Sign up with promo code MAJORITYREPORT for a special offer that includes a 4-week trial, plus free postage and a digital scale.
ZipRecruiter: Find the right employees for your workplace with ZipRecruiter. Try it FOR FREE at this exclusive web address.
Nutrafol: For FIFTEEN DOLLARS OFF go to https://nutrafol.com/men/ with promo code MAJORITY.
Outer: See the difference at go.liveouter.com/MAJORITY. Plus, for a limited time, get $300 off and FREE shipping.
Sunset Lake CBD: Visit sunsetlakecbd.com.
Grove: Go to this link here today to get a free gift set worth up to fifty dollars with your first order. Plus, shipping is fast and FREE.
Headspace: Try this link, with discount code MAJORITY and get one month FREE of their entire mindfulness library.
StartMail: Start securing your email privacy with StartMail. Sign up today and you'll get 50% off your first year! Go to this link here for our special promotion!.
CozyEarth: Go to this link here and enter the special promo code MAJORITY at checkout to SAVE thirty-five percent now.