Supreme Court Protesters Chant "Where is Joe?" - The AM Quickie 5/6/22
What can I say? I'm frustrated with the present and scared for the future, and yet more and more I find that people consider me an optimist. Jack's got you covered on Monday - Corey
THE BIG NEWS
White House, Congress Out of Options After Trying Nothing
The Senate is scheduled to hold a procedural vote next Wednesday on the Pregnant Workers Fairness Act, which would codify abortion rights into federal law. "Next week's vote will be one of the most important we ever take," Senate majority leader Chuck Schumer said yesterday. He knows the vote will almost certainly result in the bill failing to pass, but he says it's important to get members of both parties on the record. As if we already don't know where elected representatives stand on this? As if there aren't candidate questionnaires every single election cycle?
According to a Washington Post analysis, a majority of American women of childbearing age -- 52 percent -- will lose their rights once the Supreme Court overturns Roe v. Wade. Thirteen states have "trigger" laws in place that will ban abortion as soon as the anticipated ruling comes down. Another 14 states are ready to pass bans. And Republicans in Congress are playing coy about it for the moment, but make no mistake: they want 100 percent of women across the country to be legally held captive to their harmful, retrograde, patricarchal conservative Christian theology. Or, as Republican Sen. Joni Ernst of Iowa put it to NBC News, in the context of a future federal abortion ban: "We need to discuss what the role of the federal government will be in this."
The growing crowds outside the now-walled-off Supreme Court have been chanting "Do something, Democrats," and "Where is Joe? Where is Joe?" Yesterday, the president was tweeting about his "plan to reduce the deficit even more." He hasn't used the word "abortion" on that platform since last September and, according to the New York Times, "he had never spoken the word out loud since taking office until this week when the draft ruling leaked." He reportedly prefers "to use words like 'privacy.'" Not the same, Joe! And it's not the '90s anymore! According to the Washington Post, news of the draft court decision caught the administration off guard; "in marathon meetings and phone calls among White House officials, government lawyers, outside advisers and federal agency officials, a sobering reality settled in: There's little the White House can do..."
Sensing a theme here? The Democratic president decides there's not much he can do. The Democrat-controlled Congress pretends its symbolic votes are of the utmost importance. As for that troublesome third branch of government, well, President Biden could still listen to the likes of Sen. Elizabeth Warren and pack the court -- but instead he's talking about deficit reduction. Centrist Democrats like Illinois Sen. Dick Durbin say "There's an answer. The answer is in November." In other words, vote harder. While state and local races will grow even more important, this schtick from national Democrats is wearing more than a little thin. New York Rep. Alexandria Ocasio-Cortez has correct response to that centrist refrain: "People elected Democrats precisely so we could lead in perilous moments like these -- to codify Roe, hold corruption accountable, & have a President who uses his legal authority to break through Congressional gridlock on items from student debt to climate," she wrote the other day. "It's high time we do it."
---
MORE STORIES TO WATCH
There Was Nothing Mild About Omicron
The World Health Organization said 15 million people have died as a result of the coronavirus pandemic, a figure that's more than double the official death toll. As one public health expert told the Associated Press, this estimated death toll remains lower than the 1918 Spanish Flu, but "the fact that so many people died despite the advances of modern medicine, including vaccines, is shameful." Separately, a new study currently undergoing peer review says the omicron variant of Covid, initially portrayed as "mild," is in fact just as severe as previous variants, posing "nearly identical" risks of hospitalization and mortality. Finally, federal funding for Covid treatment is drying up, and uninsured Americans who can't afford to see a doctor will likely be S.O.L. when it comes to obtaining the supposedly free antiviral pills the Biden administration is promoting as its new pandemic strategy.
Ukraine Update: Putin Plans a Parade
On Mother's Day, May 8, Jill Biden will visit with refugees on Slovakia's border with Ukraine. Ahead of Russia's national Victory Day celebrations on May 9, occupying forces in Mariupol -- who are still fighting for control of that steel plant -- are reportedly preparing to stage a parade after killing potentially tens of thousands of civilians there. Survivors are allegedly being forced to clear debris in anticipation of the celebration. Sergey Kiriyenko, "widely seen as [Aspiring Tsar Vladimir] Putin's curator for Russian domestic politics," also visited Mariupol this week. Putin ally Alexander Lukashenko, the president of Belarus, told the AP he didn't expect the war "drag on this way." Israeli prime minister Naftali Bennett said Putin apologized for comments by his foreign minister that Adolf Hitler "had Jewish blood." Finally, the New York Times reports that U.S. intelligence shared with Ukraine has allowed for the targeted killing of Russian generals, a fact Russia claims it was already aware of; the Times story takes pains to note that U.S. intel was not used in a recent failed strike apparently targeting top Russian officer Gen. Valery Gerasimov, however.
Quickest Quickies
Oath Keepers Leader Tried Checking in With Trump During Capitol Seige Stewart Rhodes called someone with direct access to Donald Trump at around 5 p.m. on Jan. 6, 2021 from the Phoenix Park Hotel. via HuffPost.
Dangerous Sandstorms Choke Iraq There used to be two per year, now there are twenty. via the New York Times.
Record Fires Prompt Disaster Declaration for New Mexico It's not even peak fire season yet. via the Washington Post.
CIA Director Warned Bolsonaro Not to Delegitimize Elections Many in South America will find the sudden yankee support for election integrity a tad ironic. via the Guardian.
Nude Cawthorne Video Emerges After Young Rep. Accuses GOP Colleagues of Orgies A spokesman for Democratic North Carolina Gov. Roy Cooper responds, "There are a whole lot of reasons to not vote for Madison Cawthorn that we can talk about that don't include very thinly veiled homophobia y'all." via the Charlotte Observer.
---
SOME NUMBER
$1 million
That's how much public money Republican Rep. Paul Gosar of Arizona spent on travel since 2016, more than any other member of the House, according to a watchdog report cited by CNN. Gosar received reimbursement from taxpayers for his trip to white nationalist conference in Florida last year and meetings with Islamophobic propagandists in Europe in 2018.
---
ON THE SHOW TODAY
5/6: It's Casual Friday! Sam and Emma host Heather Digby Parton, contributing writer at Salon.com and proprietor of the blog Hullabaloo, to round up the week in news. Then, Sam and Emma are joined by Russ Feingold, president of the American Constitution Society and former U.S. Senator from Wisconsin to discuss the leaked Supreme Court Roe v. Wade opinion.
---
DON'T MISS MR CLIPS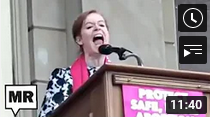 Democrat Mallory McMorrow Torches Roe News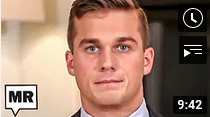 Republican Claims GOP Is Blackmailing Him
---
PARTING WORDS
"To me, it just sounds like the corporations have the control and they control whatever they want. They break the law, they get away with it. They know that already, that breaking the law during these [union] election campaigns won't be resolved during the election campaigns. So they purposely continue to break the law."
-- Amazon Labor Union president Christian Smalls speaking to the Senate Budget Committee yesterday.
---
Quickie Discount Code Corner
Hey check it out! Stuff on sale!
NEW ADDITIONS!
Ritual: Get key nutrients without the B.S. Ritual is offering our listeners 10% off during your first three months. Visit here to start your Ritual today.
Aura: Protect yourself from America's fastest-growing crime. Try Aura for 14 days for free: https://aura.com/majority
Quip: If you go to this link RIGHT NOW, you'll get your first refill FREE.
Shopify: Go to this link here for a FREE fourteen-day trial and get full access to Shopify's entire suite of features.
ALL THE REST!
LiquidIV: You can get 25% off when you go to liquidiv.com and use code MAJORITYREP at checkout.
Stamps.com: Start mailing and shipping with stamps.com, and keep more money in your pocket every day. Sign up with promo code MAJORITYREPORT for a special offer that includes a 4-week trial, plus free postage and a digital scale.
ZipRecruiter: Find the right employees for your workplace with ZipRecruiter. Try it FOR FREE at this exclusive web address.
Nutrafol: For FIFTEEN DOLLARS OFF go to https://nutrafol.com/men/ with promo code MAJORITY.
Outer: See the difference at go.liveouter.com/MAJORITY. Plus, for a limited time, get $300 off and FREE shipping.
Sunset Lake CBD 4/20 Sale: Visit sunsetlakecbd.com. Starting Wednesday April 13th Sunset Lake CBD will be offering 40% off smokables like Hemp Flower, Prerolls, and Kief, and every other product will be 30% off!
Grove: Go to this link here today to get a free gift set worth up to fifty dollars with your first order. Plus, shipping is fast and FREE.
Headspace: Try this link, with discount code MAJORITY and get one month FREE of their entire mindfulness library.
StartMail: Start securing your email privacy with StartMail. Sign up today and you'll get 50% off your first year! Go to this link here for our special promotion!.
CozyEarth: Go to this link here and enter the special promo code MAJORITY at checkout to SAVE thirty-five percent now.