Special Master Scolds Trump Team - The Wednesday AM Quickie 9/21/22
I'm dealing with a cold (probably that's what it is, the Covid test was negative) so forgive any omissions, typos, gibberish, etc. - Corey
Tell your friends to sign up for this M-F newsletter at AMQuickie.com!
THE BIG NEWS
Trump's Lawyers Get What They Wanted, Cry About It
Retired federal judge Raymond Dearie, the "special master" Donald Trump's legal team requested in order to stall the Justice Department's stolen documents investigation, yesterday scolded Trump's attorneys for refusing to substantiate their nonsense legal arguments. Trump's team had claimed in a court filing that they shouldn't have to specify which documents Trump supposedly waved his magic wand over and declassified before taking them from the White House and storing them in closets and desk drawers at Mar-a-Lago. Trump has claimed that he declassified all of the documents, though his lawyers have not dared to put that into writing. Again, if any of the documents were really declassified, let's see them!
It's all a bit rich: These are the people who wanted a special master appointed in the first place for the sole purpose of sorting through all the documents Trump stole. Now they're saying there's no need to sort through the documents, because getting into specifics would force Trump to reveal how he intends to defend himself from "any subsequent indictment."
There are a few things worth saying about this. First, Trump's lawyers are acknowledging he may be criminally indicted for stealing top secret documents from the White House -- a reality one of Trump's impeachment defense lawyers had reportedly warned him about -- and that's noteworthy. Second, it's painfully obvious at this point that Trump's team is stalling for time and arguing about deadlines because they have no case on the merits. (Which is also why a number of Republican state attorneys general are involving themselves in the case.) Third, it will be pretty funny if Dearie -- the 78-year-old retired federal judge who was the Trump team's nominee to serve as special master -- simply refuses to play the flunky role Trump's team wants him to play. "You can't have your cake and eat it too," Dearie told Trump's lawyers at yesterday's hearing. He knocked down another key Trump team argument in equally grumpy terms, leaving them "licking their wounds."
Trump-appointed Judge Aileen Cannon may have hoped naming Dearie to serve as special master would take some of the heat off of her in this case, and maybe it did. But Cannon's cowardice could prove for the good if Dearie continues to show backbone. How long before the cult labels him a Never Trump RINO just like Bill Barr, who spent his career covering up Republican crimes? At this rate, I'd say Dearie has one more hearing before he's declared an enemy of the people.
MORE STORIES TO WATCH
Russian Puppets in Ukraine Announce Annexation Referendum
The Russian-appointed officials in four occupied Ukrainian regions -- Donetsk, Luhansk, Kherson and Zaporizhzhia -- yesterday announced that referedums would be held beginning this week on the question of seceding from Ukraine and permanently joining Russia. Ukrainian officials say the "sham referendums" won't stop them from "destroying occupiers on our land" and reclaiming the territories, while some analysts worry the move for annexation, though expected, represents a dangerous escalation of the war and could give Russia a pretext to use nuclear weapons as its conventional forces, increasingly reliant on prison conscripts, fail. Meanwhile, a delegation from Germany's far-right AfD party toured Russian-held areas of eastern Ukraine in an apparent campaign to legitimize Russia's imperialist conquest and cast doubt on its war crimes.
Anybody Have a Good NyQuil Chicken Recipe?
Look, there's more important stuff to talk about, like the criminal investigation and class-action lawsuit filed over Florida Gov. Ron DeSantis's human trafficking stunt last week, which he may have tried to reenact yesterday with an abruptly rerouted chartered flight to President Joe Biden's home state of Delaware. But I still have a low-grade fever and I'm running out of steam here so I'll just mention that the Food and Drug Administration released an advisory yesterday warning people not to cook chicken in NyQuil because it's dangerous. Apparently this is a thing people are doing after seeing it trend on TikTok. That sounds gross. I'm not on TikTok and this kind of thing is why. I'm tired and I'm sick and if I had a bottle of NyQuil I would simply take a healthy swig and pass out, not waste it on chicken. There you go, folks, your public service announcement for the day.
QUICKEST QUICKIES
SOME NUMBER
20,000,000,000,000,000
That is how many ants there are on the planet, according to a new study. The "unimaginable" number -- 20 quadrillion -- works out to 2.5 million ants for every human.
ON THE SHOW TODAY
9/21: Sam and Emma host Jonah Furman of Labor Notes and author of the Who Gets The Bird? newsletter on Substack to discuss the recent negotiations between rail workers, railroad companies, and the Biden administration. Then they are joined by investigative reporter Seth Harp to discuss his reporting surrounding the recent deaths and opioid abuse at Fort Bragg in North Carolina.
DON'T MISS MR CLIPS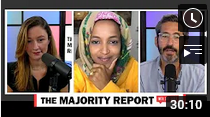 One of the best members of Congress, always worth listening to.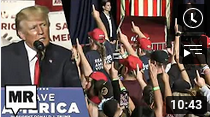 Disturbing!
PARTING WORDS
"You think Big Brother is watching you on the subway? You're absolutely right. That is our intent, to get the message out that were going to be having surveillance of activity on the subway trains, and that's going to give people great ease [sic] of mind."
-- New York Gov. Kathy Hochul giving poor George Orwell another spin in his grave yesterday when announcing a new $5.5 million Metropolitan Transportation Authority program to put two surveillance cameras in every subway car.
Quickie Discount Code Corner
Hey check it out! Stuff on sale!
*NEWCOMER* IAC Laser Engraving: IAC Laser Engraving is a Leftist-owned Worker Collective started by long time listener, Ryan Lubin in September of 2021. Visit iaclasers.com to order your custom item today and  enter in Coupon Code: "MAJORITY10" at purchase to receive a 10% discount on their AMAZING products."
Established Titles: Get an amazing gift for your dad this Father's Day! Go to https://establishedtitles.com/majority and get 10% off today.
ExpressVPN: Secure your online data TODAY by visiting this link. That's https://www.expressvpn.com/majority and you can get an extra three months FREE.
Fast Growing Trees: Go to this link right now, and you'll get FIFTEEN PERCENT OFF your entire order.
Ritual: Get key nutrients without the B.S. Ritual is offering our listeners 10% off during your first three months. Visit here to start your Ritual today.
Aura: Protect yourself from America's fastest-growing crime. Try Aura for 14 days for free: https://aura.com/majority
Quip: If you go to this link RIGHT NOW, you'll get your first refill FREE.
Shopify: Go to this link here for a FREE fourteen-day trial and get full access to Shopify's entire suite of features.
LiquidIV: You can get 25% off when you go to liquidiv.com and use code MAJORITYREP at checkout.
Stamps.com: Start mailing and shipping with stamps.com, and keep more money in your pocket every day. Sign up with promo code MAJORITYREPORT for a special offer that includes a 4-week trial, plus free postage and a digital scale.
ZipRecruiter: Find the right employees for your workplace with ZipRecruiter. Try it FOR FREE at this exclusive web address.
Nutrafol: For FIFTEEN DOLLARS OFF go to https://nutrafol.com/men/ with promo code MAJORITY.
Outer: See the difference at go.liveouter.com/MAJORITY. Plus, for a limited time, get $300 off and FREE shipping.
Sunset Lake CBD: Visit sunsetlakecbd.com.
Grove: Go to this link here today to get a free gift set worth up to fifty dollars with your first order. Plus, shipping is fast and FREE.
Headspace: Try this link, with discount code MAJORITY and get one month FREE of their entire mindfulness library.
StartMail: Start securing your email privacy with StartMail. Sign up today and you'll get 50% off your first year! Go to this link here for our special promotion!.
CozyEarth: Go to this link here and enter the special promo code MAJORITY at checkout to SAVE thirty-five percent now.