New York Seeks to Evict Trump Crime Org - The Thursday AM Quickie 9/22/22
Thanks to everyone who sent NyQuil chicken recipes, I can't wait to poison myself with the fumes. (Actually no one sent a recipe and I'm disappointed.) - Corey
Tell your friends to sign up for this M-F newsletter at AMQuickie.com!
THE BIG NEWS
Is Government Getting Serious About the Trump Crime Org?
Get his ass!  
Late yesterday a federal appeals court overruled Donald Trump's friendly Floridian Federal Society judicial appointee, Aileen Cannon, and said the Justice Department's investigation into classified documents Trump stole on his way out of the White House could continue. One reason this doesn't bode well for Trump is purely, cynically political: he appointed two of the three judges on the 11th Circuit U.S. Court of Appeals panel that ruled against him. And, unlike Cannon, these judges are willing to state the obvious and affirm, as we've been saying here, that Trump's legal arguments are nonsense. Per the New York Times:
Mr. Trump "suggests that he may have declassified these documents when he was president," the appeals court wrote. "But the record contains no evidence that any of these records were declassified."
The court went on to say, "In any event, at least for these purposes, the declassification argument is a red herring because declassifying an official document would not change its content or render it personal." ...
Mr. Trump "has not even attempted to show that he has a need to know the information contained in the classified documents," the appeals court wrote. "Nor has he established that the current administration has waived that requirement for these documents. And even if he had, that, in and of itself, would not explain why plaintiff has an individual interest in the classified documents."
And that was only one of the heavy pieces of news to drop in Trump's lap. At a press conference yesterday morning, New York Attorney General Letitia James announced the fruits of her office's multi-year investigation into the Trump Organization: A 222-page civil lawsuit filed in the state supreme court against Trump and three of his adult children who are involved in the family business, which is fraud, plus criminal referrals to federal prosecutors in the Southern District of New York and the Internal Revenue Service.
The state AG's lawsuit says the Trump Organization made over 200 false valuations of assets in a 10-year period, including 23 properties such as the Florida resort Mar-a-Lago, the Washington, D.C. hotel that sold in May, and several golf courses. These fraudulent practices allowed Trump's company to dupe banks into providing more favorable loan terms, cheat on taxes, and accumulate at least $250 million in ill-gotten gains. James found evidence that Trump and his children were personally aware of and involved in the "astounding" fraud, "a scheme that by its very nature became more profitable over time," which she called "the art of the steal" (get it?). The lawsuit seeks to recover the money Trump stole, bar him from acquiring real estate in New York for five years, and kick some of his companies out of the state permanently. It won't be a simple matter for him to reestablish his entire business in Florida, so the case poses a real threat to Trump's empire.
Trump predictably cried that the case against him is a "witch hunt" and didn't miss the opportunity to call James, who is Black, a racist. "She is a fraud," he wrote. Really, the guy is slipping. Last night Trump ran to faithful friend Sean Hannity for consolation – and, apparently, advice – and advanced a novel theory of telepathic declassification in regards to the stolen documents case. Loser talk!
A serious fraud case, even albeit a civil case, against Trump is many decades overdue and the only question is why it didn't happen sooner, like when he expanded from supposedly money-losing casinos into even more prominent real estate ventures. The obvious answer is that America has never taken white-collar crime seriously, but Trump also had relationships with mafia figures as well as excellent political contacts, and my personal suspicion is that he was some kind of protected informant for many years. How better to explain the Felix Sater saga? But I digress. Let's hope the relevant authorities don't sleep on those formal criminal referals from AG James. We're all victims of Trump's con game.
MORE STORIES TO WATCH
Putin Threatens Nukes Again, Biden Responds at UN
Aspiring Tsar Vladimir Putin provoked thousands of Russians to scramble for the exits yesterday -- and even to protest -- with a speech again threatening nuclear war over European and American support for Ukraine and announcing the mobilization of 300,000 military reservists in an attempt to salvage his stalled-out invasion. "This is not a bluff," Putin said. "Those who are trying to blackmail us with nuclear weapons should know that the wind patterns can also turn in their direction." Flights out of Russia were sold out following Putin's speech and long traffic jams were reported at land borders as well. President Joe Biden also made a speech yesterday, at the United Nations General Assembly, blaming Putin for an imperialist war against his neighbor and condemning his "irresponsible nuclear threats," adding that "a nuclear war can not be won, and must never be fought." Which seems very reasonable, but Ukrainian President Volodymyr Zelenskyy's advisers want allies to pledge "swift retaliatory nuclear strikes." Gulp.
Ohio Republican's Military Service Record Is a Fantasy
J.R. Majewski, the crackpot Republican nominee attempting to unseat Democratic Ohio Rep. Marcy Kaptur, the longest-serving woman in the history of the House of Representatives, is a bit of a sad sack. He helped storm the Capitol on Jan. 6, 2021, then said he regretted it. He promoted QAnon, then denounced it. He told painfully unfunny jokes about "eagle bumps" at Trump rallies. And, as the Associated Press reports, he has lied constantly and brazenly about his military service record. Long story short, Majewski claims to be a combat veteran among "the first on the ground in Afghanistan after 9/11." In reality he spent six months in Qatar unloading airplanes and was demoted for brawling prior to his separation from the Air Force. Once upon a time Republicans at least pretended to care about "stolen valor" and such but these days they're more concerned that the officer corps isn't fascist enough.
QUICKEST QUICKIES
SOME NUMBER
61 percent
That's how many Republican voters want the U.S. to declare itself a Christian nation, according to a new poll, even though a slightly smaller percentage acknowledged that doing so would be unconstitutional.
ON THE SHOW TODAY
9/22: Emma hosts Dr. Steven Thrasher, assistant professor of journalism at Northwestern University, to discuss his recent book The Viral Underclass: The Human Toll When Inequality And Disease Collide. Then, Emma is joined by filmmaker Dominique Remy to discuss her work on an upcoming documentary regarding maternal mortality, and the sobering data surrounding the issue that just came out from a study by the CDC.
DON'T MISS MR CLIPS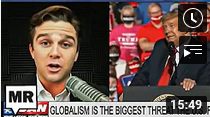 Nobody is buying what Jackson Hinkle is selling.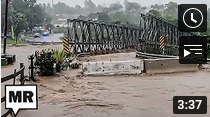 Half a million people were still without water service yesterday.
PARTING WORDS
"When you've got a situation where there's two organized groups who both decided to fight each other, and only one side gets charged and the other side gets to walk, it's idiotic. It's an insult to the public's intelligence to suggest that that's a legitimate prosecution. It's not. It's selective prosecution."
-- Former federal prosecutor Patrick Cotter speaking to USA Today about far-right San Diego District Attorney Summer Stephan's prosecution of 11 anti-fascist activists using neo-Nazi gang members with criminal records as witnesses.
Quickie Discount Code Corner
Hey check it out! Stuff on sale!
*NEWCOMER* IAC Laser Engraving: IAC Laser Engraving is a Leftist-owned Worker Collective started by long time listener, Ryan Lubin in September of 2021. Visit iaclasers.com to order your custom item today and  enter in Coupon Code: "MAJORITY10" at purchase to receive a 10% discount on their AMAZING products."
Established Titles: Get an amazing gift for your dad this Father's Day! Go to https://establishedtitles.com/majority and get 10% off today.
ExpressVPN: Secure your online data TODAY by visiting this link. That's https://www.expressvpn.com/majority and you can get an extra three months FREE.
Fast Growing Trees: Go to this link right now, and you'll get FIFTEEN PERCENT OFF your entire order.
Ritual: Get key nutrients without the B.S. Ritual is offering our listeners 10% off during your first three months. Visit here to start your Ritual today.
Aura: Protect yourself from America's fastest-growing crime. Try Aura for 14 days for free: https://aura.com/majority
Quip: If you go to this link RIGHT NOW, you'll get your first refill FREE.
Shopify: Go to this link here for a FREE fourteen-day trial and get full access to Shopify's entire suite of features.
LiquidIV: You can get 25% off when you go to liquidiv.com and use code MAJORITYREP at checkout.
Stamps.com: Start mailing and shipping with stamps.com, and keep more money in your pocket every day. Sign up with promo code MAJORITYREPORT for a special offer that includes a 4-week trial, plus free postage and a digital scale.
ZipRecruiter: Find the right employees for your workplace with ZipRecruiter. Try it FOR FREE at this exclusive web address.
Nutrafol: For FIFTEEN DOLLARS OFF go to https://nutrafol.com/men/ with promo code MAJORITY.
Outer: See the difference at go.liveouter.com/MAJORITY. Plus, for a limited time, get $300 off and FREE shipping.
Sunset Lake CBD: Visit sunsetlakecbd.com.
Grove: Go to this link here today to get a free gift set worth up to fifty dollars with your first order. Plus, shipping is fast and FREE.
Headspace: Try this link, with discount code MAJORITY and get one month FREE of their entire mindfulness library.
StartMail: Start securing your email privacy with StartMail. Sign up today and you'll get 50% off your first year! Go to this link here for our special promotion!.
CozyEarth: Go to this link here and enter the special promo code MAJORITY at checkout to SAVE thirty-five percent now.