Biggest Boost in 40 Years for Social Security - The Tuesday AM Quickie 10/11/22
For the good of all, I hope The Great British Bake Off returns to form infuriating pâtisserie purists this week. - Corey
Tell your friends to sign up for this M-F newsletter at AMQuickie.com!
THE BIG NEWS
Democrats Could Do a Better Job of Bragging Sometimes
There's a lot going on, as usual these days, but I wanted to take a break from wars, elections, climate disasters, and flagrant racism to another important story. It's about one of the only durable, universal social safety net programs that exists in the United States, which happens to be under threat: Social Security. As the Associated Press reports, the program is set for a cost-of-living adjustment of 9 percent or higher next year, the largest in four decades. The COLA increase will be announced Thursday and, as the AP notes, "the impact will be immense."
Coupled with a decline in Medicare Part B premium, the Social Security COLA will put more money in the hands of the 70 million Americans who receive benefits, including the growing number of grandfamilies [comprised of grandparents raising kids who don't have parents around]. According to the U.S. Census, in 2020, there were about 2.4 million grandparents responsible their grandchildren.
As someone who was raised by grandparents and didn't have either parent around, I found the AP's short profile of 70-year-old Cassandra Gentry, a Social Security recipient raising two children in a Washington, D.C. apartment, quite affecting.
Gentry, who took in her grandkids to keep them in a safe environment, says the boost in benefits will help her make ends meet. "I never thought about contributing to Social Security when I was working, but now that's what I depend on," the communications retiree said. "I depend on my Social Security to care for these kids." ...
It's not just old people who will gain. About 4 million children receive benefits, and an untold number of others also will be helped because they're being cared for by Social Security beneficiaries, sometimes their grandparents.
With Republicans like Wisconsin Sen. Ron Johnson openly calling for the defunding of the Social Security guarantee, these are the types of stories that progressives, democratic socialists, and mainstream liberal Democrats need to be telling and voters need to be hearing. This is how to build support for greater benefits increases and new universal programs. Anyway, it didn't get much attention outside Wisconsin, but last Friday, President Franklin Delano Roosevelt's grandson, James Roosevelt Jr., endorsed Johnson's Democratic opponent, Mandela Barnes. In his Barnes endorsement, Roosevelt called out Johnson's "extremist" threats to do away with Social Security. FDR and the New Deal legacy might not mean much to anyone younger than the oldest Boomers, but money in the bank is something everyone understands.
MORE STORIES TO WATCH
Fallout Spreads from LA Council Racism Scandal
Los Angeles City Council President Nury Martinez, who in a leaked recording called a fellow councilmember's young Black son a racial slur, resigned the council presidency yesterday, but not from her elected office. Councilmembers Kevin De León and Gil Cedillo and Los Angeles County Federation of Labor President Ron Herrera, who participated in the conversation recorded in Oct. 2021, also apologized. In addition to profligate racist language, the recording revealed city leaders plotting to weaken the power of Black voters and renters through redistricting. According to the LA Times, it's unclear who recorded and posted the audio online, though the now-suspended Reddit user who shared the file hinted at their agenda by commenting that "the labor movement is in bed with City Hall." California labor union leaders have joined on both LA mayoral candidates in calling on all three councilmembers and Herrera to step down from their positions.
Putin Boasts of 'Precision' Missiles That Hit a Playground
Russia launched what the BBC called an "hail of indiscriminate missile fire across Ukraine" yesterday, striking a playground and a university among other civilian targets, disrupting electricity and water supplies, killing at least 11 people and wounding dozens. Aspiring Tsar Vladimir Putin cast these "precision" strikes, which also targeted a landmark pedestrian bridge in Kyiv, as retaliation for Ukraine's "terrorist" bombing of a bridge to occupied Crimea over the weekend. The tactics reflect the cruel reputation of Putin's newly promoted commander, Sergei Surovikin. Following the bombardment, Ukrainian President Volodymr Zelenskyy spoke with President Joe Biden and discussed the delivery of air-defense systems; Ukrainians worry that Republican victories in the upcoming U.S. midterm elections could threaten future military aid, the Washington Post reports.
QUICKEST QUICKIES
SOME NUMBER
39 percent
That's the share of Black Americans in a new Pew Research Center survey who say Black Lives Matter has done the most to help Black people in recent years, more than any other group or movement by far. For comparison, 17 percent named the NAACP, 14 percent said "someone else," and only 6 percent picked the Congressional Black Caucus.
ON THE SHOW TODAY
10/11: Emma is joined by David Dayen, executive editor at The American Prospect to discuss 2 of his recent pieces: "The Political Impacts of Rising Gas Prices," and "The Magic Kingdom Is Tragic for Workers."
DON'T MISS MR CLIPS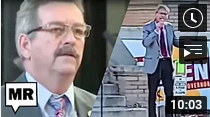 "They meow and they bark... How is this sanitary? This is something I think."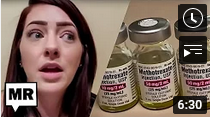 A teenage girl in Arizona was denied arthritis meds because they're also used in ectopic pregnancies.
PARTING WORDS
"This is a resounding message about accountability and transparency. Every company that is mistreating its animals and expecting that government and local elected officials will just go along with them because they have them in their pockets will now realize that the public will hold them accountable, even in places like Southern Utah."
-- Animal rights activist Wayne Hsiung, speaking to the New York Times after his acquittal by a jury in rural Utah on felony burglary and theft charges for removing two sick and malnourished piglets, each valued at $42.50, from a factory farm owned by Smithfield Foods.
Quickie Discount Code Corner
Hey check it out! Stuff on sale!
IAC Laser Engraving: IAC Laser Engraving is a Leftist-owned Worker Collective started by long time listener, Ryan Lubin in September of 2021. Visit iaclasers.com to order your custom item today and  enter in Coupon Code: "MAJORITY10" at purchase to receive a 10% discount on their AMAZING products."
Established Titles: Get an amazing gift for your dad this Father's Day! Go to https://establishedtitles.com/majority and get 10% off today.
ExpressVPN: Secure your online data TODAY by visiting this link. That's https://www.expressvpn.com/majority and you can get an extra three months FREE.
Fast Growing Trees: Go to this link right now, and you'll get FIFTEEN PERCENT OFF your entire order.
Ritual: Get key nutrients without the B.S. Ritual is offering our listeners 10% off during your first three months. Visit here to start your Ritual today.
Aura: Protect yourself from America's fastest-growing crime. Try Aura for 14 days for free: https://aura.com/majority
Quip: If you go to this link RIGHT NOW, you'll get your first refill FREE.
Shopify: Go to this link here for a FREE fourteen-day trial and get full access to Shopify's entire suite of features.
LiquidIV: You can get 25% off when you go to liquidiv.com and use code MAJORITYREP at checkout.
Stamps.com: Start mailing and shipping with stamps.com, and keep more money in your pocket every day. Sign up with promo code MAJORITYREPORT for a special offer that includes a 4-week trial, plus free postage and a digital scale.
ZipRecruiter: Find the right employees for your workplace with ZipRecruiter. Try it FOR FREE at this exclusive web address.
Nutrafol: For FIFTEEN DOLLARS OFF go to https://nutrafol.com/men/ with promo code MAJORITY.
Outer: See the difference at go.liveouter.com/MAJORITY. Plus, for a limited time, get $300 off and FREE shipping.
Sunset Lake CBD: Visit sunsetlakecbd.com.
Grove: Go to this link here today to get a free gift set worth up to fifty dollars with your first order. Plus, shipping is fast and FREE.
Headspace: Try this link, with discount code MAJORITY and get one month FREE of their entire mindfulness library.
StartMail: Start securing your email privacy with StartMail. Sign up today and you'll get 50% off your first year! Go to this link here for our special promotion!.
CozyEarth: Go to this link here and enter the special promo code MAJORITY at checkout to SAVE thirty-five percent now.