New Rule Will Give Rights, Benefits to Gig Workers - The Wednesday AM Quickie 10/12/22
Tulsi Gabbard says she isn't a Democrat anymore. This is news to who exactly? - Corey
Tell your friends to sign up for this M-F newsletter at AMQuickie.com!
THE BIG NEWS
Labor Department Belatedly Stands Up for Gig Workers
The Department of Labor yesterday published notice of a proposed rule that could benefit millions of Americans wrongly classified by their employers as independent contractors by giving them the right to minimum wage protections, overtime pay, and other benefits and protections reserved for full employees.
"While independent contractors have an important role in our economy, we have seen in many cases that employers misclassify their employees as independent contractors, particularly among our nation's most vulnerable workers," said Secretary of Labor Marty Walsh. "Misclassification deprives workers of their federal labor protections, including their right to be paid their full, legally earned wages. The Department of Labor remains committed to addressing the issue of misclassification."
The proposal will formally rescind a rule from the Trump administration making it easier for employers to deny workers their due pay and benefits. As the New York Times reports, app-based gig work companies like Uber and Lyft are very concerned, saying their labor costs could increase up to 30 percent if the government required them to properly compensate their workers. And Wall Street investors understand that these corporate profits are wholly reliant on the government's failure, up to this point, to enforce labor law. Per NBC News, the market reaction to the Labor Department announcement "was immediate," with shares of Lyft and Uber falling 13 percent; one analyst says the rule change "would essentially throw the [gig economy] business model upside down and cause some major structural changes if this holds."
Well, good! You shouldn't be able to get rich by stealing. When I was reporting my book on Silicon Valley exploitation, elected Democrats were so cozy in bed with the tech industry I feared they might never deal with this misclassification problem -- or, worse, that they would rewrite the laws to keep Silicon Valley happy. Assuming it survives the industry lobbying campaign over the next month or so, the new Labor Department rule will not fix everything about the gig economy. But it is an important and necessary step toward economic justice. Too many companies have made unholy profits by systematically exploiting their workers in an egregious and illegal way. Capitalism is based on exploitation, it's true, but some companies are worse than others. The labor movement didn't fight for decades to win legal protections for workers only to roll over when some techies and finance bros claim the law doesn't apply to them. Appointing Walsh as Secretary of Labor has proven to be one of President Joe Biden's better decisions.
MORE STORIES TO WATCH
Biden Might Pause Arms Sales to Saudi Arabia
Los Angeles City Council President Nury Martinez, who in a leaked recording called a fellow councilmember's young Black son a racial slur, resigned the council presidency yesterday, but not from her elected office. Councilmembers Kevin De León and Gil Cedillo and Los Angeles County Federation of Labor President Ron Herrera, who participated in the conversation recorded in Oct. 2021, also apologized. In addition to profligate racist language, the recording revealed city leaders plotting to weaken the power of Black voters and renters through redistricting. According to the LA Times, it's unclear who recorded and posted the audio online, though the now-suspended Reddit user who shared the file hinted at their agenda by commenting that "the labor movement is in bed with City Hall." California labor union leaders have joined on both LA mayoral candidates in calling on all three councilmembers and Herrera to step down from their positions.
New UN Climate Report Warns Deadly Heat Waves Will Spread
A new report from the United Nations and the Red Cross says that within decades, extreme heat waves will make large parts of Asia, Africa, Australia and the Americas unsuitable for human habitation -- unless more is done to curtail climate change by tamping down on fossil fuels pollution. By the end of the century, one-third of the global population, could be living with average temperatures that have until now been limited mostly to the Sahara desert. The U.S. states of Georgia, Alabama, Louisiana and California are in the extreme heat danger zone, as the Washington Post notes in its write-up of the report. In all, up to 600 million people worldwide, many living in major cities, will be subjected to "recurring life-threatening" heat waves that also threaten plant and animal life and global food supplies -- again, unless governments get their act together and move the economy away from fossil fuels. Is survival too much to ask?
QUICKEST QUICKIES
SOME NUMBER
$24 million
That's how much the Treasury Department is fining the cryptocurrency exchange Bittrex for violating sanctions on Cuba, Iran, Sudan, Syria and Russian-controlled Crimea in Ukraine, the largest such penalty to date against a crypto company.
ON THE SHOW TODAY
10/12: Emma hosts Indi Dutta-Gupta, president and executive director of the Center for Law and Social Policy (CLASP) to discuss recent polling showing that two thirds of parents who stopped receiving the Child Tax Credit in late 2021 reported difficulties obtaining enough food for their children. Then, Emma is joined by Danielle Carr, assistant professor at the Institute for Society and Genetics at UCLA, to discuss her recent op-ed piece for the New York Times, "Mental Health Is Political".
DON'T MISS MR CLIPS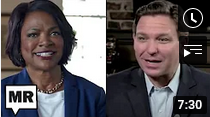 A caller rants about the party's failures and Sam explains what's behind them.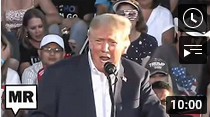 "It's mine, it's mine" (it isn't).
PARTING WORDS
"I was vaccinated."
-- Kanye West, speaking to Tucker Carlson, in one of many comments edited out of the two-part interview broadcast on Fox News last week. Vice News obtained footage from the cutting room floor and found that West made many antisemitic and paranoid comments that weren't aired, including a bizarre claim that "fake children" portrayed by actors were "placed into my house to sexualize my kids."
Quickie Discount Code Corner
Hey check it out! Stuff on sale!
IAC Laser Engraving: IAC Laser Engraving is a Leftist-owned Worker Collective started by long time listener, Ryan Lubin in September of 2021. Visit iaclasers.com to order your custom item today and  enter in Coupon Code: "MAJORITY10" at purchase to receive a 10% discount on their AMAZING products."
Established Titles: Get an amazing gift for your dad this Father's Day! Go to https://establishedtitles.com/majority and get 10% off today.
ExpressVPN: Secure your online data TODAY by visiting this link. That's https://www.expressvpn.com/majority and you can get an extra three months FREE.
Fast Growing Trees: Go to this link right now, and you'll get FIFTEEN PERCENT OFF your entire order.
Ritual: Get key nutrients without the B.S. Ritual is offering our listeners 10% off during your first three months. Visit here to start your Ritual today.
Aura: Protect yourself from America's fastest-growing crime. Try Aura for 14 days for free: https://aura.com/majority
Quip: If you go to this link RIGHT NOW, you'll get your first refill FREE.
Shopify: Go to this link here for a FREE fourteen-day trial and get full access to Shopify's entire suite of features.
LiquidIV: You can get 25% off when you go to liquidiv.com and use code MAJORITYREP at checkout.
Stamps.com: Start mailing and shipping with stamps.com, and keep more money in your pocket every day. Sign up with promo code MAJORITYREPORT for a special offer that includes a 4-week trial, plus free postage and a digital scale.
ZipRecruiter: Find the right employees for your workplace with ZipRecruiter. Try it FOR FREE at this exclusive web address.
Nutrafol: For FIFTEEN DOLLARS OFF go to https://nutrafol.com/men/ with promo code MAJORITY.
Outer: See the difference at go.liveouter.com/MAJORITY. Plus, for a limited time, get $300 off and FREE shipping.
Sunset Lake CBD: Visit sunsetlakecbd.com.
Grove: Go to this link here today to get a free gift set worth up to fifty dollars with your first order. Plus, shipping is fast and FREE.
Headspace: Try this link, with discount code MAJORITY and get one month FREE of their entire mindfulness library.
StartMail: Start securing your email privacy with StartMail. Sign up today and you'll get 50% off your first year! Go to this link here for our special promotion!.
CozyEarth: Go to this link here and enter the special promo code MAJORITY at checkout to SAVE thirty-five percent now.