'America First' Liars Blame Biden for Putin's Threats - The Monday AM Quickie 10/10/22
Hope everybody got a little rest this weekend. Jack's away having major positive life events, so I'm here all week! - Corey
Tell your friends to sign up for this M-F newsletter at AMQuickie.com!
THE BIG NEWS
It Isn't Joe Biden's Fault That Vladimir Putin Went to War
Look, I had extremely low expectations for the Joe Biden presidency. He was not my preferred candidate in the 2019 Democratic primaries. But despite his consistently poor approval ratings -- and his frustrating tendency to adopt foot-dragging half-measures instead of fully embracing popular progressive policies like marijuana legalization and student debt cancellation -- he has handled the job much better than I expected he would. That's especially true with regards to the U.S. response to Russia's invasion of Ukraine, which Biden has managed about as well as one could expect of an American president.
Biden didn't start the war. He didn't provoke it. He didn't ask for it. He's chosen a course that has aided Ukraine in repelling an illegal invasion while declining many opportunities to escalate U.S. involvement. Not everyone appreciates this, but I don't think that's Biden's fault, either -- a lot of people are out there deliberately misrepresenting his position as well as the very recent history of this war. Last week, at a Democratic fundraiser in New York, Biden said something that struck me as so obvious I didn't even bother to include it in this newsletter. No doubt knowing that his comments would be publicly reported, he told this private audience that the country (and the world) were closer to nuclear "armageddon" than at any time since the Cuban missile crisis of 1962. Some people misconstrued this statement of fact as somehow indicating belligerence on Biden's part. But here's the reality: America's nuclear posture has not changed since Russia's invasion. It has not changed even though Aspiring Tsar Vladimir Putin launched a full-on invasion of a neighboring country to seize land in a war of imperial conquest. It has not changed even though Putin has explicitly threatened to use nuclear weapons multiple times. It has not changed even though a portion of the U.S. national security establishment would like to see American start fighting Russia directly. It has not changed even though Ukrainian President Volodymyr Zelenskyy has urged the U.S. to do more to aid Ukraine's defense -- although he says he did not call for allies to launch a preemptive strike against Russia last week, attributing such reports to a mistranslation.
Donald "Fire and Fury" Trump's Secretary of State, Mike Pompeo, yesterday called Biden's observation "reckless." Coming from the guy who thought it was a brilliant idea to assassinate an Iranian general, an unprovoked act of war that led directly to the deaths of U.S. servicemembers in retaliatory strikes, that's impossible to take seriously. Trump managed to one-up Pompeo's nonsense with his own absurd lack of lies. These people are not peacemakers, and you'd have to be a real sucker, at best, to believe otherwise.
In related news, a Kremlin spokesman yesterday scolded a journalist who asked if Russia would retaliate with nuclear weapons after what Putin called a Ukrainian "terrorist" strike against a Russian-made bridge to Crimea over the weekend. Who knows what that means, really, but at least the spokesman didn't respond with another direct provocation. Putin will meet with his security council today. If he orders some further acts of violence, you can bet the America First crowd will find a way to blame Biden for it. I give the guy a lot of grief, but not for this.
MORE STORIES TO WATCH
GOP's Favorite Rapper Dials Up the Antisemitism
Sad trainwreck MAGA stooge Kanye West -- recently seen sporting a "White Lives Matter" shirt at Paris Fashion Week, airing incoherent conspiracy theories and personal grievances on Fox News with Tucker Carlson, and earning praise for all this from House Republicans -- got himself suspended from Twitter this weekend for posting an antisemitic screed. In a Saturday night post, Ye promised to go "death con 3 [sic] On JEWISH PEOPLE" and their "agenda," adding that "I actually can't be Anti Semitic because black people are actually Jew." As of last night there was scarcely a peep about this from the Republicans who were promoting him just days before, although corporate sponsors are getting a little nervous.
Suburban Women Seen as Key in Final Weeks Before Midterms
With less than a month until the midterm elections, Politico surveys the latest polling and calls the fight for control of the Senate at a "stalemate." The New York Times agrees, in so many words, noting in its analysis that Democrats have "no margin for error" and that "both parties are tailoring their messages to reach suburban voters, especially women, who are seen as the most prized and persuadable bloc in a polarized electorate." Meanwhile, on the campaign trail this weekend, Alabama Republican Sen. Tommy Tuberville gave a "blatantly racist" speech at a rally in Nevada with Donald Trump for Senate candidate Adam Laxalt, saying Black people "want crime. They want crime because they want to take over what you got. ... They want reparation because they think the people that do the crime are owed that." And then he basked in applause.
QUICKEST QUICKIES
SOME NUMBER
4 percent
That's the share of eligible Americans who have gotten the new bivalent coronavirus vaccine booster shots, according to the Washington Post. Polling suggests that while a third of U.S. adults eventually plan to get the shots, half say they've heard little to nothing about the new vaccine formula that targets the dominant omicron variants.
ON THE SHOW TODAY
10/10: Sam and Emma host Claudio Saunt, professor of American history at the University of Georgia, to discuss his book Unworthy Republic: The Dispossession of Native Americans and the Road to Indian Territory.
DON'T MISS MR CLIPS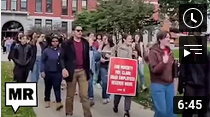 Truckers and teachers making a racket together for a living wage, you love to see it.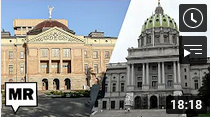 Downballot races are ignored at our peril.
PARTING WORDS
"I'd eat an Indian, no problem at all. It's their culture."
-- The soon-to-be unseated (inshallah) fascist president of Brazil, Jair Bolsonaro, fabricating a story about cannibalism for the benefit of a foreign journalist, in comments highlighted in a new television ad by his leftist rival, former president Luiz Inácio Lula da Silva. Indigenous Brazilians denounced Bolsonaro's false and bigoted stereotypes.
Quickie Discount Code Corner
Hey check it out! Stuff on sale!
IAC Laser Engraving: IAC Laser Engraving is a Leftist-owned Worker Collective started by long time listener, Ryan Lubin in September of 2021. Visit iaclasers.com to order your custom item today and  enter in Coupon Code: "MAJORITY10" at purchase to receive a 10% discount on their AMAZING products."
Established Titles: Get an amazing gift for your dad this Father's Day! Go to https://establishedtitles.com/majority and get 10% off today.
ExpressVPN: Secure your online data TODAY by visiting this link. That's https://www.expressvpn.com/majority and you can get an extra three months FREE.
Fast Growing Trees: Go to this link right now, and you'll get FIFTEEN PERCENT OFF your entire order.
Ritual: Get key nutrients without the B.S. Ritual is offering our listeners 10% off during your first three months. Visit here to start your Ritual today.
Aura: Protect yourself from America's fastest-growing crime. Try Aura for 14 days for free: https://aura.com/majority
Quip: If you go to this link RIGHT NOW, you'll get your first refill FREE.
Shopify: Go to this link here for a FREE fourteen-day trial and get full access to Shopify's entire suite of features.
LiquidIV: You can get 25% off when you go to liquidiv.com and use code MAJORITYREP at checkout.
Stamps.com: Start mailing and shipping with stamps.com, and keep more money in your pocket every day. Sign up with promo code MAJORITYREPORT for a special offer that includes a 4-week trial, plus free postage and a digital scale.
ZipRecruiter: Find the right employees for your workplace with ZipRecruiter. Try it FOR FREE at this exclusive web address.
Nutrafol: For FIFTEEN DOLLARS OFF go to https://nutrafol.com/men/ with promo code MAJORITY.
Outer: See the difference at go.liveouter.com/MAJORITY. Plus, for a limited time, get $300 off and FREE shipping.
Sunset Lake CBD: Visit sunsetlakecbd.com.
Grove: Go to this link here today to get a free gift set worth up to fifty dollars with your first order. Plus, shipping is fast and FREE.
Headspace: Try this link, with discount code MAJORITY and get one month FREE of their entire mindfulness library.
StartMail: Start securing your email privacy with StartMail. Sign up today and you'll get 50% off your first year! Go to this link here for our special promotion!.
CozyEarth: Go to this link here and enter the special promo code MAJORITY at checkout to SAVE thirty-five percent now.