Biden Pardons Thousands, Calls for Marijuana Reform - The Friday AM Quickie 10/7/22
If we keep pushing, they'll keep budging. This is progress, slow as it is. - Corey
Tell your friends to sign up for this M-F newsletter at AMQuickie.com!
THE BIG NEWS
At Last, a President Admits Weed Prohibition Ruined Lives
I shall spare you the weed puns, but I must say it's nice to be able to lead with some unambiguously good news for a change. Yesterday President Joe Biden said he was pardoning thousands of Americans who'd been federally charged with marijuana possession and called upon state governors to do the same. He also ordered the federal agents to stop making arrests for simple possession of marijuana starting today, and told the Departments of Justice and Health and Human Services to review marijuana's longstanding classification as a Schedule 1 narcotic, which makes it equivalent to heroin under the law.
"Too many lives have been upended because of our failed approach to marijuana," Biden said in his statement announcing the reforms. "It's time that we right these wrongs." Well, it's long past time, really, but I won't quibble too much. Most advocates of a just national drug policy praised Biden's move as welcome and overdue but insufficient, much like his partial student debt cancellation, another good thing he had to be prodded into doing. One former American Civil Liberties Union official called Biden's reforms "a drop in the ocean of injustice" and observed in the New York Times that marijuana possession is a crime "almost entirely prosecuted by the states." Bigger changes are still needed in federal law.
Biden cited the racial disparities in marijuana enforcement as part of his rationale. Those disparities were well-known when Biden pushed for harsher drug laws earlier in his political career. As recently as 2019, when Biden was running for president, he refused to back down from his drug warrior stance. Whether he's now seeking to atone for helping put people in jail for no good reason, or simply hoping to improve the Democratic Party's chances in the upcoming midterm elections, the recognition and redress earned praise. "Cannabis justice is racial justice!" Ohio Democratic Rep. Joyce Beatty, who chairs the Congressional Black Caucus, wrote in response to the news.
According to Politico, Biden's announcement "appeared to catch much of Washington by surprise, with Democratic congressional aides [saying] the rollout was not closely coordinated with lawmakers ahead of time." Democratic Reps. Barbara Lee of California and Earl Blumenauer of Oregon, two longtime advocates of decriminalization, did get heads-up calls from the White House. As did Pennsylvania Senate candidate and Lt. Gov. John Fetterman, who pushed marijuana reform when he met with Biden last month. But whatever the political calculations were in the White House, and for all the wrongs that still need righting, a president finally admitted that U.S. marijuana policy had failed, and did something about it. He deserves credit for that much. Now the governors need to follow suit.
MORE STORIES TO WATCH
Ex-Cop in Thailand Kills 24 Children in Preschool Massacre
A former cop in northeastern Thailand killed 37 people, most of them children, and injured 10 more in a nightmarish rampage at a free public day care center yesterday. The children were between two and four years old. The killer, Panya Khamrab, 34, stabbed them to death at naptime. Khamrab ended his massacre by shooting at and running over bystanders in his pickup truck before returning home where he shot his own child, his wife, and then himself. Khamrab had reportedly appeared in court earlier in the day on a drugs charge and had been fired from his police job for methamphetamine possession. Police said the 9mm pistol Khamrab used was his legally owned personal firearm. It was the worst mass shooting in Thai history.
Proud Boy Guilty; Oath Keeper Claims Secret Service Contact
The first Proud Boy charged with seditious conspiracy for their role in Donald Trump's Jan. 6, 2021 coup attempt pleaded guilty to the charge yesterday. Prosecutors are prepared to seek lenciency in the sentencing of Jeremy Bertino, 43, of North Carolina, provided he offers "substantial cooperation" in building their cases against other insurrectionists. Some related news: Oath Keepers founder Stewart Rhodes claimed to be in contact with the Secret Service and discussed the "parameters" under which the group could operate at a Trump rally with an agent, a former member testified at Rhodes' seditious conspiracy trial yesterday. Separately, HuffPost reports that Joseph Brody, an insurrectionist charged with assaulting a cop at the Captiol, later took a paid job with the Republican Party of Virginia campaigning for Gov. Glenn Youngkin; separately, Florida Gov. Ron DeSantis's staff defended his recent interview with another Jan. 6 rioter, Brendon Leslie, in which DeSantis claimed that "regime media" wanted to see Hurricane Ian destroy the state. Finally, the House committee investigating Jan. 6 announced that what could be its final public hearing will be held next week, on Oct. 13 at 1pm Eastern.
QUICKEST QUICKIES
SOME NUMBER
76 percent
That's how much higher excess death rates in Florida and Ohio were for Republicans as compared to Democrats in the first eight months of the coronavirus pandemic, according to a new study by Yale University researchers, who think vaccine hesitancy among Republicans explains the difference.
ON THE SHOW TODAY
10/7: It's Casual Friday! Sam and Emma host Heather Digby Parton, contributing writer at Salon.com and proprietor of the blog Hullabaloo, to round up the week in news. Then, they're joined by author and documentary filmmaker Greg Mitchell to discuss his newest work "The First Attack Ads: Hollywood vs. Upton Sinclair," out on PBS and streaming now!
DON'T MISS MR CLIPS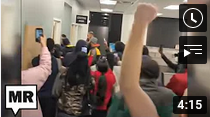 Health 'n' safety innit.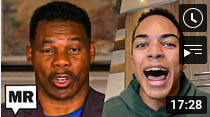 Top-notch candidate, truly!
PARTING WORDS
"We don't know if life will go back to normal. If you die today, you don't even know if you're going to make it to a morgue. You could be left in the street for dogs and animals to eat you. This is how crazy the city has become."
-- Port-au-Prince resident Lionel Simon, 22, speaking to the Associated Press about life in the Haitian capital, where armed gangs have blockaded the main fuel depot, occupy a main courthouse, and control some 40 percent of the city in a deteriorating situation described by observers as "complete chaos" and a "low-intensity civil war."
Quickie Discount Code Corner
Hey check it out! Stuff on sale!
IAC Laser Engraving: IAC Laser Engraving is a Leftist-owned Worker Collective started by long time listener, Ryan Lubin in September of 2021. Visit iaclasers.com to order your custom item today and  enter in Coupon Code: "MAJORITY10" at purchase to receive a 10% discount on their AMAZING products."
Established Titles: Get an amazing gift for your dad this Father's Day! Go to https://establishedtitles.com/majority and get 10% off today.
ExpressVPN: Secure your online data TODAY by visiting this link. That's https://www.expressvpn.com/majority and you can get an extra three months FREE.
Fast Growing Trees: Go to this link right now, and you'll get FIFTEEN PERCENT OFF your entire order.
Ritual: Get key nutrients without the B.S. Ritual is offering our listeners 10% off during your first three months. Visit here to start your Ritual today.
Aura: Protect yourself from America's fastest-growing crime. Try Aura for 14 days for free: https://aura.com/majority
Quip: If you go to this link RIGHT NOW, you'll get your first refill FREE.
Shopify: Go to this link here for a FREE fourteen-day trial and get full access to Shopify's entire suite of features.
LiquidIV: You can get 25% off when you go to liquidiv.com and use code MAJORITYREP at checkout.
Stamps.com: Start mailing and shipping with stamps.com, and keep more money in your pocket every day. Sign up with promo code MAJORITYREPORT for a special offer that includes a 4-week trial, plus free postage and a digital scale.
ZipRecruiter: Find the right employees for your workplace with ZipRecruiter. Try it FOR FREE at this exclusive web address.
Nutrafol: For FIFTEEN DOLLARS OFF go to https://nutrafol.com/men/ with promo code MAJORITY.
Outer: See the difference at go.liveouter.com/MAJORITY. Plus, for a limited time, get $300 off and FREE shipping.
Sunset Lake CBD: Visit sunsetlakecbd.com.
Grove: Go to this link here today to get a free gift set worth up to fifty dollars with your first order. Plus, shipping is fast and FREE.
Headspace: Try this link, with discount code MAJORITY and get one month FREE of their entire mindfulness library.
StartMail: Start securing your email privacy with StartMail. Sign up today and you'll get 50% off your first year! Go to this link here for our special promotion!.
CozyEarth: Go to this link here and enter the special promo code MAJORITY at checkout to SAVE thirty-five percent now.