Saudi Regime Delivers for Trump, Putin - The Thursday AM Quickie 10/6/22
Lots of international news today! We cover the world here at the Quickie. - Corey
Tell your friends to sign up for this M-F newsletter at AMQuickie.com!
THE BIG NEWS
MBS Returns Biden's Fist Bump With Spit in His Eye
Is there anything Saudi Arabia can do that would convince American leaders that its cruel theocratic monarchy no longer deserves to be propped up with money, weapons, and diplomatic support from the United States? The corrupt imperial relationship -- described by Secretary of State Anthony Blinken yesterday as a "multiplicity of of interests" -- weathered the Saudi leadership's well-established but officially unacknowledged role in the 9/11 attacks. More recently, it survived their crown prince's decision to order the assassination of a prominent U.S.-resident journalist, Jamal Khashoggi. Given that history, it's hard to imagine that the latest tension over oil prices will fundamentally change anything, but who knows? These are crazy times. Yesterday, as the White House feared, the OPEC Plus oil cartel, led by Saudi Arabia and Russia, announced that it was cutting production by two billion barrels per day.
This means, among other things, that gas prices will go up within a few weeks. That can't be good for Democrats in the midterm elections, and Crown Prince Mohammed bin Salman must be acutely aware of the political realities for President Joe Biden. Some are calling the production cuts an October Surprise from Saudi Arabia, but the OPEC announcement wasn't really a surprise, more like a slow-motion trainwreck.
The stakes are even bigger than the U.S. elections. Prior to the OPEC meeting, the Biden administration warned that production cuts would be viewed as a "hostile act," and yesterday the White House accused the Saudis of "aligning with Russia." That's fair: The production cuts will make it harder for Europe to enforce sanctions on Russian oil and gas this winter, and higher prices will help Aspiring Tsar Vladimir Putin fund his war in Ukraine. So to the extent that the Saudis actively enable Russia's illegal land grab in Europe, threatening America's NATO allies and all its economic interests there, Biden may have little choice but to do what House Democrats asked him to do this summer and "recalibrate the U.S.-Saudi relationship." Cutting off the supply of arms for Saudi's "nonsensical Yemen War," as Democratic Sen. Chris Murphy of Connecticut called it yesterday, would be a good start. Vermont Sen. Bernie Sanders said:
OPEC's decision to cutback on production is a blatant attempt to increase gas prices at the pump that cannot stand. We must end OPEC's illegal price-fixing cartel, eliminate military assistance to Saudi Arabia, and move aggressively to renewable energy.
This could all be good news for U.S. relations with major oil producer Venezuela, for what it's worth. Per the Wall Street Journal:
In exchange for the significant sanctions relief,  the government of Venezuelan President Nicolás Maduro would resume long-suspended talks with the country's opposition to discuss conditions needed to hold free and fair presidential elections in 2024, the people said. The U.S., Venezuela's government and some Venezuelan opposition figures have also worked out a deal that would free up hundreds of millions of dollars in Venezuelan state funds frozen in American banks to pay for imports of food, medicine and equipment for the country's battered electricity grid and municipal water systems.
Silver linings!
MORE STORIES TO WATCH
Biden Tours Florida; Water Could Be Unsafe for Months
President Biden visited Florida yesterday to survey Hurricane Ian recovery efforts, including with a helicopter fly-over of devastated Fort Myers. Much of the press coverage focused on Biden's temporary political truce with Florida Republican Gov. Ron DeSantis -- and Biden's hot mic moment -- but the extent of the climate disaster deserves more attention. Beyond the historic death toll, the Washington Post explains how the storm "washed leaves, organic matter and contaminants into streams and the bays, signaling the beginning of serious environmental impacts." Ian left Florida waterways contaminated with pesticides and herbicides; the bays reportedly smell horrible and look "like root beer" on account of all the sediment and toxic gunk in them. Underwater plants and fish are at great risk. It's unclear when it will be safe for people to enter the water again -- scientists say it could take months or longer -- and the pollution is so bad it can be seen from space.
U.S. Thinks Ukraine Was Behind Car Bombing in Russia
Aspiring Tsar Putin yesterday signed papers claiming Russian ownership over the Zaporizhzhia Nuclear Power Plant, where Ukrainian administrators have been working at gunpoint, and more papers saying Russia owns four Ukrainian regions its military doesn't even fully control. He also announced "corrections" to the military conscription decree enacted last month, exempting certain students from the draft, though the exodus of young men from Russia is already pushing up rents in places like Bishkek, Kyrgyzstan. Separately, the New York Times reports that U.S. intelligence believes Ukraine was behind the assassination of Russian nationalist Daria Dugina (daughter of the crackpot Aleksandr Dugin) in August; the Times also says the U.S. "lack[s] a complete picture of the competing power centers within the Ukrainian government, including the military, the security services and [President Volodymyr] Zelensky's office." And on a related note, the Intercept reports that the CIA did not believe the Ukrainian government would last more than a few days following the Russian invasion in February, though the agency has subsequently sought to take credit for Ukrainian battlefield victories.
QUICKEST QUICKIES
SOME NUMBER
334,327
That's how many people died in the United Kingdom between 2012 and 2019 due to austerity policies that cut spending on public services and benefits, according to a new epidemiological study by University of Glasgow researchers.
ON THE SHOW TODAY
10/6: Emma hosts author Ed Burmila to discuss his recent book Chaotic Neutral: How the Democrats Lost Their Soul in the Center.
DON'T MISS MR CLIPS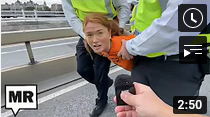 Many professional TV news people are profoundly impressed by this live shot.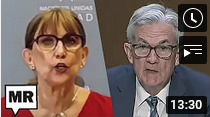 Sam breaks down what the Fed is up to.
PARTING WORDS

"It's a win for leadership in Twitter getting fat payouts. But the regular Twitter employee will now have a wholly unqualified CEO who suffers from crippling Dunning-Kruger and will use this to make the world a worse place."
-- An anonymous Twitter employee speaking to the Washington Post about Elon Musk's takeover bid.
Quickie Discount Code Corner
Hey check it out! Stuff on sale!
IAC Laser Engraving: IAC Laser Engraving is a Leftist-owned Worker Collective started by long time listener, Ryan Lubin in September of 2021. Visit iaclasers.com to order your custom item today and  enter in Coupon Code: "MAJORITY10" at purchase to receive a 10% discount on their AMAZING products."
Established Titles: Get an amazing gift for your dad this Father's Day! Go to https://establishedtitles.com/majority and get 10% off today.
ExpressVPN: Secure your online data TODAY by visiting this link. That's https://www.expressvpn.com/majority and you can get an extra three months FREE.
Fast Growing Trees: Go to this link right now, and you'll get FIFTEEN PERCENT OFF your entire order.
Ritual: Get key nutrients without the B.S. Ritual is offering our listeners 10% off during your first three months. Visit here to start your Ritual today.
Aura: Protect yourself from America's fastest-growing crime. Try Aura for 14 days for free: https://aura.com/majority
Quip: If you go to this link RIGHT NOW, you'll get your first refill FREE.
Shopify: Go to this link here for a FREE fourteen-day trial and get full access to Shopify's entire suite of features.
LiquidIV: You can get 25% off when you go to liquidiv.com and use code MAJORITYREP at checkout.
Stamps.com: Start mailing and shipping with stamps.com, and keep more money in your pocket every day. Sign up with promo code MAJORITYREPORT for a special offer that includes a 4-week trial, plus free postage and a digital scale.
ZipRecruiter: Find the right employees for your workplace with ZipRecruiter. Try it FOR FREE at this exclusive web address.
Nutrafol: For FIFTEEN DOLLARS OFF go to https://nutrafol.com/men/ with promo code MAJORITY.
Outer: See the difference at go.liveouter.com/MAJORITY. Plus, for a limited time, get $300 off and FREE shipping.
Sunset Lake CBD: Visit sunsetlakecbd.com.
Grove: Go to this link here today to get a free gift set worth up to fifty dollars with your first order. Plus, shipping is fast and FREE.
Headspace: Try this link, with discount code MAJORITY and get one month FREE of their entire mindfulness library.
StartMail: Start securing your email privacy with StartMail. Sign up today and you'll get 50% off your first year! Go to this link here for our special promotion!.
CozyEarth: Go to this link here and enter the special promo code MAJORITY at checkout to SAVE thirty-five percent now.