Pelosi Pulls a Manchin - The Thursday AM Quickie 7/28/22
Monkeys are terrorizing people in their homes and on the streets of the Japanese city of Yamaguci. No one knows why the monkeys are so riled up or where they came from. There are worse plagues, to be sure, than michievious monkeys, but few that make for better alliterative summertime newsletter copy. - Corey
Tell your friends to sign up for this M-F newsletter at AMQuickie.com!
---
THE BIG NEWS
Why Is Nancy Pelosi Going to Taiwan?
Jack and I have chronicled how West Virginia coal baron Sen. Joe Manchin III has used President Joe Biden's inability to establish a policy agenda for the Democratic Party to award himself effective veto power over any legislation he doesn't like -- which, most often, has been legislation that promotes clean energy and therefore threatens his family's pecuniary interests in the oil and gas industry. Supposedly he's now changed his mind and will sign off on some climate and taxation measures favored by his party. In any case, Manchin's rise has been the story of the Biden administration, and the senator increasingly talks as though he's actually the president. But something else is becoming clear: Manchin isn't the only politician in Washington, D.C., who senses a power vacuum, and is acting on that knowledge.
I mentioned yesterday in the Quickest Quickies that House Speaker Nancy Pelosi is apparently planning a trip to Taiwan despite Biden saying publicly that it was "not a good idea right now." Today thanks to NBC News we have more details about that trip, which Pelosi still refuses to confirm. Even so, she's been putting a whole delegation together and inviting Sinophobic Republicans along for the ride.
A House Democrat, who requested anonymity to talk about the political dynamics, said, "Many Republicans want to see her go as a show of strength, while many Democrats are concerned about the risks of unnecessary provocation -- particularly in light of high inflation, an unstable oil marketplace and Russia's war in Ukraine."
The stakes are high, and I'm not just talking about the supply of semiconductors. Biden is trying to keep China at least somewhat neutral with regards to its neighbor Russia's invasion of Ukraine, and Pelosi's trip complicates that effort. China has said it would consider a visit by Pelosi to Taiwan to represent a provocative change in American policy requiring "strong measures" in response, and the U.S. military is redeploying fighter jets and warships in the region just in case the trip results in some "mishap, misstep or misunderstanding" results in a military escalation of some kind.
Biden will be talking to Chinese President Xi Jinping this week and presumably he'll have to offer some explanation as to why a leader of his own party will be making a diplomatic visit to a state China pointedly does not recognize, against his own wishes. Here's my theory, and I don't think it's far-fetched: Pelosi saw Manchin in the Senate wrest control of climate and energy policy from the White House and figured she could do something similar with foreign policy. But the House Speaker is not in charge of U.S. foreign policy, and that's by design.
"If we're going to change our Taiwan policy, let's make it a collective decision to do so. Let's not do it by accident through a series of uncoordinated steps," Democratic Sen. Chris Murphy of Connecticut, a member of the Foreign Relations Committee, said by way of criticizing Pelosi's plans. "Obviously, the speaker of the House visiting Taiwan is a significant step that suggests recognition -- formal diplomatic recognition is not part of our current policy."
In other news, Biden tested negative for Covid-19, ending a five-day period of isolation after his positive test last week. Ask yourself this: Did you notice any significant difference over the five days where Biden was in isolation as compared to any other five-day period of his presidency? I'm telling you, there's been a power vacuum in the White House, and because nature abhors a vacuum, it's getting filled, just not in a way that leaves voters with much say-so.
---
MORE STORIES TO WATCH
Fed Hikes Interest Rates In Bid to Slow Down Economy
The Federal Reserve yesterday raised its key interest rate to the highest level since 2018, which will increase the cost of borrowing money in an effort to combat rising price inflation throughout the economy. "I do not think the U.S. is currently in a recession," Fed Chair Jerome Powell said yesterday at a news conference announcing the decision. Still, a lot of people are worried there will be one -- and Republicans wish for there to be one, because they think it will be bad for Democrats' electoral prospects -- and some say the decision to raise interest rates actually makes a recession more likely. President Biden is reportedly not among the worried; he told tech manufacturing executives at a virtual meeting this week that "we're not going to be in a recession." Does he really know? Does it matter if and when economists make this declaration? The last paragraph of this Associated Press story ought to come first if you ask me:
Among analysts who foresee a recession, most predict that it will prove relatively mild. The unemployment rate, they note, is near a 50-year low, and households are overall in solid financial shape, with more cash and smaller debts than after the housing bubble burst in 2008.
Which just goes to show the way the press talks about the economy bears little relation to the way most people live it.
Democrats Demand New Lead for Secret Service Investigation
The Washington Post reports that Democratic Reps. Carolyn Maloney of New York and Bennie Thompson of Mississippi want the Department of Homeland Security Inspector General, Joseph Cuffari, to be replaced as the leader of his office's investigation into the Secret Service and its deletion of records relevant to the Jan. 6, 2021 attack on the Capitol. Thompson chairs the House committee investigating Jan. 6 and Maloney leads the committee that oversees inspectors general. In a letter to the executive branch Council of the Inspectors General on Integrity and Efficiency, which has authority in these matters, the two Congressional leaders say they've lost confidence in Cuffari's "integrity, objectivity, and independence" after learning that he knew about the deleted records months earlier than was previously reported. Cuffari, a Trump appointee, failed to inform Congress about the records until this month. According to the Washington Post, Cuffari also failed to inform DHS Secretary Alejandro Mayorkas as required by law; had he known about the records problem, Mayorkas would've been obliged to notify Congress. Smells like a bungled coverup if you ask me!
---
Quickest Quickies
---
SOME NUMBER
20 million
That's how many home cable subscribers the rabidly pro-Trump disinformation channel One America News has lost this year as carriers, most recently Verizon, drop it from their lineups. As of next week only "a few hundred thousand people" who subscribe to small cable providers in certain markets will receive the network, according to the New York Times.
---
ON THE SHOW TODAY
7/28: Emma hosts Nick Marx, associate professor of film and media studies at Colorado State University, to discuss his recent book That's Not Funny: How the Right Makes Comedy Work for Them that he co-authored with Matt Sienkiewicz. Then, Emma is joined by Odessa Kelly, candidate for Congress in Tennessee's 7th District, to give us an update from the campaign trail.
---
Don't Miss MR Clips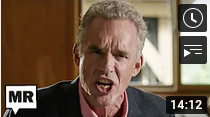 "Since when do you care what the stockboys think?" Kermit asks.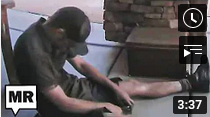 It's good for people to see what workers endure but I do find the spread of street-facing home surveillance cameras more than a little creepy.
---
PARTING WORDS
"'It is mine to avenge. I will repay. In due time, their foot will slip. Their day of disaster is near. And their doom rushes upon them.'"
-- Tou Thao, one of the former Minneapolis cops who helped Derick Chauvin murder George Floyd two years ago, quoting the biblical book of Deuteronomy at his sentencing hearing after complaining about "corruption" in the case. A judge yesterday sentenced Thao to 3 1/2 years in prison, while his former colleague J. Alexander Kueng got 3 years.
---
Quickie Discount Code Corner
Hey check it out! Stuff on sale!
LATEST ADDITIONS!
Established Titles: Get an amazing gift for your dad this Father's Day! Go to https://establishedtitles.com/majority and get 10% off today.
Vessi: Go to https://vessi.com/majority and use code MAJORITY for $25 off each pair of adult Vessi shoes! Free shipping to US, CA, AUS, NZ, JP, TW, KR, SGP
ALL THE REST!
ExpressVPN: Secure your online data TODAY by visiting this link. That's https://www.expressvpn.com/majority and you can get an extra three months FREE.
Fast Growing Trees: Go to this link right now, and you'll get FIFTEEN PERCENT OFF your entire order.
Ritual: Get key nutrients without the B.S. Ritual is offering our listeners 10% off during your first three months. Visit here to start your Ritual today.
Aura: Protect yourself from America's fastest-growing crime. Try Aura for 14 days for free: https://aura.com/majority
Quip: If you go to this link RIGHT NOW, you'll get your first refill FREE.
Shopify: Go to this link here for a FREE fourteen-day trial and get full access to Shopify's entire suite of features.
LiquidIV: You can get 25% off when you go to liquidiv.com and use code MAJORITYREP at checkout.
Stamps.com: Start mailing and shipping with stamps.com, and keep more money in your pocket every day. Sign up with promo code MAJORITYREPORT for a special offer that includes a 4-week trial, plus free postage and a digital scale.
ZipRecruiter: Find the right employees for your workplace with ZipRecruiter. Try it FOR FREE at this exclusive web address.
Nutrafol: For FIFTEEN DOLLARS OFF go to https://nutrafol.com/men/ with promo code MAJORITY.
Outer: See the difference at go.liveouter.com/MAJORITY. Plus, for a limited time, get $300 off and FREE shipping.
Sunset Lake CBD: Visit sunsetlakecbd.com.
Grove: Go to this link here today to get a free gift set worth up to fifty dollars with your first order. Plus, shipping is fast and FREE.
Headspace: Try this link, with discount code MAJORITY and get one month FREE of their entire mindfulness library.
StartMail: Start securing your email privacy with StartMail. Sign up today and you'll get 50% off your first year! Go to this link here for our special promotion!.
CozyEarth: Go to this link here and enter the special promo code MAJORITY at checkout to SAVE thirty-five percent now.https://www.youtube.com/watch?v=fyOocF3wW8I