Angry Lefties Vindicated By Manchin Reversal - The Friday AM Quickie 7/29/22
In personal news, I'm excited to go see the new Jordan Peele movie. That is all. Enjoy your weekends folks! Jack returns Monday. - Corey
Tell your friends to sign up for this M-F newsletter at AMQuickie.com!
---
THE BIG NEWS
Manchin Admits He Got Tired of Being the Bad Guy
Senate Majority Leader Chuck Schumer of New York yesterday pressed fellow Democrats to quickly pass the climate, tax, and prescription drug package deal he struck the other night with West Virginia coal baron Sen. Joe Manchin III. President Joe Biden also threw his support behind the deal, though it offers substantially less than he asked for with his signature Build Back Better package, which Manchin personally tanked. As frequent MR guest David Dayen writes in his thorough report on the surprise deal, it contains "one-ninth of the spending and less than half of the revenue of the initial Biden agenda vision," but many people concerned about climate change are nevertheless relieved. Also, because Democrats are apparently more worried about reacting to the economic news now as opposed to setting an agenda for the country, and because Manchin cited inflation as his excuse for opposing prior legislation, the centerpiece bill is being called the Inflation Reduction Act of 2022.
On substance and details, the deal is a mixed back. New York Squad Rep. Alexandria Ocasio-Cortez calls the forward movement on climate legislation "an overwhelmingly positive development" but not all environmental groups are pleased.
The weirdest thing about this deal is that despite the great quantity of not only journalists but lobbyists, political operatives, and Congressional staffers whose job is to find out such things, nobody seems to know what caused Manchin to flip and suddenly decide to help out the party whose name he uses to get elected.
From the New York Times: "It was not clear what had changed Mr. Manchin's mind since he said not even two weeks ago that he could not support such a package until he saw inflation numbers for July, which are not scheduled to be issued for two more weeks."
From the Associated Press: "The reversal was stunning, and there was no immediate explanation for Manchin's abrupt willingness to back the new bolder measure."
From Dayen's piece in The American Prospect: "There is no such thing as a genuine surprise in Washington -- usually. This was a genuine surprise." Perhaps, Dayen goes on, "a cosmic ray hit Washington and flipped everyone's brains." Havana Syndrome, then?
"According to [Manchin's] interview with Politico last night, it took him all of four days after killing the deal to ask Schumer to restart it. What happened in that time? Manchin was clearly bothered by being blamed, by everyone, as the man who let the Biden agenda die and the planet burn. The very next day, he went on local radio and insisted he hadn't ended anything"
The Hill has some more details about Manchin's West Virginia media appearances, including that he complained about being "ostracized" and "victimized" after he killed Build Back Better. Cry more!
There's a lesson here: If Manchin really did change his mind on such a major issue because he got tired of being called a corrupt, planet-killing villain every single day of his life, then it would suggest that the mean angry lefties like Vermont Sen. Bernie Sanders were correct (again) that the correct response to corrupt obstructionists in the party is to ratchet up the pressure -- to ostracize them, in short -- until they fall in line. By the same token, the coddling centrists (like Biden) were wrong (again) to reward the obstructionists by playing nice and bending over backward to meet their ever-changing demands. Now that Manchin has shaped up, NBC News asks "what will [Arizona obstructionist Sen.] Kyrsten Sinema do?" I don't know, but if she tries to sink this legislation for her personal benefit, I do know what other Democrats should do.
---
MORE STORIES TO WATCH
Jan. 6 Committee to Share Evidence with Justice Department
Mississippi Democratic Rep. Bennie Thompson, who chairs the House committee investigating Donald Trump's Jan. 6, 2021 coup attempt, says the committee has "put a template together for sharing information" like interview transcripts with the Justice Department for its related criminal inquiries. Committee members had been sniping back and forth with the DOJ over information-sharing, in part because of concerns that DOJ would be obliged to share what it learned with existing Jan. 6 defendants, but, according to Politico, "there appears to be greater urgency for prosecutors to obtain evidence the select committee has gathered." Separately, Trump's lawyers are arguing in a federal appeals court that he has total immunity from lawsuits alleging he incited the Capitol riot. And finally, via the Associated Press, a Wisconsin judge declared yesterday that "a Republican-ordered, taxpayer-funded investigation into the 2020 election found 'absolutely no evidence of election fraud,'" and added, "I think the people of the state of Wisconsin have been punished enough."
Chaos Swirls in Pelosi's Wake
The Washington Post reports that Democratic Rep. Adam Schiff is "exploring a bid" to replace his California colleague Nancy Pelosi as House Speaker if Pelosi retires from the role after the midterms. Schiff's candidacy would "would upend a race that was considered largely set," with Reps. Steny Hoyer of Maryland, and Jim Clyburn of South Carolina, and Hakeem Jeffries of New York already considered front-runners. Schiff's bid "has been met with surprise and skepticism" in the House and "infurated" some who discern that Schiff's strategy seems to be to split the Congressional Black Caucus. Pelosi has still not confirmed she will step down from leadership. She is one target of a soon-to-be-introduced bill banning individual stock trades by members of Congress, their spouses, and senior staff. And she almost certainly came up in the nearly two-and-a-half-hour call yesterday between President Biden and Chinese President Xi Jinping, which we teed up yesterday; per the Post, "Beijing does not accept the argument that Biden cannot prevent Pelosi from visiting [Taiwan next month] due to the separation of powers, and it instead considers her potential trip an indicator of the administration's willingness to depart from the foundational understandings of the U.S.-China relationship."
---
Quickest Quickies
---
SOME NUMBER
$1,000
That's how much guards at an Indiana jail charged male inmates for the keys to women's cells, according to two new lawsuits filed on behalf of twenty-eight people who were subsequently "raped, assaulted, harassed, threatened and intimidated" while guards watched on live video and audio feeds.
---
ON THE SHOW TODAY
7/29: It's Casual Friday! Sam and Emma host Alex Pareene, Contributing Editor at the New Republic and proprietor of the AP newsletter on Substack, to round up the week in news. Then they are joined by Lucas Kunce, candidate for U.S. Senate in Missouri, to give us an update from the campaign trail. Afterwards, they're joined by comedian Andy Kindler, host of the Thought Spiral podcast!
---
Don't Miss MR Clips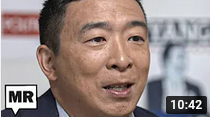 Just what America needs, a party that doesn't even pretend to stand for anything and openly brags about its big-dollar donors.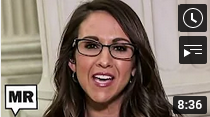 More than three-quarters of Americans support marriage equality.
---
PARTING WORDS
"Christians outnumber you by a lot. A lot. And we're not going to listen to 2 percent. You represent 2 percent of the country, OK? We're not bending the knee to the 2 percent anymore. ... We're not taking it anymore, bud. We are taking back our culture. We're taking back our country. We're taking back our government. So deal with it."
-- Andrew Torba, CEO of the rightwing extremist social media site Gab, rhetorically addressing American Jews in a video posted Tuesday. The flagrantly antisemitic white nationalist Torba is a paid consultant to the campaign of Pennsylvania Republican gubernatorial nominee Doug Mastriano. Gab forces new users to automatically follow Mastriano's account – at least it did until yesterday.
---
Quickie Discount Code Corner
Hey check it out! Stuff on sale!
LATEST ADDITIONS!
Established Titles: Get an amazing gift for your dad this Father's Day! Go to https://establishedtitles.com/majority and get 10% off today.
Vessi: Go to https://vessi.com/majority and use code MAJORITY for $25 off each pair of adult Vessi shoes! Free shipping to US, CA, AUS, NZ, JP, TW, KR, SGP
ALL THE REST!
ExpressVPN: Secure your online data TODAY by visiting this link. That's https://www.expressvpn.com/majority and you can get an extra three months FREE.
Fast Growing Trees: Go to this link right now, and you'll get FIFTEEN PERCENT OFF your entire order.
Ritual: Get key nutrients without the B.S. Ritual is offering our listeners 10% off during your first three months. Visit here to start your Ritual today.
Aura: Protect yourself from America's fastest-growing crime. Try Aura for 14 days for free: https://aura.com/majority
Quip: If you go to this link RIGHT NOW, you'll get your first refill FREE.
Shopify: Go to this link here for a FREE fourteen-day trial and get full access to Shopify's entire suite of features.
LiquidIV: You can get 25% off when you go to liquidiv.com and use code MAJORITYREP at checkout.
Stamps.com: Start mailing and shipping with stamps.com, and keep more money in your pocket every day. Sign up with promo code MAJORITYREPORT for a special offer that includes a 4-week trial, plus free postage and a digital scale.
ZipRecruiter: Find the right employees for your workplace with ZipRecruiter. Try it FOR FREE at this exclusive web address.
Nutrafol: For FIFTEEN DOLLARS OFF go to https://nutrafol.com/men/ with promo code MAJORITY.
Outer: See the difference at go.liveouter.com/MAJORITY. Plus, for a limited time, get $300 off and FREE shipping.
Sunset Lake CBD: Visit sunsetlakecbd.com.
Grove: Go to this link here today to get a free gift set worth up to fifty dollars with your first order. Plus, shipping is fast and FREE.
Headspace: Try this link, with discount code MAJORITY and get one month FREE of their entire mindfulness library.
StartMail: Start securing your email privacy with StartMail. Sign up today and you'll get 50% off your first year! Go to this link here for our special promotion!.
CozyEarth: Go to this link here and enter the special promo code MAJORITY at checkout to SAVE thirty-five percent now.https://www.youtube.com/watch?v=fyOocF3wW8I