DOJ Examining Trump's Conduct in Criminal Probe - The Wednesday AM Quickie 7/27/22
The Pope's North American apology tour, which Jack wrote about yesterday, took him through my neck of the woods. Before the fuss subsides, I thought people might like to know that the province paid to pave the parking lot of a Catholic church for his visit while nearby indigenous graves remain unmarked. - Corey
Tell your friends to sign up for this M-F newsletter at AMQuickie.com!
---
THE BIG NEWS
Trump Conduct Subject of Justice Department Criminal Inquiry
That's how the Washington Post is putting it, anyway. The paper cites multiple anonymous sources familiar with the matter.
Prosecutors who are questioning witnesses before a grand jury — including two top aides to Vice President Mike Pence — have asked in recent days about conversations with Trump, his lawyers, and others in his inner circle who sought to substitute Trump allies for certified electors from some states Joe Biden won, according to two people familiar with the matter. Both spoke on the condition of anonymity to discuss an ongoing investigation.
The prosecutors have asked hours of detailed questions about meetings Trump led in December 2020 and January 2021; his pressure campaign on Pence to overturn the election; and what instructions Trump gave his lawyers and advisers about fake electors and sending electors back to the states, the people said. Some of the questions focused directly on the extent of Trump's involvement in the fake-elector effort led by his outside lawyers, including John Eastman and Rudy Giuliani, these people said.
Justice Department investigators in April received phone records of key officials and aides in the Trump administration, including his former chief of staff, Mark Meadows
This is pretty big news, because it raises the possibility of criminal charges against Donald Trump for his multi-pronged campaign to overturn the 2020 election. However, there is no guarantee of charges, and as the Post notes, "No former president has ever been charged with a crime in the country's history."
The New York Times quickly confirmed the Post's reporting.
A Summer of Floods, Fires, Melting Glaciers and Armed Militias
You may remember a few months ago when I told you about how persistent droughts in the Southwestern United States, made more severe by climate change, were leading to the discovery of bodies dumped in Lake Mead over the years by the Las Vegas mafia. Well, they just found another one. The area is enduring its driest two-decade period in 1,200 years, give or take, and new studies confirm the regional water supply is headed for "collapse" without big cuts to usage. And, that, folks, is the most lighthearted climate news I have for you this morning.
Floods hit St. Louis following record rainfall. Per the Associated Press, "there were no immediate reports of injuries to people, but several puppies drowned when water got into a building at Stray Paws Adoptables, a stray dog rescue operation... Firefighters in boats were able to rescue other dogs from the building." The flash floods came after an extended drought that left the ground rock-hard.
As the Northeastern heat wave subsided, another hit the Pacific Northwest. "To have five-day stretches or a weeklong stretch above 90 degrees is very, very rare" for the region, as PBS Newshour reports.
HuffPost explains how climate change is pushing the U.S. electrical grid past its limits and making deadly blackouts commonplace, leaving millions of people "teetering on the edge between modernity and darkness":
The patchwork of power grids that kept the country's lights on for much of the last century is dangerously strained. Extreme weather and growing electricity use are demanding more of the grid at just the moment when the supply of 24/7 power is shrinking. With heat waves already roasting broad swaths of the nation, this summer's brutal forecasts mean rolling blackouts are more likely than at any other point in living memory -- and the risk only gets worse by the year.
So many cows died in a June heatwave that American cattle companies sent the carcasses to landfills because the "facilities that normally convert carcasses into pet food and fertilizer products were overwhelmed." The cattle that survived are not doing well, the company involved has no plans to add shade to reduce their suffering, and the carcasses dumped in unlined pits could pose a threat to groundwater supplies, Reuters reports.
Britain is bracing for wildfires following last week's record heat, and "a depletion of rivers and reservoirs is affecting water quality, crop harvests and fish." Glaciers in the European Alps are melting decades faster than expected, making mountain trails hazardous. The Himalayan glaciers are also said to be on track for record ice loss this year.
In response to all this, the Biden administration has launched a new website, Heat.gov, with color-coded maps so you can see exactly how miserable people are across the country. What they have not done, however, is reverse a Trump-era decision to end climate change planning in the National Parks Service, even as floods, fires, and closures take their toll this summer. The Oak Fire near Yosemite National Park in California continued to grow yesterday, forcing the evacuation of more than 5,000 people and inspiring an armed militia group to stage a recruitment drive (supported by the local sheriff) amid the disaster. As one resident complained to the San Jose Mercury News, "the last thing I'm going to do is take a free tri-tip sandwich from a right-wing extremist group."
---
MORE STORIES TO WATCH
European Union Adopts Gas Rationing Plan
The 27 member states of the EU -- minus Hungary, which already has a carve-out from Europe's embargo on Russian oil -- agreed yesterday to voluntarily reduce gas consumption by 15 percent from August through the end of March. The rationing plan comes in response to Russia's invasion of Ukraine and less than a day after Russia's state-owned Gazprom energy firm announced it was further cutting Europe's gas supply. The voluntary cuts will become mandatory in the event of an emergency, and island nations Ireland, Malta, and Cyprus, which are disconnected from the European gas network, are exempt. Critics reportedly lambasted the plan for favoring Germany's interests over other EU members, but as a French energy minister pointed out, "our industrial chains are completely interdependent: if the chemical industry in Germany coughs, the whole of European industry could come to a halt."
Emails Show Trump Flunkies Knew Election Claim Was "Fake"
Donald Trump returned to Washington, DC, for the first time since President Joe Biden's inauguration, to call for concentration camps for the homeless and to spite Mike Pence, who was also in town to give a speech and to say he doesn't disagree with Trump on policy. Two Pence aides are reportedly cooperating with the Justice Department's inquiry into Trump's Jan. 6, 2021 coup attempt. Meanwhile, Trump's former Central Intelligence Agency director and Secretary of State, Mike Pompeo, is "in active discussions" with the House Jan. 6 committee to provide testimony; Pompeo was said to be involved in Cabinet discussions to invoke the 25th Amendment to remove Trump from office as the Capitol attack was underway. Finally, the New York Times obtained dozens of Trumpworld emails that illustrate how brazen the plotters were in their "wild/creative" efforts to seize power through illegitimate means; "one lawyer involved in the detailed discussions repeatedly used the word 'fake' to refer to the so-called electors" Trump hoped to send to Congress instead of the real electoral votes, which must surely violate the Stringer Bell rule on note-taking during a criminal effing conspiracy.
---
Quickest Quickies
---
SOME NUMBER
$24 billion
That's the projected size, over 10 years, of a tax break for U.S. semiconductor manufacturers in a $280 billion bill backed by the White House that's expected to pass the Senate this week. Democratic socialist Sen. Bernie Sanders of Vermont has criticized the corporate giveaway, saying "at a time when the working families of this country are falling further and further behind while the very rich are getting much richer, let us get our priorities right."
---
ON THE SHOW TODAY
7/27: Sam and Emma host Dannel Jurado of Kickstarter United to discuss their unionizing effort from the ground. Then, they are joined by Vincent Vertuccio, a student climate organizer with Now or Never, who is planning to protest the Congressional Baseball Game this Thursday.
---
Don't Miss MR Clips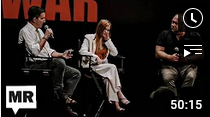 Really pathetic.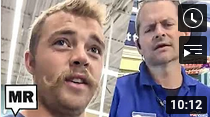 Possibly even more pathetic than the preceding clip!
---
PARTING WORDS
"Because he's been canceled, nobody can hear his side of the story."
-- Alex Jones' defense attorney, Federico Reynal, speaking to the jury that will award damages in a defamation case filed by the parents of Sandy Hook school shooting victims, only days after Jones appeared as the guest of honor at the debut of a documentary about him, where he was interviewed by Pulitzer Prize-winning journalist Glenn Greenwald. Canceled, sure.
---
Quickie Discount Code Corner
Hey check it out! Stuff on sale!
LATEST ADDITIONS!
Established Titles: Get an amazing gift for your dad this Father's Day! Go to https://establishedtitles.com/majority and get 10% off today.
Vessi: Go to https://vessi.com/majority and use code MAJORITY for $25 off each pair of adult Vessi shoes! Free shipping to US, CA, AUS, NZ, JP, TW, KR, SGP
ALL THE REST!
ExpressVPN: Secure your online data TODAY by visiting this link. That's https://www.expressvpn.com/majority and you can get an extra three months FREE.
Fast Growing Trees: Go to this link right now, and you'll get FIFTEEN PERCENT OFF your entire order.
Ritual: Get key nutrients without the B.S. Ritual is offering our listeners 10% off during your first three months. Visit here to start your Ritual today.
Aura: Protect yourself from America's fastest-growing crime. Try Aura for 14 days for free: https://aura.com/majority
Quip: If you go to this link RIGHT NOW, you'll get your first refill FREE.
Shopify: Go to this link here for a FREE fourteen-day trial and get full access to Shopify's entire suite of features.
LiquidIV: You can get 25% off when you go to liquidiv.com and use code MAJORITYREP at checkout.
Stamps.com: Start mailing and shipping with stamps.com, and keep more money in your pocket every day. Sign up with promo code MAJORITYREPORT for a special offer that includes a 4-week trial, plus free postage and a digital scale.
ZipRecruiter: Find the right employees for your workplace with ZipRecruiter. Try it FOR FREE at this exclusive web address.
Nutrafol: For FIFTEEN DOLLARS OFF go to https://nutrafol.com/men/ with promo code MAJORITY.
Outer: See the difference at go.liveouter.com/MAJORITY. Plus, for a limited time, get $300 off and FREE shipping.
Sunset Lake CBD: Visit sunsetlakecbd.com.
Grove: Go to this link here today to get a free gift set worth up to fifty dollars with your first order. Plus, shipping is fast and FREE.
Headspace: Try this link, with discount code MAJORITY and get one month FREE of their entire mindfulness library.
StartMail: Start securing your email privacy with StartMail. Sign up today and you'll get 50% off your first year! Go to this link here for our special promotion!.
CozyEarth: Go to this link here and enter the special promo code MAJORITY at checkout to SAVE thirty-five percent now.https://www.youtube.com/watch?v=fyOocF3wW8I