Charges for Trump? Probably Not 'Til November. - The Thursday AM Quickie 9/1/22
This here story about a drunk and disorderly Republican member of the Oregon state legislature palling around with the Proud Boys, spraying mace at a crowd, and bringing a gun to a protest doesn't really rise to the level of national news, but that's really only because it's what we expect from Republicans nowadays. – Corey
Tell your friends to sign up for this M-F newsletter at AMQuickie.com!
THE BIG NEWS
With Charges Looming, Trump Goes Full Q
According to Bloomberg News, which anonymously cites "people familiar" with the matter, it's unlikely that Donald Trump will face federal charges related to his theft of classified documents until after the November midterm elections, that is assuming prosecutors do decide to exercise their discretion and file charges against a former president. That astonishing (and in my opinion necessary) prospect appears more likely, at least according to some legal experts, following the Justice Department's late-Tuesday-night filing with more details on the documents Trump stole. As David Laufman, former chief of the counterespionage section at the Justice Department's National Security Division, put it to Politico: "It seems to me it's moving in the direction of warranting criminal charges."
The filing included a photograph, which you may have seen by now, showing some of the documents seized from Mar-a-Lago, their contents obscured by brightly colored cover sheets that proclaimed in block capital lettering the "top secret" status of the material. Apparently Trump stored these secret documents he stole in a desk drawer along with his passports (both current and expired), which in and of itself constitutes evidence when it comes to building a criminal case. Was he planning to travel with those papers? Hard to say. But their storage location does indicate that Trump knew exactly what documents he had.
The filing also highlights the potential for obstruction of justice charges not only for Trump, but potentially for his hapless legal counsel, who "explicitly prohibited government personnel from opening or looking inside any of the boxes that remained in the storage room" during a June visit to Mar-a-Lago. At that time, acting under a subpoena, investigators sought to obtain all classified material at the property, and received a signed statement from Trump's lawyers that all such material had been returned to the government. In reality, the documents eventually seized by the Federal Bureau of Investigation had been "likely concealed and removed" prior to the August raid. Ergo: obstruction.
How did Trump respond? With a whacked-out 60-post spree on his floundering personal social media site, Truth Social, which cited 12 separate QAnon accounts and "removed any doubts he's fully embraced a movement the FBI has labeled a domestic terror threat." This could all get a lot crazier by November.
MORE STORIES TO WATCH
Available Very Soon: Omicron-Specific Boosters
Newly formulated vaccine booster shots targeting the most common strains of the Covid-19 omicron variant could be available as early as next week, following their emergency approval yesterday by the Food and Drug Administration. Health officials are trying to stave off a winter coronavirus wave, but uptake has been slow with the original-recipe boosters. Per the Associated Press, "just half of vaccinated Americans got the first recommended booster dose, and only a third of those 50 and older who were urged to get a second booster did so." Honestly, I do not understand why people are such babies about this. Personally I'm grateful for the vaccines. People who care about their own health and the wellbeing of others can expect updated coronavirus vaccines like this in the years ahead, "like how flu vaccines get updated every year."
Still No Running Water in Mississippi Capital City
President Joe Biden has declared a federal emergency over the water crisis in Jackson, Mississippi, where floods knocked an already malfunctioning water treatment plant out of commission and made it "impossible to carry out vital daily functions such as flushing toilets or taking showers" for thousands of people -- with no end in sight. Biden also spoke by phone yesterday to Mayor Chokwe Antar Lumumba, a Democrat who was not invited to Republican Gov. Tate Reeves' news conference on the crisis earlier this week. "This has been something we've been crying out for more than two years, saying that it's not a matter of if our systems will fail, but a matter of when our systems will fail," Lumumba told Democracy Now! "This is a matter of human rights."
QUICKEST QUICKIES
SOME NUMBER
6.6
That's how many years the life expectancy of Native Americans declined over the past two years, according to a new report from the National Center for Health Statistics. The 2.7-year decline in average life expectancy over the same period is the largest two-year decline in nearly a century and "similar to the plunge seen for all Americans after the Spanish Flu."
ON THE SHOW TODAY
9/1: Emma hosts Ruth Conniff, editor-in-chief of the Wisconsin Examiner, to discuss her recent book Milked: How an American Crisis Brought Together Midwestern Dairy Farmers and Mexican Workers.
DON'T MISS MR CLIPS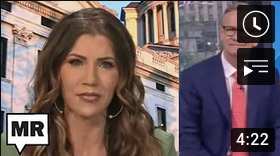 Even a broken clock, etc.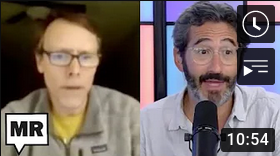 "I never followed this stuff that close," he says. Half credit for transparency?
PARTING WORDS
"They brought all the crew members out and took a photo in front of a huge cake with balloons... Then the managers all ate the cake and the crew members were sent to the back."
-- Atulya Dora-Laskey, a Chipotle worker in Lansing, Michigan, who helped lead the first successful union drive at the fast food chain last month, describing one of the "radicalizing" insults from management that inspired staff to organize.
Quickie Discount Code Corner
Hey check it out! Stuff on sale!
Established Titles: Get an amazing gift for your dad this Father's Day! Go to https://establishedtitles.com/majority and get 10% off today.
ExpressVPN: Secure your online data TODAY by visiting this link. That's https://www.expressvpn.com/majority and you can get an extra three months FREE.
Fast Growing Trees: Go to this link right now, and you'll get FIFTEEN PERCENT OFF your entire order.
Ritual: Get key nutrients without the B.S. Ritual is offering our listeners 10% off during your first three months. Visit here to start your Ritual today.
Aura: Protect yourself from America's fastest-growing crime. Try Aura for 14 days for free: https://aura.com/majority
Quip: If you go to this link RIGHT NOW, you'll get your first refill FREE.
Shopify: Go to this link here for a FREE fourteen-day trial and get full access to Shopify's entire suite of features.
LiquidIV: You can get 25% off when you go to liquidiv.com and use code MAJORITYREP at checkout.
Stamps.com: Start mailing and shipping with stamps.com, and keep more money in your pocket every day. Sign up with promo code MAJORITYREPORT for a special offer that includes a 4-week trial, plus free postage and a digital scale.
ZipRecruiter: Find the right employees for your workplace with ZipRecruiter. Try it FOR FREE at this exclusive web address.
Nutrafol: For FIFTEEN DOLLARS OFF go to https://nutrafol.com/men/ with promo code MAJORITY.
Outer: See the difference at go.liveouter.com/MAJORITY. Plus, for a limited time, get $300 off and FREE shipping.
Sunset Lake CBD: Visit sunsetlakecbd.com.
Grove: Go to this link here today to get a free gift set worth up to fifty dollars with your first order. Plus, shipping is fast and FREE.
Headspace: Try this link, with discount code MAJORITY and get one month FREE of their entire mindfulness library.
StartMail: Start securing your email privacy with StartMail. Sign up today and you'll get 50% off your first year! Go to this link here for our special promotion!.
CozyEarth: Go to this link here and enter the special promo code MAJORITY at checkout to SAVE thirty-five percent now.https://www.youtube.com/watch?v=fyOocF3wW8I