New Details on Mar-a-Lago Raid Coming - The Friday AM Quickie 8/26/22
Summer is not over until we all agree it's over, and I do not agree. - Corey
Tell your friends to sign up for this M-F newsletter at AMQuickie.com!
THE BIG NEWS
Trump Raid Affidavit Set for Partial Release
By noon today, the Justice Department must release a redacted version of the document that contains its rationale for raiding Donald Trump's Mar-a-Lago resort. U.S. Magistrate Judge Bruce Reinhart made the order yesterday after the Department submitted to him under seal its proposed redactions from the document, a search warrant affidavit. That affidavit laid out the basics of the Department's case that Trump violated the Espionage Act and other laws when he stole hundreds of pages of classified documents -- some above top secret and all belonging to the public, not Trump's personal property as his cult members believe -- when he left the White House, and kept them on his unsecured residence and social club for reasons unknown.
If I had to guess, I'd say Trump planned to turn a profit on those documents somehow -- but hopefully, we won't have to guess for much longer. It's hard to imagine that Attorney General Merrick Garland would have signed off on the Mar-a-Lago raid without having some idea what Trump hoped to do with the documents, but the laws at issue don't require the Department to demonstrate nefarious intent on Trump's part. But even if the affidavit doesn't clear up every question around this remarkable case -- and news organizations expect the redactions to be heavy, given that the Justice Department opposed the affidavit's release -- it should add something to the public's understanding of what drove Garland to act. As the Washington Post notes, "[m]ishandling of national security material is not the only crime being investigated in the Mar-a-Lago probe, and Trump's status as a former president may not lessen his legal risk to the two other potential criminal charges listed on the search warrant: destruction of records and concealment or mutilation of government material."
Finally, to whet your appetites, check out this Politico story on how Trump has spent his days since the Federal Bureau of Investigation raid on Mar-a-Lago. It hasn't cut into his golf schedule, that's for sure. "I don't think anyone truly believes he's in legal jeopardy," one Trumpworld source said. Pride comes before a fall!
MORE STORIES TO WATCH
Amazon Kentucky Union Organizer Alleges Retaliation
The lead organizer of the Amazon labor organizing effort at the company's Campbellsville, Kentucky warehouse near Lexington, has filed two complaints with the National Labor Relations Board alleging retaliation in the months leading up to his firing last week after four years with the company. Matt Littrell, 22, says managers began writing him up for working too slowly in April, after a colleague warned him that management had been holding meetings about his union organizing efforts. "They treat us like robots," Littrell told NBC News. He and fellow organizers were hoping to file for an election by the end of this year, and here's hoping they can still pull that off despite the company's best attempts at sabotage. Separately, Amazon announced it was closing five warehouses in Massachusetts, without saying how many workers would be affected.
Two Floridians Plead Guilty to Stealing Biden Daughter's Diary
Aimee Harris, 40, and Robert Kurlander, 58, agreed to cooperate with government investigators as part of their plea deal, in which they admitted to participating in a conspiracy to transport stolen property, charges that carry a maximum sentence of five years. "Harris and Kurlander stole personal property from an immediate family member of a candidate for national political office," U.S. Attorney Damian Williams explained, per ABC News. "They sold the property to an organization in New York" -- that would be James O'Keefe's Project Veritas -- "for $40,000 and even returned to take more of the victim's property when asked to do so." Ashley Biden, the president's youngest daughter at age 41, had left the diary along with other revealing personal information like tax records at a Florida house where Harris was also staying, then lo and behold the diary wound up getting passed around at a Trump fundraiser featuring Don Jr.
QUICKEST QUICKIES
SOME NUMBER
$31 million
That's how far the National Republican Senatorial Committee is behind Senate Democrats in cash on hand, per the most recent filings mentioned in this Politico story. Donald Trump this week called for Senate Minority Leader Mitch McConnell to be "immediately" replaced after McConnell blamed "candidate quality" for the party's declining hopes of winning control of the Senate in the November midterms.
ON THE SHOW TODAY
8/26: It's Casual Friday! Emma hosts Alex Pareene, contributing editor at The New Republic and proprietor of the AP newsletter on Substack, to round up the week in news. Then, Emma is joined by Astra Taylor, co-founder of the Debt Collective and author of the recent book Remake the World: Essays, Reflections, Rebellions, to discuss Biden's student loan forgiveness program.
DON'T MISS MR CLIPS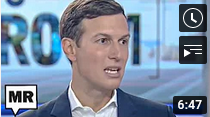 He really doesn't want to talk about the Mar-a-Lago raid.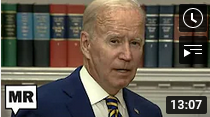 That's his brand though!
PARTING WORDS
"Lucky I wasn't out and about. D.A. shoot team asking me why they are all hung by a noose and shot in the back of the head 8 times each."
-- A Torrance, California, police officer, writing a text message to colleagues about a Black robbery suspect, in records revealed by the Los Angeles Times. Other text messages show officers using racial slurs to describe the family members of a Black man they shot. "Criminal cases in which the officers were involved continue to be dismissed ... [and] most of the officers implicated remain employed by the city."
Quickie Discount Code Corner
Hey check it out! Stuff on sale!
Established Titles: Get an amazing gift for your dad this Father's Day! Go to https://establishedtitles.com/majority and get 10% off today.
ExpressVPN: Secure your online data TODAY by visiting this link. That's https://www.expressvpn.com/majority and you can get an extra three months FREE.
Fast Growing Trees: Go to this link right now, and you'll get FIFTEEN PERCENT OFF your entire order.
Ritual: Get key nutrients without the B.S. Ritual is offering our listeners 10% off during your first three months. Visit here to start your Ritual today.
Aura: Protect yourself from America's fastest-growing crime. Try Aura for 14 days for free: https://aura.com/majority
Quip: If you go to this link RIGHT NOW, you'll get your first refill FREE.
Shopify: Go to this link here for a FREE fourteen-day trial and get full access to Shopify's entire suite of features.
LiquidIV: You can get 25% off when you go to liquidiv.com and use code MAJORITYREP at checkout.
Stamps.com: Start mailing and shipping with stamps.com, and keep more money in your pocket every day. Sign up with promo code MAJORITYREPORT for a special offer that includes a 4-week trial, plus free postage and a digital scale.
ZipRecruiter: Find the right employees for your workplace with ZipRecruiter. Try it FOR FREE at this exclusive web address.
Nutrafol: For FIFTEEN DOLLARS OFF go to https://nutrafol.com/men/ with promo code MAJORITY.
Outer: See the difference at go.liveouter.com/MAJORITY. Plus, for a limited time, get $300 off and FREE shipping.
Sunset Lake CBD: Visit sunsetlakecbd.com.
Grove: Go to this link here today to get a free gift set worth up to fifty dollars with your first order. Plus, shipping is fast and FREE.
Headspace: Try this link, with discount code MAJORITY and get one month FREE of their entire mindfulness library.
StartMail: Start securing your email privacy with StartMail. Sign up today and you'll get 50% off your first year! Go to this link here for our special promotion!.
CozyEarth: Go to this link here and enter the special promo code MAJORITY at checkout to SAVE thirty-five percent now.https://www.youtube.com/watch?v=fyOocF3wW8I