Biden Cancels Up to $20,000 in Student Debt - The Thursday AM Quickie 8/25/22
Maybe it's just my vacation hangover, but this is the busiest summer for news I can remember. - Corey
Tell your friends to sign up for this M-F newsletter at AMQuickie.com!
THE BIG NEWS
Biden Beat the Expectations Game on Student Debt Relief
Holy crap, he did something. After yesterday's announcement on student loan cancellation, two of the largest student loan administrators in the country had their websites buckle under the load of traffic, "presumably because so many people were trying to check their balances at once." Everyone except lenders will benefit from this modest debt relief, although your mileage may vary depending on personal circumstances. You can read the White House factsheet yourself here, but here's a quick summary (and you can find a detailed Q&A here):
$10,000 in student loan debt will be canceled for most borrowers.
$20,000 will be canceled for those who qualified for Pell Grants.
Repayments are paused again -- for what President Joe Biden called for the "final time" -- through the end of this year.
Cancellation applies only to those who made less than $125,000 (twice that for married joint tax filers).
Some borrowers whose information isn't on file with the Department of Education may need to submit an application.
The Biden administration is also proposing "creating a new repayment plan tied to borrowers' earnings, capping monthly payments for undergraduate loans to 5 percent of a person's discretionary income instead of 10 percent." And there are some smaller proposed measures that are likely to benefit people as well.
My reaction: So much means testing! So many needless complications! And more paperwork! There's no doubt this is good news, but it would've been so much better to wipe out people's debt all at once, regardless of their income, or their parents' incomes, and to bask in the moral victory of doing away with this predatory system that has fueled skyrocketing tuition costs and saddles 70 percent of American students with debt for attaining qualifications that were free, or close to free, for their parents and grandparents.
Others had similar takes. Ryan Cooper in The American Prospect writes:
As welcome as this news is, it doesn't do enough to fix the broader system of higher education financing. Much like the medical system, higher education is badly in need of price regulation.
Astra Taylor, an important early advocate for student debt cancellation, responded to the news:
This is a stepping stone, not the destination. A President who wanted to do NOTHING had to do something. Up to 20 million people could be debt free. Hopefully some of them will join the fight for everyone else.
Our problems aren't solved, but Biden has reluctantly demonstrated that they can be. That's the real win.
MORE STORIES TO WATCH
A Goldman-Niou Rematch in November?
Not all the results were in the other night, so here are a few updates on Tuesday's primary elections. Should it be confirmed that she narrowly lost her Democratic primary in New York's 10th Congressional District to rich kid corporate Democrat Dan Goldman, there is growing speculation that progressive Yuh-Line Niou might run on the Working Families Party ballot line. On the GOP side state party chair Nick Langworthy declared victory over Hitler-praising real estate developer Carl Paladino, who refused to concede. In Florida, Republican creep Rep. Matt Gaetz won his primary despite an ongoing federal sex crimes investigation; he will face the Democratic primary winner, former state Health Department worker Rebekah Jones, in November. (Jones herself is facing a felony charge related to her departure from the department over its manipulation of Covid-19 data. Florida!)
Trumpist Sheriffs Organizing to Meddle in Elections
Bolts, a non-profit online magazine "that covers the nuts and bolts of power and political change," takes a deep look at one of the most disturbing under-the-radar stories out there: the rise of far-right "constitutional sheriffs" who are promising to interfere in future elections. Some are coordinating with a shady Texas-based outfit called True the Vote, which has drawn scrutiny from Texas Monthly and the investigative website Reveal. The Trumpist sheriffs are promising to surveil ballot boxes, conduct criminal investigations into baseless voting fraud conspiracy theories, monitor vote counting, and even seize voting machines. They call that "election integrity," but as Bolts reports, it "recalls the days of voter intimidation in the Jim Crow South (and beyond), and could also help encourage extremist vigilante violence."
QUICKEST QUICKIES
SOME NUMBER
362
That's how many children have been confirmed killed in Ukraine in the sixth months since Russia invaded. In all, the United Nations counts 5,587 civilian dead, while acknowledging the figure is likely a major undercount. An 11-year-old child killed yesterday in a rocket attack would make the child death toll above 363.
ON THE SHOW TODAY
8/25: Emma hosts Noah Kulwin, co-host of the Blowback podcast, to discuss his recent piece in The Baffler entitled "Tales from the Thrifts."
DON'T MISS MR CLIPS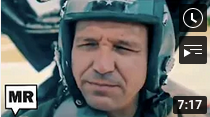 The small boy featured in the video is more believable as a fighter jock than Ron.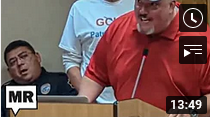 The weirdest part might be when a board member thanks him as he walks away.
PARTING WORDS
"Where is she? Where is the pink-haired freak? Where is the pedophile librarian?"
-- A woman who showed up at a public library in Jamestown, Michigan, raving and carrying a video camera, a few months before residents voted to defund the library following a manufactured right-wing panic over "pornographic" (not really) books on the shelves. Several staff quit due to such intimidation; the board is hoping the town might change its mind in a November referendum.
Quickie Discount Code Corner
Hey check it out! Stuff on sale!
Established Titles: Get an amazing gift for your dad this Father's Day! Go to https://establishedtitles.com/majority and get 10% off today.
ExpressVPN: Secure your online data TODAY by visiting this link. That's https://www.expressvpn.com/majority and you can get an extra three months FREE.
Fast Growing Trees: Go to this link right now, and you'll get FIFTEEN PERCENT OFF your entire order.
Ritual: Get key nutrients without the B.S. Ritual is offering our listeners 10% off during your first three months. Visit here to start your Ritual today.
Aura: Protect yourself from America's fastest-growing crime. Try Aura for 14 days for free: https://aura.com/majority
Quip: If you go to this link RIGHT NOW, you'll get your first refill FREE.
Shopify: Go to this link here for a FREE fourteen-day trial and get full access to Shopify's entire suite of features.
LiquidIV: You can get 25% off when you go to liquidiv.com and use code MAJORITYREP at checkout.
Stamps.com: Start mailing and shipping with stamps.com, and keep more money in your pocket every day. Sign up with promo code MAJORITYREPORT for a special offer that includes a 4-week trial, plus free postage and a digital scale.
ZipRecruiter: Find the right employees for your workplace with ZipRecruiter. Try it FOR FREE at this exclusive web address.
Nutrafol: For FIFTEEN DOLLARS OFF go to https://nutrafol.com/men/ with promo code MAJORITY.
Outer: See the difference at go.liveouter.com/MAJORITY. Plus, for a limited time, get $300 off and FREE shipping.
Sunset Lake CBD: Visit sunsetlakecbd.com.
Grove: Go to this link here today to get a free gift set worth up to fifty dollars with your first order. Plus, shipping is fast and FREE.
Headspace: Try this link, with discount code MAJORITY and get one month FREE of their entire mindfulness library.
StartMail: Start securing your email privacy with StartMail. Sign up today and you'll get 50% off your first year! Go to this link here for our special promotion!.
CozyEarth: Go to this link here and enter the special promo code MAJORITY at checkout to SAVE thirty-five percent now.https://www.youtube.com/watch?v=fyOocF3wW8I