Laura Loomer Is Not Going to Congress - The Wednesday AM Quickie 8/24/22
I have never appreciated this newsletter more, as a reader, while I was off traveling without constant internet access. Thanks for keeping me up to date Jack! One story that didn't make the cut while I was away, but which I had a special perspective on, was that Cuba suffered its worst-ever industrial disaster this month: a massive and deadly oil facility fire spewing toxic gas into a city only 100 miles from the Florida coast. The sum of the U.S. response was to arrange a phone call offering technical advice. It's disappointing and disheartening that President Joe Biden didn't take the opportunity to offer humanitarian aid and improve relations as his old boss Barack Obama at least made an effort to do. - Corey
Tell your friends to sign up for this M-F newsletter at AMQuickie.com!
THE BIG NEWS
Primary Results from Three States
There were primary elections yesterday in New York and Florida and primary runoffs in Oklahoma, so here we bring you the latest results from the key races as of bedtime last night. For a look at the bigger picture, Politico reports on how redistricting helped put New York at "center stage in [the] fight for control of the House."
New York: In the wide-open 10th Congressional District race, progressive Yuh-Line Niou was neck-and-neck with corporate Democrat Daniel Goldman last night – it was "too close to call" for Gothamist but not the Associated Press. In the 12th District, Rep. Jerry Nadler "handily won" over Rep. Carolyn Maloney. In the 17th District, progressive Alessandra Biaggi lost her challenge to establishment fundraiser and incumbent Rep. Sean Patrick Maloney. In the 19th District seat vacated by Gov. Kathy Hochul, Republican Marc Molinaro was slightly behind Democrat Pat Ryan. In the 23rd District, noted Republican racist Carl Paladino was in a tight race with state party chair Nick Langworthy.
Florida: In the Democratic primary to see who will challenge GOP Gov. Ron DeSantis, former Republican governor and current Democratic Rep. Charlie Crist trounced state agriculture commissioner Nikki Fried (who was "the only Democrat elected to statewide office four years ago"). Rep. Val Demings faced no serious challenge for the Democratic nomination to challenge Sen. Marco Rubio. Progressive young Maxwell Frost was called a groundbreaking winner last night margin in the contest for Demings' open seat. On the Republican side, Islamophobic influencer Laura Loomer narrowly lost her House primary, but predictably refused to concede.
Oklahoma: Trump-endorsed former Mixed Martial Arts fighter Markwayne Mullin easily won the special election runoff to finish the term of retiring GOP Sen. James Inhofe.
MORE STORIES TO WATCH
Trumpworld: Check Out This Letter Disproving Our Case!
In another amusing own goal, Donald Trump's all-star brain trust yesterday disclosed a letter sent to one of Trump's attorneys in May by the National Archivist, Debra Wall, which confirmed that super-secret "special access program" materials were contained in a stash of 700 pages of classified documents the National Archives retrieved from Mar-a-Lago in January. That's entirely apart from the documents recovered by the Federal Bureau of Investigation earlier this month, though it did help kickstart the Justice Department's inquiry. As one law professor put it, Wall's letter "is damning to former President Trump on any number of levels -- not the least of which is the lack of any reference to a claim by Trump's representatives that he had 'declassified' any of the classified materials that were quite specifically at issue." Well, sure, if you want to nitpick, I guess.
UN Hears of Crisis at Ukrainian Nuclear Plant
Today marks six months since Russia invaded Ukraine. It also happens to be Ukraine's independence day. The United Nations Security Council held an emergency meeting yesterday, at Russia's request, to discuss Ukraine's Zaporizhzhia Nuclear Power Plant, where the Ukrainian "employees are literally working at gunpoint," as an engineer tells the New York Times. Workers tell the Times that combat has returned to the plant, explosions can be heard frequently, and residents who keep the plant functioning have been evacuating. Plant workers, UN Secretary General António Guterres, and officials with the International Atomic Energy Agency have all warned of potential disaster if the area isn't demilitarized. Ukrainian President Volodymyr Zelenskyy attacked Russia for having "the audacity to convene the UN Security Council to discuss its own provocations" at the nuclear site.
QUICKEST QUICKIES
SOME NUMBER
1 in 6
That's how many native tree species in the continental U.S. -- approximately 100 in total -- are facing extinction due to climate change and disease, according to a new study. Most of the 881 tree species scientists studied had never been assessed for extinction risk, and only 8 tree species are now federally protected.
ON THE SHOW TODAY
8/24: Emma hosts Dr. Heather Berg, assistant professor of women, gender, and sexuality studies at Washington University St. Louis, to discuss her recent book Porn Work: Sex, Labor, and Late Capitalism.8/23: Emma hosts Dr. John Abramson, lecturer of health care policy at Harvard University, to discuss his recent book Sickening: How Big Pharma Broke American Healthcare and How We Can Repair It.
DON'T MISS MR CLIPS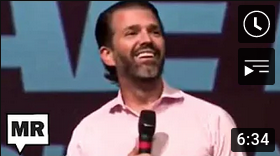 Nobody can convince a rich kid how much they truly suck, except maybe daddy.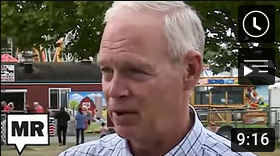 I feel like this guy is really bad at politics but I must be missing something.
PARTING WORDS
"Man I've written some awful lyrics in my time but never have I come close to anything as unoriginal, redundant and banal as 'staring at the heartache in your soul as your heart fell to pieces.'"
-- Eve 6 vocalist Max Collins reviewing Tim Pool's self-published debut pop-punk single, "Only Ever Wanted," which features a drummer fired by The Offspring for refusing to vaccinate himself against Covid-19.
Quickie Discount Code Corner
Hey check it out! Stuff on sale!
Established Titles: Get an amazing gift for your dad this Father's Day! Go to https://establishedtitles.com/majority and get 10% off today.
ExpressVPN: Secure your online data TODAY by visiting this link. That's https://www.expressvpn.com/majority and you can get an extra three months FREE.
Fast Growing Trees: Go to this link right now, and you'll get FIFTEEN PERCENT OFF your entire order.
Ritual: Get key nutrients without the B.S. Ritual is offering our listeners 10% off during your first three months. Visit here to start your Ritual today.
Aura: Protect yourself from America's fastest-growing crime. Try Aura for 14 days for free: https://aura.com/majority
Quip: If you go to this link RIGHT NOW, you'll get your first refill FREE.
Shopify: Go to this link here for a FREE fourteen-day trial and get full access to Shopify's entire suite of features.
LiquidIV: You can get 25% off when you go to liquidiv.com and use code MAJORITYREP at checkout.
Stamps.com: Start mailing and shipping with stamps.com, and keep more money in your pocket every day. Sign up with promo code MAJORITYREPORT for a special offer that includes a 4-week trial, plus free postage and a digital scale.
ZipRecruiter: Find the right employees for your workplace with ZipRecruiter. Try it FOR FREE at this exclusive web address.
Nutrafol: For FIFTEEN DOLLARS OFF go to https://nutrafol.com/men/ with promo code MAJORITY.
Outer: See the difference at go.liveouter.com/MAJORITY. Plus, for a limited time, get $300 off and FREE shipping.
Sunset Lake CBD: Visit sunsetlakecbd.com.
Grove: Go to this link here today to get a free gift set worth up to fifty dollars with your first order. Plus, shipping is fast and FREE.
Headspace: Try this link, with discount code MAJORITY and get one month FREE of their entire mindfulness library.
StartMail: Start securing your email privacy with StartMail. Sign up today and you'll get 50% off your first year! Go to this link here for our special promotion!.
CozyEarth: Go to this link here and enter the special promo code MAJORITY at checkout to SAVE thirty-five percent now.https://www.youtube.com/watch?v=fyOocF3wW8I