Alex Jones Done in By His Own Lawyer - The Thursday AM Quickie 8/4/22
It never ceases to amaze me how many people are buying brain pills from possibly the least reputable sources in existence. Nootropics are fake, change my mind. - Corey
Tell your friends to sign up for this M-F newsletter at AMQuickie.com!
---
THE BIG NEWS
Comeuppance Comes for Alex Jones
You know, I think Alex Jones could afford to hire better lawyers. They really let him down yesterday at his defamation trial in Austin, Texas, where a judge and jury are hearing evidence and arguments to decide how much Jones should pay in damages to the families of Sandy Hook shooting victims. In his "coverage" of the horrifying 2012 elementary school massacre in Newton, Connecticut, Jones told his massive audience of gullible paranoiacs that the crime never really happened, that the victims and their families were actors and willing participants in a conspiracy. "I can't even describe the last nine and a half years, the living hell that I and others have had to endure because of the recklessness and negligence of Alex Jones," one of the victims' parents told the jury, describing death threats and abuse they received as a result of Jones' fantastic lies.
Now, thanks to the incompetence of his handpicked attorney, F. Andino Reynal -- who recently had to apologize for flipping off opposing counsel -- Jones' problems have only gotten worse.
First, Jones was forced to admit under cross examination that the massacre was "100 percent real" and assure plaintiff Scarlett Lewis, who lost her son at Sandy Hook, "No, I don't think you're an actor." You might think these dramatic reversals might damage Jones' unearned credibility with his Infowars audience, but remember, we're not talking about people who take all the pertinent facts into account when forming their opinions.
Then, victims' attorney Mark Bankston had what a dumbstruck Jones called a "Perry Mason moment" when he revealed that Jones' lawyers had mistakenly sent him the entire contents of Jones' cell phone, with two years worth of text messages and emails, some of which disproved what had Jones previously told the court. "You know what perjury is, right?" Bankston asked, after laughing in Jones' face.
The first headline to emerge from Jones' cell phone records was the revelation that his show was pulling in up to $800,000 per day, or $300 million a year -- four times the revenue Jones claimed, and on par with the annual revenue of National Public Radio -- which makes his claims of bankruptcy a little bit harder to swallow. Then Rolling Stone reported that the House committee investigating Donald Trump's Jan. 6, 2021 coup attempt -- which Jones was crucial in rallying support for -- intends to seek the data from Jones' cell phone. Finally, during a recess, Bankston wondered aloud on a hot mic, "You know what nobody's thought about yet? What happens when that phone goes to law enforcement?" Maybe Alex Jones hadn't thought about it before, but you can bet he is now.
---
MORE STORIES TO WATCH
Primary Results: AIPAC Crushes a Progressive Incumbent
Jack brought you the good news from Kansas yesterday, but not all primary elections results this week are wins for progressives. In Michigan, Rep. Haley Stevens, who benefited from $4.2 million in spending by the American Israel Public Affairs Committee, defeated Rep. Andy Levin. (The anti-apartheid J Street group spent $700,000 to boost Levin, to no avail.) Also, the outcome of another primary race means Detroit will lack Black representation in Congress for the first time since 1954. In Arizona, Trump-backed election denier Mark Finchem won the Republican primary for secretary of state; Peter Thiel lackey Blake Masters narrowly won his GOP primary for U.S. Senate; and QAnon charisma machine Ron Watkins came in seventh of seven in his U.S. House primary. In Washington State, GOP Reps. Jaime Herrera Beutler and and Dan Newhouse, who both voted to impeach Donald Trump, were yesterday poised to defeat their Trump-backed challengers. More results here from the New York Times.
Rudy Giuliani Slips the Net Again
A federal grand jury has subpoenaed former White House counsel Pat Cipollone, who has become a familiar face for followers of The Treason Show on account of the revealing testimony he's provided to the House committee investigating Trump's Jan. 6, 2021 coup attempt. ABC News calls the Cipollone subponea a "dramatic escalation" of the Justice Department inquiry into the coup plot, which even participants knew was potentially "treasonous," per newly revealed emails from Arizona Republicans. Separately, a three-year investigation by federal prosecutors in Manhattan and the FBI into Trump lawyer Rudy Giuliani's relationship with Ukrainian oligarchs is unlikely to result in criminal charges, the New York Times reports. Investigators looking at Giuliani's  illegal lobbying "did not uncover a smoking gun" in his electronic records. Finally, Illinois Democratic Sen. Dick Durbin wants the Defense Department's inspector general to get to the bottom of the military's decision to wipe top officials' phones, deleting messages relevant to Jan. 6.
---
Quickest Quickies
---
SOME NUMBER
$50,000
That's how much some popular business and lifestyle podcasts charge guests to appear on their shows, according to a Bloomberg News story about this new form of payola.
---
ON THE SHOW TODAY
8/4: Emma hosts Jillian York, director of international freedom of expression at the Electronic Frontier Foundation, to discuss her recent book Silicon Values: The Future of Free Speech Under Surveillance Capitalism.
---
Don't Miss MR Clips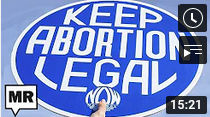 As it should, considering how unpopular abortion bans are.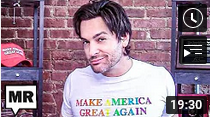 Swear to god bro I only told them how awesome you are!
---
PARTING WORDS
"I actually don't think it's helpful for us to be out talking about change in leadership as we are fighting to keep the House, extend the Senate in this crucial and critical midterm where all of our freedoms are on the ballot. Our democracy's in peril. Our right to privacy and bodily autonomy is being threatened ... We have to do everything that we can to stick together and make it through this midterm."
-- U.S. Rep. and Squad Member Ilhan Omar of Minnesota, speaking to the Minneapolis Star-Tribune about calls from centrist Democratic colleagues in her state for President Joe Biden to refrain from seeking a second term.
---
Quickie Discount Code Corner
Hey check it out! Stuff on sale!
LATEST ADDITIONS!
Established Titles: Get an amazing gift for your dad this Father's Day! Go to https://establishedtitles.com/majority and get 10% off today.
Vessi: Go to https://vessi.com/majority and use code MAJORITY for $25 off each pair of adult Vessi shoes! Free shipping to US, CA, AUS, NZ, JP, TW, KR, SGP
ALL THE REST!
ExpressVPN: Secure your online data TODAY by visiting this link. That's https://www.expressvpn.com/majority and you can get an extra three months FREE.
Fast Growing Trees: Go to this link right now, and you'll get FIFTEEN PERCENT OFF your entire order.
Ritual: Get key nutrients without the B.S. Ritual is offering our listeners 10% off during your first three months. Visit here to start your Ritual today.
Aura: Protect yourself from America's fastest-growing crime. Try Aura for 14 days for free: https://aura.com/majority
Quip: If you go to this link RIGHT NOW, you'll get your first refill FREE.
Shopify: Go to this link here for a FREE fourteen-day trial and get full access to Shopify's entire suite of features.
LiquidIV: You can get 25% off when you go to liquidiv.com and use code MAJORITYREP at checkout.
Stamps.com: Start mailing and shipping with stamps.com, and keep more money in your pocket every day. Sign up with promo code MAJORITYREPORT for a special offer that includes a 4-week trial, plus free postage and a digital scale.
ZipRecruiter: Find the right employees for your workplace with ZipRecruiter. Try it FOR FREE at this exclusive web address.
Nutrafol: For FIFTEEN DOLLARS OFF go to https://nutrafol.com/men/ with promo code MAJORITY.
Outer: See the difference at go.liveouter.com/MAJORITY. Plus, for a limited time, get $300 off and FREE shipping.
Sunset Lake CBD: Visit sunsetlakecbd.com.
Grove: Go to this link here today to get a free gift set worth up to fifty dollars with your first order. Plus, shipping is fast and FREE.
Headspace: Try this link, with discount code MAJORITY and get one month FREE of their entire mindfulness library.
StartMail: Start securing your email privacy with StartMail. Sign up today and you'll get 50% off your first year! Go to this link here for our special promotion!.
CozyEarth: Go to this link here and enter the special promo code MAJORITY at checkout to SAVE thirty-five percent now.https://www.youtube.com/watch?v=fyOocF3wW8I