Breonna Taylor's Mom Says Charges Show "We're Not Crazy" - The Friday AM Quickie 8/5/22
Jack is going to be covering for the next couple of weeks while I'm away traveling and offline. Now I need to actually get around to packing! - Corey
Tell your friends to sign up for this M-F newsletter at AMQuickie.com!
‌             ‌
THE BIG NEWS
DOJ Says Her Name at Last: Charges in Breonna Taylor Killing
Four Louisville, Kentucky cops -- current and former, all white -- yesterday caught federal civil rights charges related to the March 2020 shooting of Breonna Taylor, a 26-year-old Black medical worker. The case helped spark nationwide protests.
"Breonna Taylor should be alive today," Attorney General Merrick Garland said when he announced the officers' arrest and the charges, after having spoken personally with Taylor's family. "We share, but cannot fully imagine, the grief felt by Breonna Taylor's loved ones."
The officers charged are Louisville Metro Police Department detectives Joshua Jaynes and Kelly Goodlett, who allegedly met in a garage after Taylor's killing and concocted a false cover story; as well as their supervisor, sergeant Kyle Meany, who Garland says lied to the FBI; and officer Brett Hankison, who was previously acquitted on state charges of wanton endangerment for firing blindly into people's apartments during the illegal raid. Goodlett and Meany still have jobs with the department, at least for now.
Long story short, the Justice Department says the officers lied in an affidavit seeking a search warrant that targeted Taylor's former boyfriend. The cops claimed Taylor's ex was smuggling drugs and that she was receiving his packages at her apartment, but they had no evidence of any such thing. The very basis of the trigger-happy raid that led to Taylor's death was a fabrication; "this act violated federal civil rights laws," Garland said, and "those violations resulted in Ms. Taylor's death." It's good to hear someone in authority finally say this.
Taylor family lawyer Benjamin Crump said in response to the news that "this is a day when Black women saw equal justice in America." Taylor's mother, Tamika Palmer, said the American public was "learning today that we're not crazy."
The only thing crazy about all this is the expectation that anyone, let alone sworn police officers, can fire 32 shots into an apartment building, kill an innocent woman, and expect to go about their business like nothing happened. The DOJ's "patterns and practices" investigation of civil rights violations by Louisville police remains ongoing. It's hard to believe this all came down to four bad apples.
‌             ‌
MORE STORIES TO WATCH
Russia Orders Brittney Griner to Prison for "Honest Mistake"
A court in Moscow sentenced WNBA star Brittney Griner to 9 1/2 years in a penal colony for bringing 0.702 grams of cannabis oil -- what prosecutors called a "significant amount" -- into Russia in her luggage on a trip to play off-season games with a Russian team. For good measure, the court also assessed a fine of 1 million rubles, or $16,590. In a statement after the verdict, President Joe Biden called the sentence "one more reminder of what the world already knew: Russia is wrongfully detaining Brittney." Before the sentence came down, Griner, who had pleaded guilty in a bid for leniency, told the judge "I made an honest mistake, and I hope that in your ruling that it doesn't end my life here." Secretary of State Antony Blinken spoke to Russian Foreign Minister Sergei Lavrov about a possible prisoner swap last week, but the specifics of any deal, which would need the approval of Aspiring Tsar Vladimir Putin, remain unclear. Side note: This would be a good time to grant clemency to Americans imprisoned on pot charges!
Teacher Shortage Sends School Districts Scrambling
The precise national numbers are unclear, but thousands of vacancies across school districts in each state are adding up to the worst teacher shortage in living memory, the Washington Post reports. American Federation of Teachers president Randi Weingarten calls it a "contrived" shortage, blaming "the political situation in the United States" -- specifically, the anti-education policies of Republicans -- "combined with legitimate aftereffects of Covid." Some districts will be switching to four-day weeks in the fall, or bringing in college students and military veterans without college degrees to teach, or relaxing certification requirements, or dramatically increasing class sizes so students aren't left in unsupervised classrooms. Some districts are even raising teacher pay, as crazy as that might sound. Get ready for the conservatives who created this crisis to blame the teachers for it once classes start and the scope of the problem becomes clear.
‌             ‌
Quickest Quickies
‌             ‌
SOME NUMBER
$40 million
That's how much 30-year-old cryptocurrency billionaire Sam Bankman-Fried has dropped on political campaigns so far this year, with most of it going to Democrats, according to Politico. The party's newest megadonor's motivations are less than transparent and critics say he's obviously trying to prevent the passage of meaningful crypto regulation to protect people from scams.
‌             ‌
ON THE SHOW TODAY
8/5: It's Casual Friday! Emma hosts Ryan Cooper, managing editor at The American Prospect, to round up the week in news.
‌             ‌
Don't Miss MR Clips
‌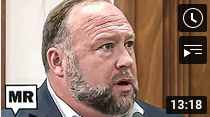 You don't need to be a body language expert to decipher his mood in this moment. ‌‌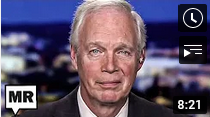 This used to be a "third rail" sort of proposal, even for Republicans.
‌             ‌
PARTING WORDS
"We can only assume that she's been motivated by the money they're donating to her campaigns. ... But throwing away campaign promises you made and snubbing your nose at the people who got you elected, that makes you the opposite of a maverick. It makes you a corporate shill."
-- A former staffer for obstructionist Democratic Sen. Kyrsten Sinema of Arizona, speaking to HuffPost about her successful behind-the-scenes efforts to preserve a tax break for hedge fund managers and private equity executives that would be closed by the Biden administration's latest legislative package on climate, taxes, and healthcare.
‌             ‌
Quickie Discount Code Corner
Hey check it out! Stuff on sale!
LATEST ADDITIONS!
Established Titles: Get an amazing gift for your dad this Father's Day! Go to https://establishedtitles.com/majority and get 10% off today.
Vessi: Go to https://vessi.com/majority and use code MAJORITY for $25 off each pair of adult Vessi shoes! Free shipping to US, CA, AUS, NZ, JP, TW, KR, SGP
ALL THE REST!
ExpressVPN: Secure your online data TODAY by visiting this link. That's https://www.expressvpn.com/majority and you can get an extra three months FREE.
Fast Growing Trees: Go to this link right now, and you'll get FIFTEEN PERCENT OFF your entire order.
Ritual: Get key nutrients without the B.S. Ritual is offering our listeners 10% off during your first three months. Visit here to start your Ritual today.
Aura: Protect yourself from America's fastest-growing crime. Try Aura for 14 days for free: https://aura.com/majority
Quip: If you go to this link RIGHT NOW, you'll get your first refill FREE.
Shopify: Go to this link here for a FREE fourteen-day trial and get full access to Shopify's entire suite of features.
LiquidIV: You can get 25% off when you go to liquidiv.com and use code MAJORITYREP at checkout.
Stamps.com: Start mailing and shipping with stamps.com, and keep more money in your pocket every day. Sign up with promo code MAJORITYREPORT for a special offer that includes a 4-week trial, plus free postage and a digital scale.
ZipRecruiter: Find the right employees for your workplace with ZipRecruiter. Try it FOR FREE at this exclusive web address.
Nutrafol: For FIFTEEN DOLLARS OFF go to https://nutrafol.com/men/ with promo code MAJORITY.
Outer: See the difference at go.liveouter.com/MAJORITY. Plus, for a limited time, get $300 off and FREE shipping.
Sunset Lake CBD: Visit sunsetlakecbd.com.
Grove: Go to this link here today to get a free gift set worth up to fifty dollars with your first order. Plus, shipping is fast and FREE.
Headspace: Try this link, with discount code MAJORITY and get one month FREE of their entire mindfulness library.
StartMail: Start securing your email privacy with StartMail. Sign up today and you'll get 50% off your first year! Go to this link here for our special promotion!.
CozyEarth: Go to this link here and enter the special promo code MAJORITY at checkout to SAVE thirty-five percent now.https://www.youtube.com/watch?v=fyOocF3wW8I