Trump Judge Again Rules Against Justice Department - The Friday AM Quickie 9/16/22
Biden's approval ratings are up quite a bit. He should just keep canceling people's debts and see how high they can go. - Corey
Tell your friends to sign up for this M-F newsletter at AMQuickie.com!
THE BIG NEWS
Trump, Under Pressure, Casually Threatens Entire Country
Donald Trump's associates are reportedly "angry and a bit shaken" lately because it seems like every day brings new problems for them. Of course, those problems are the consequences of their own actions and pathetic fealty to a criminal cult leader who remains determined to establish himself as a dictator. So, to be clear, these people deserve no sympathy whatsoever, but they are correct in the respect that the news has been unrelentingly bad for them lately. Here's my best attempt to sum up yesterday's Trumpworld developments as quickly as possible.
Whew! It's no wonder the Trump crew feels like the walls are closing in around them, because it sure looks like they are surrounded. The Washington Post reports that the Justice Department is seeking "vast amounts of information" and interviewing more than 100 people in its probe into Trump's coup plot. But there was one major bright spot for Trump and it came late in the day:
The barely qualified judge Trump appointed and who now has his fate in her hands, Aileen Cannon, ruled again against the Justice Department in the stolen documents case. Judge Aileen Cannon appointed the special master Trump's lawyers wanted, a retired federal judge named Raymond Dearie, and reaffirmed her prior order that the Justice Department refrain from investigations related to the trove of classified documents Trump stole from the White House and hoarded haphazardly in desk drawers and storage rooms at his private resort and residence, Mar-a-Lago. Cannon apparently accepts Trump's nonsense pseudo-legal arguments about his magic wand declassification powers enough to write that "whether the documents marked classified were actually classified is a matter of dispute."
MORE STORIES TO WATCH
GOP Governors' Human Trafficking Stunt Probably Illegal
It's abundantly clear that Republicans have nothing to run on this year -- they're comically afraid of running on their own policies, like banning abortion -- so they're doing the usual xenophobic fearmongering, but now with a twist: state-sponsored human trafficking. It started with Texas Gov. Greg Abbott and Arizona Gov. Doug Ducey sending busloads of migrants to sanctuary cities including Washington, D.C., New York, and Chicago, which we covered recently here. This week Florida Gov. Ron DeSantis got in on the act, sending 50 migrants via plane to Martha's Vineyard, where high school Spanish students were enlisted to help translate. Several migrants from Venezuela told reporters that after Border Patrol in Texas released them, a woman named "Perla" approached them and offered them food and expedited work permits if they boarded a plane to Massachusetts; DeSantis also apparently sent a videographer to document the trip. Democratic California Gov. Gavin Newsom yesterday formally requested the Justice Department investigate whether the "morally reprehensible" political stunt by the Republican governors constitutes a criminal conspiracy to violate the civil rights of the migrants. It's hard to see how it doesn't.
Homeland Security Hoovers Up Data from Travelers' Devices
U.S. Customs and Border Protection is building a massive database of people's personal and business contacts, call logs, private messages, photos, and other data, "much of which is captured from people not suspected of any crime," the Washington Post reports. Border agents are gathering the data from phones, tablets, and computers searched at travel checkpoints -- as many as 10,000 times per year -- where courts have held no search warrants are required. Oregon Democratic Sen. Ron Wyden revealed what few details are known about the database, called the Automated Targeting System, yesterday in a letter to CPB Commissioner Chris Magnus. Wyden's letter criticized the agency for "allowing indiscriminate rifling through Americans' private records" and asked Magnus to come up with a plan by the end of next month to improve privacy protections.
QUICKEST QUICKIES
SOME NUMBER
$1.44 billion
That's how much is being spent on political ads on streaming services in the current election cycle, representing about 15 percent of the total, according to a new report. The fast growth of streaming political ads is leading "lawmakers and researchers to warn that the ads are outstripping federal regulation and oversight."
ON THE SHOW TODAY
9/16: It's Casual Friday! Sam and Emma host Heather Digby Parton, contributing writer at Salon.com and proprietor of the blog Hullabaloo, to round up the week in news. Then they are joined by David Feldman of The David Feldman Show!
DON'T MISS MR CLIPS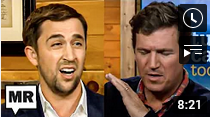 Bigots think it's "rational" to regard other people as "demonic," hm...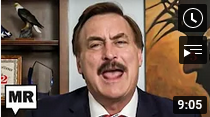 I've never eaten at a Hardee's, but I just looked at their menu online and of the available options, I think I'd go for the hand-breaded chicken biscuit.
PARTING WORDS
"I'm pretty radical. I think the roads depicted in Mad Max -- unpatrolled with wreckage lining the sides -- would be just fine. (In reality any wreckage would likely be cleaned up by volunteer recyclers, and private road groups would emerge to keep roads safe.) I will work to abolish all driver license and car registration requirements. Government has no right to know who owns or drives every car. ONLY GOVERNMENT CARS SHOULD HAVE LICENSE PLATES."
-- Roger Roots, a lawyer and perennial libertarian candidate for office in Montana, outlining his stance on traffic safety on his most recent campaign website. Politico reports that Roots, who has a hardcore white supremacist background and two felony convictions, is a "hidden hand" assisting the legal defense of Oath Keepers leader Stewart Rhodes on seditious conspiracy charges related to Jan. 6.
Quickie Discount Code Corner
Hey check it out! Stuff on sale!
Established Titles: Get an amazing gift for your dad this Father's Day! Go to https://establishedtitles.com/majority and get 10% off today.
ExpressVPN: Secure your online data TODAY by visiting this link. That's https://www.expressvpn.com/majority and you can get an extra three months FREE.
Fast Growing Trees: Go to this link right now, and you'll get FIFTEEN PERCENT OFF your entire order.
Ritual: Get key nutrients without the B.S. Ritual is offering our listeners 10% off during your first three months. Visit here to start your Ritual today.
Aura: Protect yourself from America's fastest-growing crime. Try Aura for 14 days for free: https://aura.com/majority
Quip: If you go to this link RIGHT NOW, you'll get your first refill FREE.
Shopify: Go to this link here for a FREE fourteen-day trial and get full access to Shopify's entire suite of features.
LiquidIV: You can get 25% off when you go to liquidiv.com and use code MAJORITYREP at checkout.
Stamps.com: Start mailing and shipping with stamps.com, and keep more money in your pocket every day. Sign up with promo code MAJORITYREPORT for a special offer that includes a 4-week trial, plus free postage and a digital scale.
ZipRecruiter: Find the right employees for your workplace with ZipRecruiter. Try it FOR FREE at this exclusive web address.
Nutrafol: For FIFTEEN DOLLARS OFF go to https://nutrafol.com/men/ with promo code MAJORITY.
Outer: See the difference at go.liveouter.com/MAJORITY. Plus, for a limited time, get $300 off and FREE shipping.
Sunset Lake CBD: Visit sunsetlakecbd.com.
Grove: Go to this link here today to get a free gift set worth up to fifty dollars with your first order. Plus, shipping is fast and FREE.
Headspace: Try this link, with discount code MAJORITY and get one month FREE of their entire mindfulness library.
StartMail: Start securing your email privacy with StartMail. Sign up today and you'll get 50% off your first year! Go to this link here for our special promotion!.
CozyEarth: Go to this link here and enter the special promo code MAJORITY at checkout to SAVE thirty-five percent now.