Lindsey Graham Goes For a Nationwide Abortion Ban - The Wednesday AM Quickie 9/14/22
Abortion bills, fires, stocks, political deaths, and war. This is just me keeping shorthand notes of what I've got to write down later on in the newsletter. I'm typing it up here, in the intro box. Here it is. That's what's coming. Anyway, Corey is with you tomorrow! I'm out after this one. - Jack
Tell your friends to sign up for this M-F newsletter at AMQuickie.com!
THE BIG NEWS
Lindsey Graham Reveals the Republican Plan to Ban Abortion
Yesterday's teaser is the big news today: the GOP, through Lindsey Graham, now has a full bill on the books to ban abortion after 15 weeks.
The bill, the full text of which you can read here, is both a statement and a provocation by the GOP. It would trump local laws that allow abortion past 15 weeks of pregnancy, an absurdly low amount of time and five weeks lower than the expected 20-week ban that many predicted would be first on the table for the GOP.
And yet, this mask-off moment (which my Discourse Blog coworker Rafi Schwartz covered earlier today) almost immediately backfired: the Times reports that Graham's senate allies almost immediately backed away from his proposed bill, which is further acknowledgement that even the GOP hard-liners realize running on gutting abortion rights is a losing proposition for November.
It's also worth noting that the 15-week ban is more permissive than the true abortion hard-liners want. Social conservatives have been pushing for a six-week ban without exceptions for rape, incest or the health of the mother, which isn't what's in Graham's bill. But knowing the GOP, what this bill is is a stepping stone toward that more restrictive project: a proof of concept that shows that the party can flex its weight and get this kind of social bill passed.
For now, of course, all the bill is is symbolism: Graham doesn't have a chance of getting it passed in the Senate or House. And the rest of the GOP seems committed to the "uhhh it's state's rights" line of thinking on abortion, largely because they don't have the guts or the safe seat that Graham does to just come out and say what the party really wants.
MORE STORIES TO WATCH
Ken Starr Dead
Wow. Rest in peace to the man who made the Monica Lewinski trial one of the most unpleasant political episodes in recent history, who covered up sexual assault at Baylor University, defended Jeffrey Epstein, and later served as a lawyer for Donald Trump. He later wrote in his memoirs that he "regretted" the whole thing, but that it "had to be done." OK! Thanks Ken. I guess you had to do it! My sincere hope is that he and the Queen of England are in the same place right now.
Russia Burned $300 Million Trying to Influence Foreign Elections
Ok look. We have to start with a disclaimer on this story that as far as the CIA goes $300 million is probably chump change as far as election rigging money goes. And yet – the Washington Post reports that over the past eight years, since 2014, Russia has spent some $300 million on foreign political parties and candidates in order to promote its interests. I've long thought that the most logical way to view Russia is as the less-subtle version of the worst-possible future of the U.S. – open corruption and greed mixed with general incompetence and shameless imperialism. That's basically what we're seeing here. Per the Post, "Countries where such activities were identified included Albania, Montenegro, Madagascar and, potentially, Ecuador, according to an administration source familiar with the matter." I don't want to downplay this by referring only to the U.S.'s miserable record of doing the same thing – two wrongs don't make a right, and we've seen what other forms Russia's imperialism takes if these elections schemes don't work.
QUICKEST QUICKIES
SOME NUMBER
49,761
Number of acres that California's Mosquito Fire has currently consumed; not a huge one by CA standards, but rapidly growing and still in its early stages.
ON THE SHOW TODAY
9/14: Sam and Emma host Jane McAlevey, Senior Policy Fellow at the University of California, Berkeley's Labor Center, to discuss her recent video for The Nation "You Voted To Form A Union. Now What?" Then they are joined by T.J. Kitchen, Organizing Director for the Teamsters Joint Council #43, to discuss the recent organizing efforts at a Chipotle franchise in Lansing, Michigan.

DON'T MISS MR CLIPS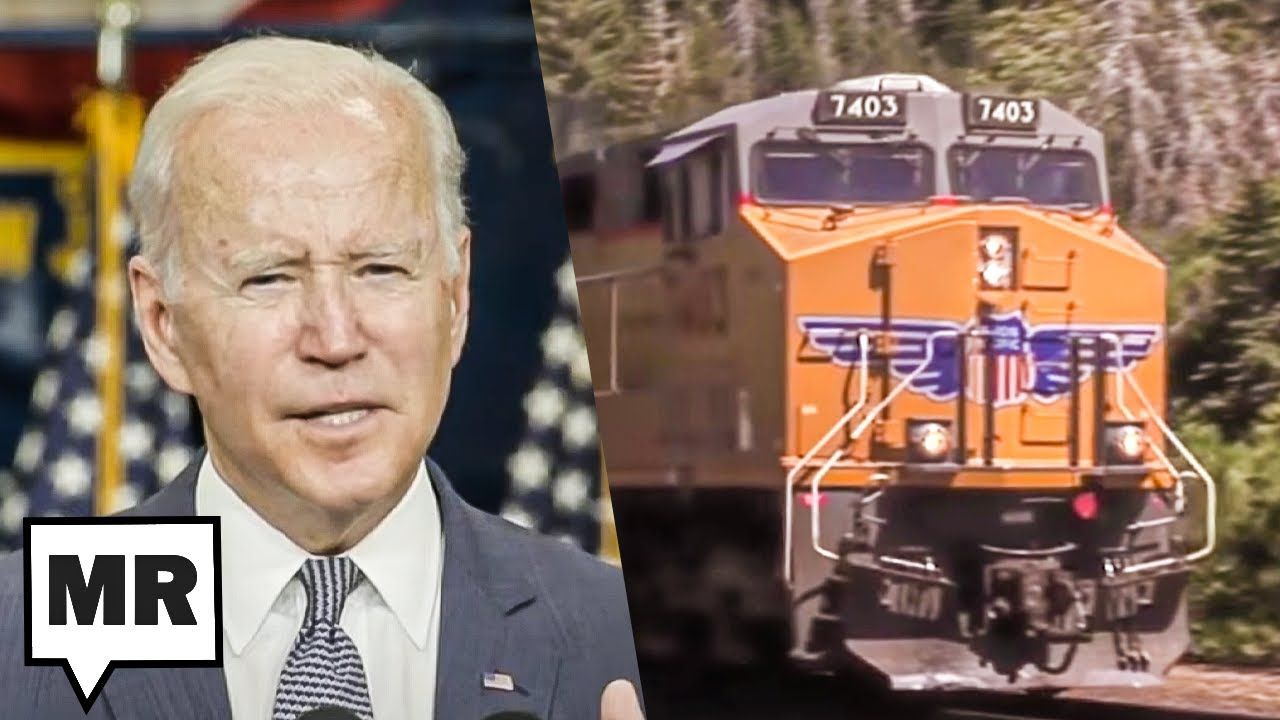 Can President Joe Biden prevent a massive railroad strike? The Majority Report crew discusses how two major railroad unions, which make up more than half of rail union participants, will strike for better working conditions.
CNN's Erin Burnett interviews Andrew Rice, the contributing editor at New York Magazine, who had access to Hunter Biden's laptop. The Majority Report crew discusses how Burnett fails to ask if there was corruption or if Joe Biden is implicated.
PARTING WORDS
"We are not out of the woods yet. We can't even see the edge of the woods from here."
Luke Tilley, the chief economist at Wilmington Trust, on an upcoming recession.
Quickie Discount Code Corner
Hey check it out! Stuff on sale!
Established Titles: Get an amazing gift for your dad this Father's Day! Go to https://establishedtitles.com/majority and get 10% off today.
ExpressVPN: Secure your online data TODAY by visiting this link. That's https://www.expressvpn.com/majority and you can get an extra three months FREE.
Fast Growing Trees: Go to this link right now, and you'll get FIFTEEN PERCENT OFF your entire order.
Ritual: Get key nutrients without the B.S. Ritual is offering our listeners 10% off during your first three months. Visit here to start your Ritual today.
Aura: Protect yourself from America's fastest-growing crime. Try Aura for 14 days for free: https://aura.com/majority
Quip: If you go to this link RIGHT NOW, you'll get your first refill FREE.
Shopify: Go to this link here for a FREE fourteen-day trial and get full access to Shopify's entire suite of features.
LiquidIV: You can get 25% off when you go to liquidiv.com and use code MAJORITYREP at checkout.
Stamps.com: Start mailing and shipping with stamps.com, and keep more money in your pocket every day. Sign up with promo code MAJORITYREPORT for a special offer that includes a 4-week trial, plus free postage and a digital scale.
ZipRecruiter: Find the right employees for your workplace with ZipRecruiter. Try it FOR FREE at this exclusive web address.
Nutrafol: For FIFTEEN DOLLARS OFF go to https://nutrafol.com/men/ with promo code MAJORITY.
Outer: See the difference at go.liveouter.com/MAJORITY. Plus, for a limited time, get $300 off and FREE shipping.
Sunset Lake CBD: Visit sunsetlakecbd.com.
Grove: Go to this link here today to get a free gift set worth up to fifty dollars with your first order. Plus, shipping is fast and FREE.
Headspace: Try this link, with discount code MAJORITY and get one month FREE of their entire mindfulness library.
StartMail: Start securing your email privacy with StartMail. Sign up today and you'll get 50% off your first year! Go to this link here for our special promotion!.
CozyEarth: Go to this link here and enter the special promo code MAJORITY at checkout to SAVE thirty-five percent now.