The Red Wave Washes Out - The Wednesday AM Quickie 11/9/22
Well here we are – another midterms down. I'm typing this up piecemeal on Tuesday night, so hopefully I'll have some conclusive (and promising) results to give you, but many races will probably be decided sometime later today (Wednesday), so bear with us – Corey will wrap things up tomorrow I'm sure. - Jack
Tell your friends to sign up for this M-F newsletter at AMQuickie.com!
Special Election Day Deal!
Stressed out by the midterm elections? Sunset Lake CBD (say-bay-day) may be able to help with that. Today only— head over to sunsetlakecbd.com and use coupon code "ELECTION" for 30% off of your entire order. That's not all: the folks at Sunset Lake will donate 10% of proceeds from Election Day sales to the Planned Parenthood Federation of America.

Sunset Lake CBD is a majority-employee-owned business that pays a minimum wage of $20/hour. This past year, they have donated to union strike funds, refugee resettlement organizations, and food shelves. Use code "ELECTION" at sunsetlakecbd.com to get craft CBD shipped directly to your door and support a great cause!
THE BIG NEWS
The Red Wave Washes Out
OK. Wow! So I'm tying this off at 1:15 a.m. on Tuesday night/ Wednesday morning, but I'll do my best to summarize what happened so far. If you had an early bedtime last night, here's the big takeaway: the Red Wave didn't happen. It just didn't.
That's the good news. The bad news is that there's still a very good chance that the Republicans do end up in control of the House and a slightly worse but still dangerous chance they take the Senate as well. Some top level stuff: the NYT and online Nate brigade say that right now the House is still wide open, with Republicans favored to take it but still anyone's game. It mostly depends on races out West and some tight ones in massive states like CA and NY that could take days to count.
The Senate is a slightly different story. Right now, Democrats have a strong hold on about 48 seats: big wins from John Fetterman in PA and while it's not called, Mark Kelly seems safe in Arizona. The races still outstanding (Dems in bold) are Raphael Warnock versus Hershel Walker in Georgia, which is neck and neck on a razor thin margin and seems headed for another run-off, Ron Johnson vs Mandela Barnes in Wisconsin, and Catherine Cortez Masco versus Adam Laxalt in Nevada. Johnson is up 51-49 over Barnes, so that might be out, but early numbers look good for Masco in Nevada, though that could change after I go to sleep – the race is still listed as a big tossup.
All right, on to some specifics. I'm going to separate them into WINS and LOSSES here because why not, that seems simple. You want the good or the bad first? The good? Great.
WINS
John Fetterman beat Dr. Oz in Pennsylvania, and Josh Shapiro fended off Doug Mastriano in the Gubernatorial race too. Let's go!!! This was a huge one – things looked dire for Fetterman at times but now they're calling it for him. Man. What a roller coaster. See ya Dr. Oz! Sucks to suck!!
Summer Lee won! Another huge victory – the outspoken progressive becomes the first Black woman elected to a House seat in PA. Take that, AIPAC!
New York successfully did not elect a MAGA fascist guy (Lee Zedlin): Kathy Hochul keeps her seat as governor. Predictably, Zedlin's strongest showing in downstate New York was Staten Island. Cop city, baby.
Kari Lake is drowning. Sorry, bad pun. But it certainly looks like the craziest of crazies is also going down in Arizona – a strong early showing from Katie Hobbs means that race isn't quite as terrifying as we thought. Still! Out west anything can happen.
Gretchen Whitmer holds on, beating Republican rival Tudor Dixon (what a name!) in the Michigan governor race. Meanwhile, Hillary Scholten beat hard-right, Trump-endorsed Republican Peter Meijer, flipping a crucial House seat to D in that state.
Mark Kelly looks to have sent sent Thiel-scum Blake Masters back to the Silicon Valley dumpster from which he came: it's still pretty early in Arizona but it looks like Kelly has a commanding lead.
Lauren Boebert might have lost! Hahahahahahahaha oh my god. Oh my god. I don't have anything to say to this. Good job Adam Frisch.
Ballot measures!! Vermont passed Proposition 5 codifying abortion into the state constitution, Michigan passed something similar, Tennessee banned... slavery??? as a punishment, Kentucky looks to have voted down an anti-abortion amendment, Maryland and Missouri legalized weed, and more! Check out this ballot measure breakdown on NBC.
All right. Hope that was fun. Let's move on to the bad.
LOSSES
Senator J.D. Vance. This one is a dagger. Thiel-endorsed bearded-playdough human J.D. Vance is headed to the Senate, beating hopeless Eyore-looking Tim Ryan in the Ohio Senate race. God. I kept forgetting Tim Ryan's name all night, that's how flat and lifeless of a candidate he was. And now we have J.D. Vance in the Senate.
Stacy Abrams loses (again). The Georgia Senate race is contestable, but for some reason, Stacy Abrams just can't beat Brian Kemp for Governor. She sure can hoover up DNC cash though!
Ditto Beto O'Rourke. What will he lose next? Another challenge to Greg Abbott? Probably not. It's time to hang up both of these money pits and try someone new.
Florida sinks into the Red sea. Basically nothing good here: DeSantis cruises to re-election, so does Marco Rubio, and typically liberal Miami-Dade county has officially gone over to the red. It's looking less and less like a purple state by the day. Democrats need to sort something out, because there's almost no chance any candidate carries the state in 2024 at this point.
Hershel Walker could definitely beat Raphael Warnock – or we could head to a recount. This one is too close to call, but Warnock is fighting for his absolute life against one of the weakest candidates the GOP has ever put up. I mean Walker has brain damage! He is a scandal machine! And yet – he might be Georgia's next Senator.
The House in general looks like it's going to fall. NBC News is predicting the thinnest of margins, though – with the GOP holding 218 seats to the Democrats 217. That's very saveable through special elections and the 2023 cycle.
WRAPUP
All right folks, I'm beat. But overall, this night could have gone so, so much worse. It's not exactly cause for celebration, but one takeaway I'm seeing a lot of is that this was a disastrous night for Donald Trump. Many of his handpicked or specifically-endorsed candidates lost, while the DeSantis momentum only picked up steam. Does DeSantis beat Trump in a winner-take-all primary in 2024. Almost certainly not, but it does make the former President's grasp on the party seem a little less certain. We'll be watching the House races like a hawk tomorrow as votes come in to see what the final balance of power is. For now, I'm off to bed. The rest of the letter is a bit truncated, but there's some more tidbits below.
MORE STORIES TO WATCH
Musk Selling Tesla Shares Like Wildfire
This is a funny finance story that I won't pretend to understand the fine details of, but on the surface, I do understand this: lol. Tesla's stock price is down 17% in the last 10 days, and amid a flurry of dumb Twitter ideas we talked about yesterday, Musk appears to be raising some quick cash: $3.5 billion of it, to be precise, selling some 19.5 million shares in his company. What could he be using that for? It's not like he's deep in the hole for a profitless company he didn't want to buy or anything.
SOME NUMBER
$27 million
Rough amount that Dr. Oz spent on his own Senate campaign, which the Philly Inquirer sublimely noted was more than Bryce Harper's salary on the Phillies. Great stuff, Oz.
ON THE SHOW TODAY
11/9: Sam breaks down the big wins and losses on election night, with special guest Adam Green, the co-founder of the Progressive Change Campaign Committee.
DON'T MISS MR CLIPS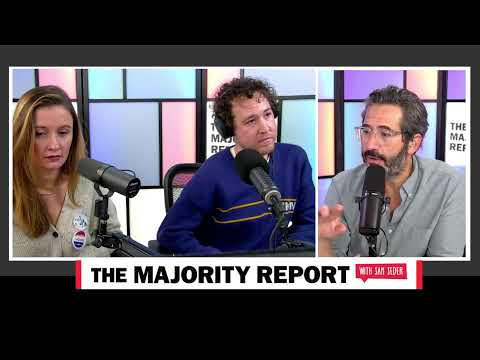 Missed the show last night? Here you go!
PARTING WORDS
"Well, I think if they win, I should get all the credit. If they lose, I should not be blamed at all."
– Donald Trump, on the GOP's midterms candidates.
Quickie Discount Code Corner
Hey check it out! Stuff on sale!
IAC Laser Engraving: IAC Laser Engraving is a Leftist-owned Worker Collective started by long time listener, Ryan Lubin in September of 2021. Visit iaclasers.com to order your custom item today and  enter in Coupon Code: "MAJORITY10" at purchase to receive a 10% discount on their AMAZING products."
Established Titles: Get an amazing gift for your dad this Father's Day! Go to https://establishedtitles.com/majority and get 10% off today.
ExpressVPN: Secure your online data TODAY by visiting this link. That's https://www.expressvpn.com/majority and you can get an extra three months FREE.
Fast Growing Trees: Go to this link right now, and you'll get FIFTEEN PERCENT OFF your entire order.
Ritual: Get key nutrients without the B.S. Ritual is offering our listeners 10% off during your first three months. Visit here to start your Ritual today.
Aura: Protect yourself from America's fastest-growing crime. Try Aura for 14 days for free: https://aura.com/majority
Quip: If you go to this link RIGHT NOW, you'll get your first refill FREE.
Shopify: Go to this link here for a FREE fourteen-day trial and get full access to Shopify's entire suite of features.
LiquidIV: You can get 25% off when you go to liquidiv.com and use code MAJORITYREP at checkout.
Stamps.com: Start mailing and shipping with stamps.com, and keep more money in your pocket every day. Sign up with promo code MAJORITYREPORT for a special offer that includes a 4-week trial, plus free postage and a digital scale.
ZipRecruiter: Find the right employees for your workplace with ZipRecruiter. Try it FOR FREE at this exclusive web address.
Nutrafol: For FIFTEEN DOLLARS OFF go to https://nutrafol.com/men/ with promo code MAJORITY.
Outer: See the difference at go.liveouter.com/MAJORITY. Plus, for a limited time, get $300 off and FREE shipping.
Sunset Lake CBD: Visit sunsetlakecbd.com.
Grove: Go to this link here today to get a free gift set worth up to fifty dollars with your first order. Plus, shipping is fast and FREE.
Headspace: Try this link, with discount code MAJORITY and get one month FREE of their entire mindfulness library.
StartMail: Start securing your email privacy with StartMail. Sign up today and you'll get 50% off your first year! Go to this link here for our special promotion!.
CozyEarth: Go to this link here and enter the special promo code MAJORITY at checkout to SAVE thirty-five percent now.