Panic in the Discord (and on the Supreme Court) - The Friday AM Quickie 4/14/23
When I think about Clarence Thomas's conduct as a lifetime appointee to the highest court in the United States, this scene from Syriana comes to mind: "corruption keeps us safe and warm!" With that, I'm out! Robert returns Monday. - Corey
---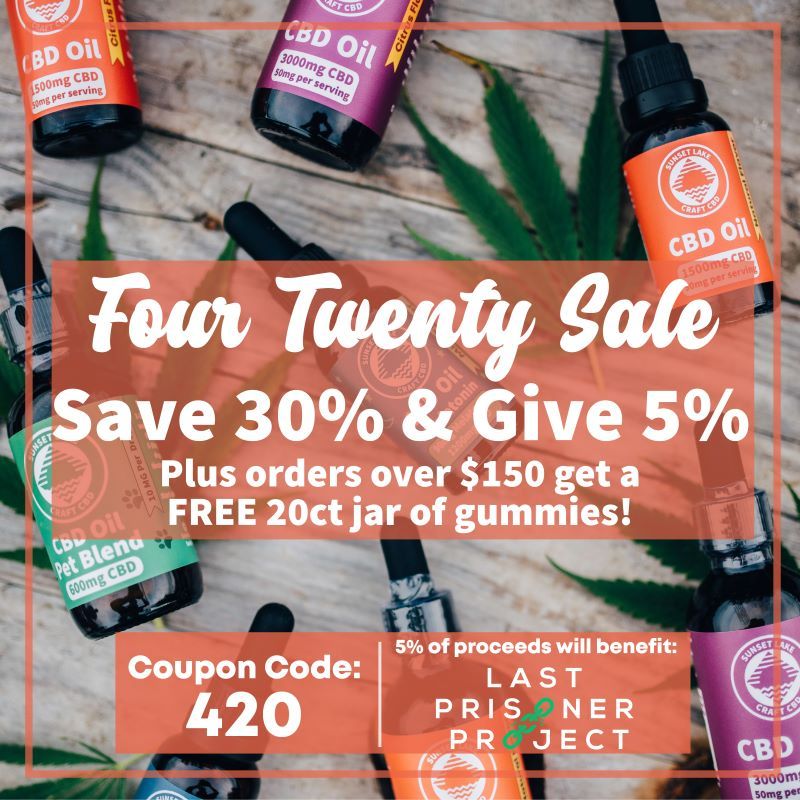 Sunset Lake Say Bay Days' biggest sale of the year is finally here! Head to www.sunsetlakecbd.com and use coupon code "420" for 30% off everything. Orders over $150 will be able to add a 20-count of gummies to their order for FREE!
That's not all— Sunset Lake will donate 5% of sale proceeds to the Last Prisoner Project, an organization redressing the past and continuing harms of cannabis prohibition laws and policies. The Majority Report will match the donation!
Sale ends April 23rd. Additional restrictions apply.
---
Subscribe to the AM Quickie's NEW paid newsletters here!
THE BIG NEWS
Military Leaker Was No Whistleblower, But a Racist in Uniform Who Really Wanted to Impress Some Teenage Boys
Shortly after he was identified by the New York Times as the person who leaked classified intelligence documents to a private Discord server for racist teenage gamers, FBI agents swooped in on 21-year-old Jack D. Teixeira, a journeyman computer tech in the intelligence wing of the Massachusetts Air National Guard, and arrested him. Teixeira went by the handle "jackthedripper" on the "Thug Shaker Central" server, as reported by the Washington Post and Bellingcat. His motives are not totally clear but Teixeira apparently liked showing off his access to state secrets as well as his guns, having uploaded a video of himself at a firing range spouting racist and antisemitic slurs.
After Teixeira's arrest, Attorney General Merrick Garland announced that Teixeira would be charged with the unauthorized removal of classified national defense information; a Pentagon spokesman called the leaks "a deliberate criminal act." Some people are trying to paint this guy as another brave whistleblower in the Edward Snowden mold, but members of the racist Discord server Teixeira ran have told reporters that he was definitely no whistleblower. Teixeira did not intend to inform the public about anything. Rather, he instructed his teen gamer followers not to disseminate the secrets he shared with them on other websites. It was reportedly common knowledge on Thug Shaker Central that non-U.S. citizens were present on the server, which will no doubt strengthen the government's case against Teixeira.
Though the leak may well have been criminal, and also led to the spread of some authentic-looking misinformation, it has also produced to gobs of newsworthy stories. Here's a small selection of headlines based on the document leak from just the past couple of days:
"Russia says China agreed to secretly provide weapons, leaked documents show" But the U.S. does not have evidence the weapons transfers have taken place. via the Washington Post.
"No Russia-Ukraine peace talks expected this year, U.S. leak shows" A Pentagon assessment predicts a stalemate due to "insufficient troops and supplies" on both sides. via the Post.
"Leaked documents: Russian Wagner Group mercenaries look for business close to U.S." The mercs had plans to "discreetly travel to Haiti to assess the potential for contracts with the Haitian government to fight against local gangs." via NBC News.
It's unclear how many documents were leaked. The Associated Press says it's seen 50, while the Post says it's seen approximately 300, "most of which have not been made public." President Joe Biden yesterday characterized the leaks as "nothing...of great consequence." Maybe. We'll see. The import of this story may come down to Teixeira's motives. Although, given that he reportedly spent his free time encouraging racism among teenage boys, I'm not sure I care.
MORE STORIES TO WATCH
Clarence Thomas Concealed Property Sale to Billionaire Pal
Last week ProPublica broke a big story about Supreme Court Justice Clarence Thomas' corrupt relationship with his billionaire Nazi memorabilia collector buddy, Harlan Crow, involving decades of extravagant, undisclosed gifts worth potentially millions of dollars. Yesterday, the investigative journalism website followed up with irrefutable proof of Thomas's corruption: records of a property sale from Thomas to Crow bearing the justice's signature. The deal was never disclosed as required by law, though it was, curiously, notarized by an administrator of the Supreme Court. It's "unclear" if Crow paid fair market value for the properties, including a house where Thomas's elderly mother still lives.
"He needed to report his interest in the sale," said Virginia Canter, a former government ethics lawyer now at the watchdog group CREW. "Given the role Crow has played in subsidizing the lifestyle of Thomas and his wife, you have to wonder if this was an effort to put cash in their pockets."
What else could it be? Impeach him already.
DOJ Asks Supreme Court to Decide on Abortion Pills
Late Wednesday night, a three-judge panel on the conservative Fifth Circuit Court of Appeals issued a mixed ruling on the availability of medication abortion, partly overturning a Texas judge's order attempting to halt the sale of mifepristone, but also restricting its delivery by mail nationwide. Yesterday the Biden administration said it would ask the Supreme Court to take up the case, restore full access to the drug, and uphold the Food and Drug Administration's right to have approved it in the first place. "We are furious that yet another court would choose to jeopardize the health and futures of the millions of people who rely on mifepristone for abortion care," Planned Parenthood Federation of America president Alexis McGill Johnson said of the Fifth Circuit ruling. "The federal judiciary has — for the second time this week — rejected science and the law." The Texas judge, Matthew Kacsmaryk, was appointed by Donald Trump, as were two of the three judges on the Fifth Circuit panel (the third was appointed by George W. Bush). Finally, Florida's legislature passed a six-week abortion ban.
QUICKEST QUICKIES
SOME NUMBER
0
That's how many endorsements Guantanamo Bay torture overseer-turned-Florida Gov. Ron DeSantis has received from the state's 20-member congressional delegation in his increasingly weak-looking campaign to win the 2024 GOP presidential nomination. NBC News reports that his team has called at least 6 members of the delegation asking them to refrain from endorsing Donald Trump.
ON THE SHOW TODAY
4/14: It's a very special Casual Friday! Emma hosts Twitch streamer extraordinaire Hasan Piker to round up a crazy week in news. Then, Emma is joined by Francesca Fiorentini, host of The Bitchuation Room podcast!
DON'T MISS MR CLIPS
He also claims to not know how much money he's worth (yeah right).
I'd like to see a diagram of Trump's train of thought here.
PARTING WORDS
"The water started rising... Nothing was working [in my car]. ... And I thought, 'I'm going to drown.' I called my parents like, 'I'm going to die. Like I'm going to drown. There's no way for me to get out of this car.' And they couldn't help me. I called 911 and they told me they couldn't help me."
-- Fort Lauderdale, Florida resident Amanda Valentine, speaking to the Associated Press about her narrow escape from her car when a record-breaking storm dumped two feet of water in a few hours on Wednesday. The city's airport is still closed and many roads remain impassable.
---
Quickie Discount Code Corner
Hey check it out! Stuff on sale!
IAC Laser Engraving: IAC Laser Engraving is a Leftist-owned Worker Collective started by long time listener, Ryan Lubin in September of 2021. Visit iaclasers.com to order your custom item today and  enter in Coupon Code: "MAJORITY10" at purchase to receive a 10% discount on their AMAZING products."
ExpressVPN: Secure your online data TODAY by visiting this link. That's https://www.expressvpn.com/majority and you can get an extra three months FREE.
Fast Growing Trees: Go to this link right now, and you'll get FIFTEEN PERCENT OFF your entire order.
Ritual: Get key nutrients without the B.S. Ritual is offering our listeners 10% off during your first three months. Visit here to start your Ritual today.
Aura: Protect yourself from America's fastest-growing crime. Try Aura for 14 days for free: https://aura.com/majority
ZBiotics: Go to https://thld.co/zbiotics_majority_0722  and get 15% off your first order of ZBiotics Pre-Alcohol Probiotic by using my code MAJORITY at checkout. ‌‌‌‌HoldOn Bags: HoldOn plant-based compostable kitchen/trash bags: Get 20% OFF with code MAJORITY at https://holdonbags.com/majority
StoryWorth: StoryWorth is an online service that helps every other figure in your life share stories through thought-provoking questions about their memories and personal thoughts. Get started right away with no shipping required by going to https://storyworth.com/majority you'll get $10 of your first purchase!
Henson Shaving: Go to https://hensonshaving.com/majority  and use code MAJORITY for a free 100-pack of blades!
Quip: If you go to this link RIGHT NOW, you'll get your first refill FREE.
Shopify: Go to this link here for a FREE fourteen-day trial and get full access to Shopify's entire suite of features.
LiquidIV: You can get 25% off when you go to liquidiv.com and use code MAJORITYREP at checkout.
Stamps.com: Start mailing and shipping with stamps.com, and keep more money in your pocket every day. Sign up with promo code MAJORITYREPORT for a special offer that includes a 4-week trial, plus free postage and a digital scale.
ZipRecruiter: Find the right employees for your workplace with ZipRecruiter. Try it FOR FREE at this exclusive web address.
Nutrafol: For FIFTEEN DOLLARS OFF go to https://nutrafol.com/men/ with promo code MAJORITY.
Outer: See the difference at go.liveouter.com/MAJORITY. Plus, for a limited time, get $300 off and FREE shipping.
Sunset Lake CBD: Visit sunsetlakecbd.com.
Grove: Go to this link here today to get a free gift set worth up to fifty dollars with your first order. Plus, shipping is fast and FREE.
Headspace: Try this link, with discount code MAJORITY and get one month FREE of their entire mindfulness library.
StartMail: Start securing your email privacy with StartMail. Sign up today and you'll get 50% off your first year! Go to this link here for our special promotion!.
CozyEarth: Go to this link here and enter the special promo code MAJORITY at checkout to SAVE thirty-five percent now.