Trump Is 'Toast,' His Former AG Bill Barr Says - The Monday AM Quickie 6/12/23
The charges against Trump, unveiled on 6/9, could put him in prison for 420 years, per the New York Times. Nice. - Corey
---
Subscribe to the AM Quickie's NEW paid newsletters here!
THE BIG NEWS
Trump Cries: Help! The Communists Are Coming to Get Me!
By now you probably know that Donald Trump has been federally indicted not on seven counts, as news organizations were reporting Thursday night, but on 37 felony counts including Espionage Act violations and obstruction of justice for stealing and hoarding super-secret documents on his way out of the White House. In his brief public comments on Friday, Justice Department Special Counsel Jack Smith encouraged people to read the indictment in full. I second that advice, not only because it's an important historical moment blah blah blah, but because the indictment itself is highly entertaining, with moments of slapstick comedy straight out of a Coen brothers screenplay.
"Oh no oh no," one Trump employee wrote to Trump's personal valet and indicted co-conspirator Walt Nauta, after Nauta sent a picture message of a box of stolen classified documents spilled all over the floor at Mar-a-Lago.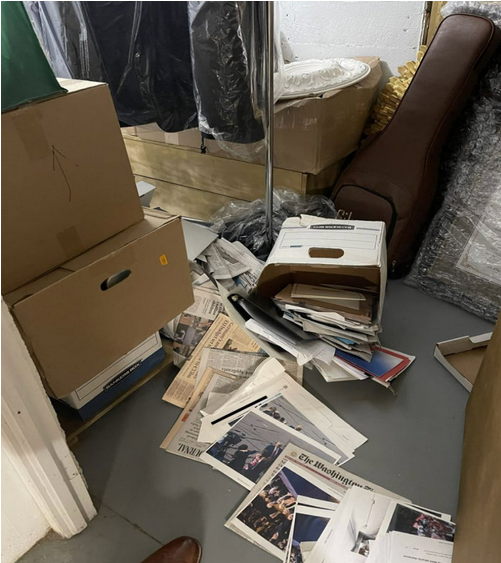 After the government wised up to Trump's theft, he suggested that one of his former lawyers, Evan Corcoran, hide the documents from investigators by making "a funny motion...like, you know, pluck it out."
In another exchange, transcribed from a recording, Trump shows off a Pentagon war plan he admits is "secret information" and "highly confidential" as a staffer mumbles and laughs, presumably because their nerves were at that moment frying like bacon on a skillet. "See, as president I could have declassified it," Trump says, undercutting his entire defense. "Now I can't, you know, but this is still a secret."
"Yeah," the staffer says, laughing again. "Now we have a problem."
Trump's former Attorney General, Bill Barr, certainly seems to think so – as does most of the U.S. legal and national security establishment. "If even half of it is true, then he's toast," Barr told Fox News yesterday. "I mean, it's a very detailed indictment, and it's very, very damning." Coming from a rather different perspective, national security whistleblower Reality Winner, who spent more than four years in prison, arrived at a similar conclusion. "This is probably one of the most transparent and straightforward indictments that defines national defense information and gives the public a sense of the itemized description of every document, which is not how this particular law has been used against ordinary citizens," Winner told NBC News.
Trump did catch another break in that this case was randomly assigned to a hack Federalist Society judge he appointed, Aileen Cannon. However, it's my opinion that Smith and the DOJ would not have brought these charges in Florida, as opposed to Washington, D.C., if they didn't have a pretty good plan for her potential spoiler role.
Trump, still traveling with his Diet Coke supplier Nauta, spoke at a rally in Columbus, Georgia on Saturday. He called the Justice Department "a sick nest of people that needs to be cleaned out," said Smith was "deranged" and the indictment a "joke." The GOP seems to see it that way: twice as many Republicans say their opinion of Trump has improved rather than diminished as a result of the news.  
"This is the final battle," Trump said. "Either the communists win and destroy America, or we destroy the communists." He's encouraged supporters to come to Miami tomorrow for his first court appearance in the case; the Proud Boys will be there. Trump-loving Republicans, some in elected office, have already been calling for violence in response to the latest charges against their dear leader. My hunch is that at this stage, MAGA is more likely to go down with a whimper than a bang.
MORE STORIES TO WATCH
The Stakes Are High in Ukraine's Counteroffensive
Ukrainian President Volodymyr Zelenskyy confirmed over the weekend that "counteroffensive and defensive actions are taking place in Ukraine," but declined to offer details. The New York Times reports that Ukraine and its allies, including the U.S., remain unclear on what will constitute success in this phase of the military campaign.
Some battlefield success, whether by decimating Russia's army, claiming some territory or both, could help Kyiv secure additional military aid from Europe and the United States. It would also build confidence in allied capitals that their strategy of remaking Ukraine's forces into a Western-style military is working. And most importantly, such an outcome would build more support in Europe for some sort of long-term security guarantee for Kyiv and strengthen Ukraine's hand at a bargaining table.
Failure could mean reduced allied support going forward. However, Aspiring Tsar Vladimir Putin also faces risks, per the Washington Post. "The mood is very gloomy among the elite," one Russian political analyst says. "They don't understand what Putin's plans are and doubt whether he is adequately dealing with the situation." Finally, the Guardian reports that seismic data suggests an explosion destroyed Ukraine's Kakhovka dam; and the Wall Street Journal reports that German investigators think Poland, a NATO member country, was used as a base by the Ukrainian team that blew up the Nord Stream 2 pipeline, though "Poland's government was kept in the dark."
Florida Contractors Lied to Migrants Lured Onto Flights
The Los Angeles Times interviewed some of the 36 migrants who were essentially trafficked by the state of Florida and lured onto two private planes that took them from Texas and New Mexico to Sacramento, California, earlier this month. As with a similar stunt pulled last year by floundering fascist Florida Gov. and GOP presidential candidate Ron DeSantis, the migrants were misled about the nature of the trip.
When a Venezuelan woman told the contractors [employed by the state of Florida] she didn't want to go to California but was trying to get to New York, one told her that "people in California" would book her flights to New York once she landed...
María worried that the mysterious contractors were drug traffickers — why else would they have a private plane? The contractor seemed to sense her nervousness.
"She told us not to be afraid — that she didn't want to steal our hearts or our organs or anything," María said.
A few migrants, suspicious of the vague and aggressive contractors, turned down their offer of "help." Democratic California Gov. Gavin Newsom calls the DeSantis stunt "a manifestation of the worst of the worst of humanity" and says his administration is examining whether the state-sponsored traffickers can be criminally charged.
QUICKEST QUICKIES
SOME NUMBER
736
That's how many times Teslas in Autopilot mode have crashed since 2019, according to a Washington Post analysis of National Highway Traffic Safety Administration data. The crashes led to 17 deaths. Former NHTSA senior safety adviser Missy Cummings says the numbers show "Tesla is having more severe — and fatal — crashes than people in a normal data set."
ON THE SHOW TODAY
6/12: Happy Monday! Sam and Emma host nonfiction writer Alissa Quart to discuss her recent book Bootstrapped: Liberating Ourselves from the American Dream.
DON'T MISS MR CLIPS‌
Left is best! Left is best!
"Peeing in bottles is very, very common and gross."
PARTING WORDS
"The jungle saved them. They are children of the jungle, and now they are also children of Colombia."
-- Colombian President Gustavo Petro, speaking of the four Indigenous children who survived a plane crash that killed all the adults onboard and survived 40 days in the Amazon -- eating cassava flour, fruit and seeds -- before soldiers found them alive.
---
Quickie Discount Code Corner
Hey check it out! Stuff on sale!
IAC Laser Engraving: IAC Laser Engraving is a Leftist-owned Worker Collective started by long time listener, Ryan Lubin in September of 2021. Visit iaclasers.com to order your custom item today and  enter in Coupon Code: "MAJORITY10" at purchase to receive a 10% discount on their AMAZING products."
ExpressVPN: Secure your online data TODAY by visiting this link. That's https://www.expressvpn.com/majority and you can get an extra three months FREE.
Fast Growing Trees: Go to this link right now, and you'll get FIFTEEN PERCENT OFF your entire order.
Ritual: Get key nutrients without the B.S. Ritual is offering our listeners 10% off during your first three months. Visit here to start your Ritual today.
Aura: Protect yourself from America's fastest-growing crime. Try Aura for 14 days for free: https://aura.com/majority
ZBiotics: Go to https://thld.co/zbiotics_majority_0722  and get 15% off your first order of ZBiotics Pre-Alcohol Probiotic by using my code MAJORITY at checkout. ‌‌‌‌HoldOn Bags: HoldOn plant-based compostable kitchen/trash bags: Get 20% OFF with code MAJORITY at https://holdonbags.com/majority
StoryWorth: StoryWorth is an online service that helps every other figure in your life share stories through thought-provoking questions about their memories and personal thoughts. Get started right away with no shipping required by going to https://storyworth.com/majority you'll get $10 of your first purchase!
Henson Shaving: Go to https://hensonshaving.com/majority  and use code MAJORITY for a free 100-pack of blades!
Quip: If you go to this link RIGHT NOW, you'll get your first refill FREE.
Shopify: Go to this link here for a FREE fourteen-day trial and get full access to Shopify's entire suite of features.
LiquidIV: You can get 25% off when you go to liquidiv.com and use code MAJORITYREP at checkout.
Stamps.com: Start mailing and shipping with stamps.com, and keep more money in your pocket every day. Sign up with promo code MAJORITYREPORT for a special offer that includes a 4-week trial, plus free postage and a digital scale.
ZipRecruiter: Find the right employees for your workplace with ZipRecruiter. Try it FOR FREE at this exclusive web address.
Nutrafol: For FIFTEEN DOLLARS OFF go to https://nutrafol.com/men/ with promo code MAJORITY.
Outer: See the difference at go.liveouter.com/MAJORITY. Plus, for a limited time, get $300 off and FREE shipping.
Sunset Lake CBD: Visit sunsetlakecbd.com.
Grove: Go to this link here today to get a free gift set worth up to fifty dollars with your first order. Plus, shipping is fast and FREE.
Headspace: Try this link, with discount code MAJORITY and get one month FREE of their entire mindfulness library.
StartMail: Start securing your email privacy with StartMail. Sign up today and you'll get 50% off your first year! Go to this link here for our special promotion!.
CozyEarth: Go to this link here and enter the special promo code MAJORITY at checkout to SAVE thirty-five percent now.