DeSantis Praises Biden's Disaster Response - The Thursday AM Quickie 9/29/22
While Jack has capably been holding things down here, I've been in a news-induced fugue state since last time I checked in with you all. All I can say is that there was very low turnout in the Italian elections and it goes to show what scary, surprising things can happen when sane people don't bother to vote and highly motivated zealots do. Something to think about! – Corey
Tell your friends to sign up for this M-F newsletter at AMQuickie.com!
THE BIG NEWS
There Are No Atheists in Foxholes and No Small-Government Conservatives in Category 4 Hurricanes
Hurricane Ian hit Florida hard yesterday. The massive storm covered the entire state and with 150-mph winds, neared Category 5 strength, the most severe hurricane classification. Coastal storm surges reached 18 feet high. Some 2.5 million people were ordered to evacuate their homes. The hurricane was so powerful it even spun off several tornadoes. It's no wonder National Weather Service Ken Graham called Hurricane Ian an "historic event" and "a storm we talk about for many years to come." Ian is a "rapid intensification" storm that owes its sudden intensity to -- you guessed it -- climate change.
The state's largest utility, Florida Power & Light Co., warned that some infrastructure would suffer "damage that is beyond repair and will require a complete rebuild" that could take weeks. Nearly 1.3 million people in Florida were without power yesterday. It could've been worse: the entire country of Cuba, all 11 million people, lost power in Ian's wake, and it's going to take a long time to get it back. A boat carrying Cuban migrants capsized off Florida amid the storm; 23 people were missing at sea last night.
Florida's hideous Republican Gov. Ron DeSantis, who earlier this year falsely accused President Joe Biden of "stiff[ing]" Floridians when it came to disaster relief because he "hates" them, yesterday thanked him, even admitting on Fox News that "the administration wants to help." And the White House wasn't shy about advertising the scope of its response, which include the deployment of at least 1,600 federal personnel and scads of food, water, fuel, and equipment. Thanks, big government!
But of course the federal response, as impressive as it may be in terms of numbers, still leaves many behind. NBC News has the story of a 63-year-old Tampa resident on a fixed income who hesitated to evacuate because his landlord wants to evict him. Orlando Democratic Rep. Val Demings this week called for a vote on a bill she introduced in 2020 to protect people in that horrible situation, saying "Disasters happen. But evictions during a disaster don't need to. We should not allow Americans to go homeless due to financial distress during an emergency." Surely Republicans can embrace DeSantis's newfound spirit of bipartisanship and rally behind such a fundamental humanitarian statement, right? Ha! I kid! It has failed to attract a single GOP cosponsor.
MORE STORIES TO WATCH
U.S. Warned Europe of Pipeline Sabotage Risk
European Union leaders yesterday responded to the apparent sabotage of the Nord Stream gas pipelines in the Baltic Sea, with the EU Council yesterday calling the infrastructure breaches a "deliberate act" that will be met with "a robust and united response." The German newspaper Der Spiegel reports that the damage to the pipelines -- which lie about 230 feet deep and are "very robust, made of steel and concrete" -- "is apparently greater than initially assumed," making an accident highly unlikely. Moreover, "the United States warned Germany weeks ago of possible attacks on gas pipelines in the Baltic Sea." The Guardian reports that the apparent sabotage has resulted in hundreds of thousands of tons of methane being pumped into the atmosphere, and that some European officials think it represents "a new phase of hybrid war," and though it remains uncertain who was responsible. Russia is the prime suspect, as Jack said – and CNN reports that Russian Navy ships were spotted near the scene of the crime. Meanwhile, the U.S. Embassy in Moscow urged American citizens to leave Russia immediately, and Russia prepared to formally annex four regions of occupied Ukraine.
Biden Proposes Expansion of Food Stamp Benefits
President Biden yesterday held the first White House Conference on Hunger, Nutrition and Health since the administration of Richard Nixon, and pledged to end hunger in the U.S. by the end of the decade. Prior to the event, the White House announced $8 billion in really frankly very underwhelming private sector pledges, such as a $3.85 million commitment from Publix grocery stores to supply local food banks. Ten percent of American households suffered food insecurity last year, and the best the U.S. government can do is ask for corporations to spare some proverbial pocket change? "So many of these commitments show a complete and utter lack of imagination on the part of our society to find strategies that address the root causes of hunger, rather than the ragtag Band-Aid food charity that has failed us over the past 40 years," anti-hunger researcher Andy Fisher told the Guardian. At least Biden's plan includes an expansion of the Supplemental Nutrition Assistance Program (a.k.a. food stamps), but this seems like a token effort at best.
QUICKEST QUICKIES
SOME NUMBER
24
That's how many Secret Service agents had their phones confiscated by Department of Homeland Security Inspector General Joseph Cuffari's office as part of its go-nowhere "investigation" into Donald Trump's Jan. 6, 2021 coup attempt. In a recent letter, IG office staff recently called on President Biden to replace Cuffari, a Trump appointee who got his PhD from a diploma mill.
ON THE SHOW TODAY
9/29: Emma hosts state Sen. Chloe Maxmin of Maine's 13th District and political activist Canyon Woodward to discuss their recent book Dirt Road Revival: How to Rebuild Rural Politics and Why Our Future Depends on It. Then, Emma is joined by Ruth Ben-Ghiat, professor of history and Italian studies at New York University, to discuss the recent Italian election results and what they mean for Europe and the rest of the world.
DON'T MISS MR CLIPS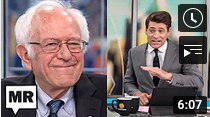 Issue No. 1: "Saluting the flag."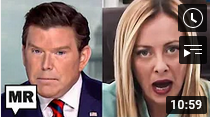 This is too depressing to me, I can't think of a clever quip.
PARTING WORDS
"Mom, we haven't seen a single fascist here. ... This war is based on a false pretense. No one needed it. We got here and people were living normal lives. Very well, like in Russia. And now they have to live in basements. The old lady who lived near us had to live in the cellar. Can you imagine?"
-- Sergey, a Russian soldier, making an unauthorized private cell phone call home from his deployment to Ukraine. The Ukrainian government intercepted thousands of such calls and shared them with the New York Times, which published the an edited summary under the headline "Putin Is a Fool" (which was the assessment of another Russian soldier, Aleksandr).
Quickie Discount Code Corner
Hey check it out! Stuff on sale!
*NEWCOMER* IAC Laser Engraving: IAC Laser Engraving is a Leftist-owned Worker Collective started by long time listener, Ryan Lubin in September of 2021. Visit iaclasers.com to order your custom item today and  enter in Coupon Code: "MAJORITY10" at purchase to receive a 10% discount on their AMAZING products."
Established Titles: Get an amazing gift for your dad this Father's Day! Go to https://establishedtitles.com/majority and get 10% off today.
ExpressVPN: Secure your online data TODAY by visiting this link. That's https://www.expressvpn.com/majority and you can get an extra three months FREE.
Fast Growing Trees: Go to this link right now, and you'll get FIFTEEN PERCENT OFF your entire order.
Ritual: Get key nutrients without the B.S. Ritual is offering our listeners 10% off during your first three months. Visit here to start your Ritual today.
Aura: Protect yourself from America's fastest-growing crime. Try Aura for 14 days for free: https://aura.com/majority
Quip: If you go to this link RIGHT NOW, you'll get your first refill FREE.
Shopify: Go to this link here for a FREE fourteen-day trial and get full access to Shopify's entire suite of features.
LiquidIV: You can get 25% off when you go to liquidiv.com and use code MAJORITYREP at checkout.
Stamps.com: Start mailing and shipping with stamps.com, and keep more money in your pocket every day. Sign up with promo code MAJORITYREPORT for a special offer that includes a 4-week trial, plus free postage and a digital scale.
ZipRecruiter: Find the right employees for your workplace with ZipRecruiter. Try it FOR FREE at this exclusive web address.
Nutrafol: For FIFTEEN DOLLARS OFF go to https://nutrafol.com/men/ with promo code MAJORITY.
Outer: See the difference at go.liveouter.com/MAJORITY. Plus, for a limited time, get $300 off and FREE shipping.
Sunset Lake CBD: Visit sunsetlakecbd.com.
Grove: Go to this link here today to get a free gift set worth up to fifty dollars with your first order. Plus, shipping is fast and FREE.
Headspace: Try this link, with discount code MAJORITY and get one month FREE of their entire mindfulness library.
StartMail: Start securing your email privacy with StartMail. Sign up today and you'll get 50% off your first year! Go to this link here for our special promotion!.
CozyEarth: Go to this link here and enter the special promo code MAJORITY at checkout to SAVE thirty-five percent now.