America Has a Serious Child Labor Problem - The Monday AM Quickie 2/27/23
Look, I've enjoyed Woody Harrelson's performances in many films and TV shows, but if he's who you're turning to for medical advice, god help you. - Corey
---
Subscribe to the AM Quickie's NEW paid newsletters here!
---
THE BIG NEWS
Get Ready to Be Angry: Child Labor Exploded in the Pandemic
If you read this newsletter closely or watched MR in full, you might have caught the NBC News report last week on child sanitation workers in a Nebraska meatpacking plant. But America's child labor problem is worse than you probably imagined, as this gut-wrenching must-read New York Times investigation proves beyond a doubt. Times reporters interviewed more than 100 migrant child workers in 20 states, as well as lawyers, social workers, educators and police, and found that while it may be illegal for children to work full-time in difficult, dangerous jobs, it happens all the time, right under the noses of the powers that be.
This shadow work force extends across industries in every state, flouting child labor laws that have been in place for nearly a century. Twelve-year-old roofers in Florida and Tennessee. Underage slaughterhouse workers in Delaware, Mississippi and North Carolina. Children sawing planks of wood on overnight shifts in South Dakota.
Largely from Central America, the children are driven by economic desperation that was worsened by the pandemic. This labor force has been slowly growing for almost a decade, but it has exploded since 2021, while the systems meant to protect children have broken down. ...
In town after town, children scrub dishes late at night. They run milking machines in Vermont and deliver meals in New York City. They harvest coffee and build lava rock walls around vacation homes in Hawaii. Girls as young as 13 wash hotel sheets in Virginia.
Small businesses as well as major corporations take advantage of child labor.
In Los Angeles, children stitch 'Made in America' tags into J. Crew shirts. They bake dinner rolls sold at Walmart and Target, process milk used in Ben & Jerry's ice cream and help debone chicken sold at Whole Foods. As recently as the fall, middle-schoolers made Fruit of the Loom socks in Alabama. In Michigan, children make auto parts used by Ford and General Motors.
Part of the problem, the Times says, is that the Department of Health and Human Services is rushing the process of placing migrant children with adult sponsors, which means shortcuts get taken with regard to vetting. When violations are reported, government agencies often don't do anything because, they say, they are too understaffed. One former caseworker says "she saw so many children put to work, and found law enforcement officials so unwilling to investigate these cases, that she largely stopped reporting them."
Many caseworkers interviewed estimated that two-thirds of unaccompanied migrant children in the U.S. end up working full-time. A lot of those kids end up in grueling, life-threatening jobs. Child workers "have had their legs torn off in factories and their spines shattered on construction sites," and dozens have been killed on the job in the past five years alone. Read the full story for yourself. It's an impeccable work of investigative reporting worthy of a Pulitzer Prize and the crimes it exposes it demand immediate government action.
MORE STORIES TO WATCH
2024 Watch: Time to Laugh About It All Again
Marianne Williamson Launches Another Presidential Campaign "Washington is filled with good political car mechanics, but the problem is that we are on the wrong road," the self-help author, who "never exceeded low single digits in polling" in the 2020 race, wrote on Facebook.
Ron DeSantis "Struggles to Make Small Talk or Appear Enthusiastic" The far-right Florida Gov. held a Republican meet-and-greet just down the road from Mar-a-Lago on Friday. The event, "a pointed move into Trump territory", featured a panel titled "Florida: Where Woke Goes to Die."
GOP Debate Pledge Puts Trump on the Spot Republican National Committee chair Ronna McDaniel said yesterday that presidential candidates who want to participate in the first primary debate will need to sign a pledge promising to support the eventual nominee, even if it is Meatball Ron.
Elon Musk Defends Proudly Racist Cartoonist
Scott Adams, the MAGA "Master Wizard" and creator of "Dilbert," a staple of the funny pages since the 1990s, blew up what was left of his career last week by posting a hateful rant to YouTube where he endorsed segregation and called Black Americans a "hate group." "The best advice I would give to white people is to get the hell away from Black people," Adams said, "because there is no fixing this." Newspapers across the country rushed to drop Adams' strip, prompting him to post another video over the weekend in which he complained he'd been taken out of context. Enter obnoxious billionaire Elon Musk, who rose to Adams' defense. "The media is racist," Musk wrote on his personal media platform, Twitter. "For a very long time, US media was racist against non-white people, now they're racist against whites & Asians." Oh for sure man. Pathetic!
QUICKEST QUICKIES
SOME NUMBER
14 million
That's how many Americans stand to lose Medicaid coverage over the next year as states begin checking recipients' eligibility following the expiration of a federal pandemic rule that prevented people from getting kicked out of the program.
ON THE SHOW TODAY
2/27: Sam is back! He and Emma speak with Naomi Oreskes, professor of the History of Science at Harvard University, author of The Big Myth: How American Business Taught Us to Loathe Government and Love the Free Market, co-authored with Erik Conway.
DON'T MISS MR CLIPS
Maybe MyPillow Guy should step in to mediate this dispute.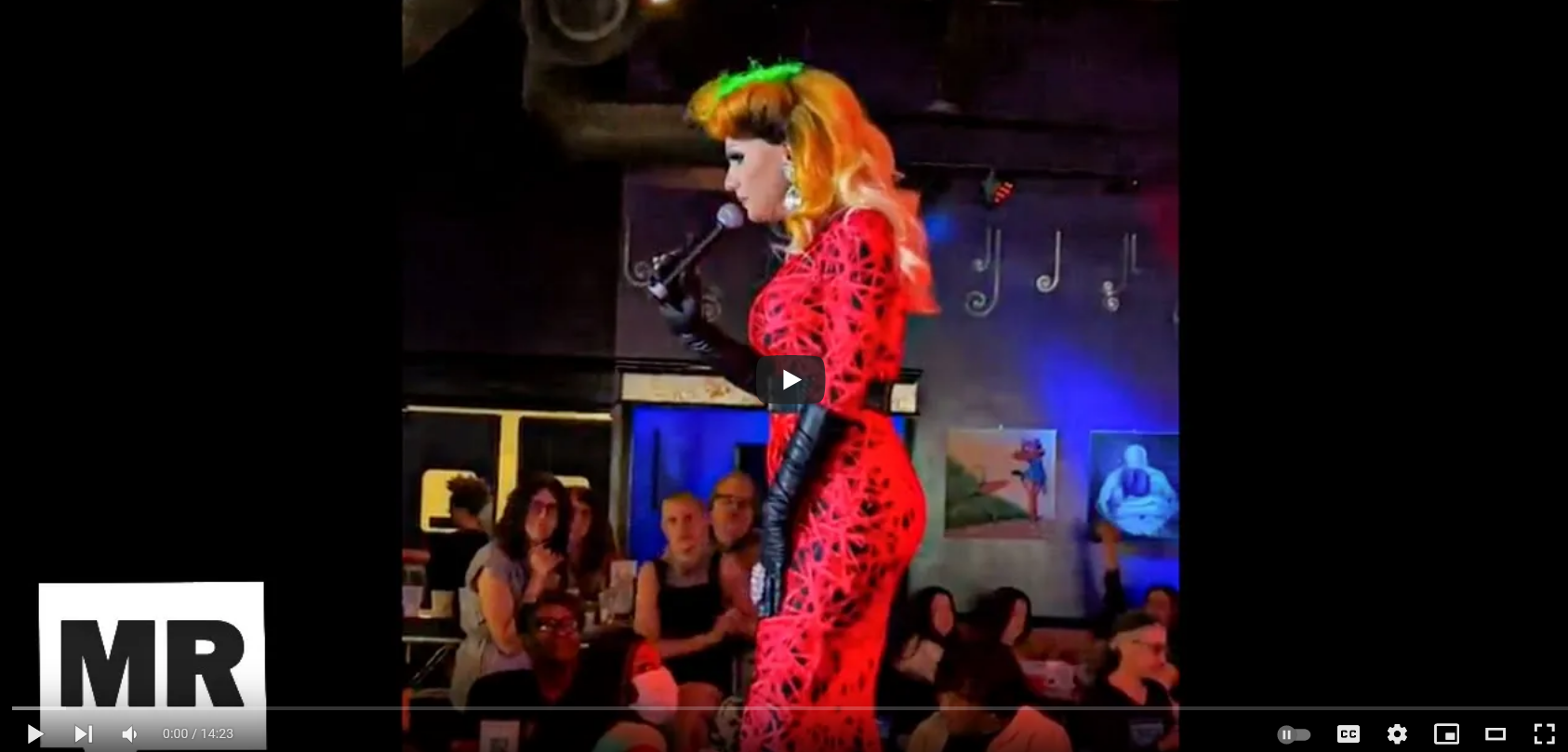 "The original Pride was a riot. ... We will fight for our liberation."
PARTING WORDS
"Getting rid of cots is not a housing plan."
-- New York Democratic state Rep. Linda Rosenthal, speaking to the New York Times about an "impossibly cruel" directive from the New York City Department of Youth and Community Development that bans homeless and runaway youth from sleeping at any of the city's five drop-in centers.
---
Quickie Discount Code Corner
Hey check it out! Stuff on sale!
IAC Laser Engraving: IAC Laser Engraving is a Leftist-owned Worker Collective started by long time listener, Ryan Lubin in September of 2021. Visit iaclasers.com to order your custom item today and  enter in Coupon Code: "MAJORITY10" at purchase to receive a 10% discount on their AMAZING products."
ExpressVPN: Secure your online data TODAY by visiting this link. That's https://www.expressvpn.com/majority and you can get an extra three months FREE.
Fast Growing Trees: Go to this link right now, and you'll get FIFTEEN PERCENT OFF your entire order.
Ritual: Get key nutrients without the B.S. Ritual is offering our listeners 10% off during your first three months. Visit here to start your Ritual today.
Aura: Protect yourself from America's fastest-growing crime. Try Aura for 14 days for free: https://aura.com/majority
ZBiotics: Go to https://thld.co/zbiotics_majority_0722  and get 15% off your first order of ZBiotics Pre-Alcohol Probiotic by using my code MAJORITY at checkout. ‌‌‌‌HoldOn Bags: HoldOn plant-based compostable kitchen/trash bags: Get 20% OFF with code MAJORITY at https://holdonbags.com/majority
StoryWorth: StoryWorth is an online service that helps every other figure in your life share stories through thought-provoking questions about their memories and personal thoughts. Get started right away with no shipping required by going to https://storyworth.com/majority you'll get $10 of your first purchase!
Henson Shaving: Go to https://hensonshaving.com/majority  and use code MAJORITY for a free 100-pack of blades!
Quip: If you go to this link RIGHT NOW, you'll get your first refill FREE.
Shopify: Go to this link here for a FREE fourteen-day trial and get full access to Shopify's entire suite of features.
LiquidIV: You can get 25% off when you go to liquidiv.com and use code MAJORITYREP at checkout.
Stamps.com: Start mailing and shipping with stamps.com, and keep more money in your pocket every day. Sign up with promo code MAJORITYREPORT for a special offer that includes a 4-week trial, plus free postage and a digital scale.
ZipRecruiter: Find the right employees for your workplace with ZipRecruiter. Try it FOR FREE at this exclusive web address.
Nutrafol: For FIFTEEN DOLLARS OFF go to https://nutrafol.com/men/ with promo code MAJORITY.
Outer: See the difference at go.liveouter.com/MAJORITY. Plus, for a limited time, get $300 off and FREE shipping.
Sunset Lake CBD: Visit sunsetlakecbd.com.
Grove: Go to this link here today to get a free gift set worth up to fifty dollars with your first order. Plus, shipping is fast and FREE.
Headspace: Try this link, with discount code MAJORITY and get one month FREE of their entire mindfulness library.
StartMail: Start securing your email privacy with StartMail. Sign up today and you'll get 50% off your first year! Go to this link here for our special promotion!.
CozyEarth: Go to this link here and enter the special promo code MAJORITY at checkout to SAVE thirty-five percent now.