This Week in Climate Hell: Heatwave Scorches U.S. - The Monday AM Quickie 7/17/23
What is it about being a moderator on discord that makes people authoritarians?   - Robert
---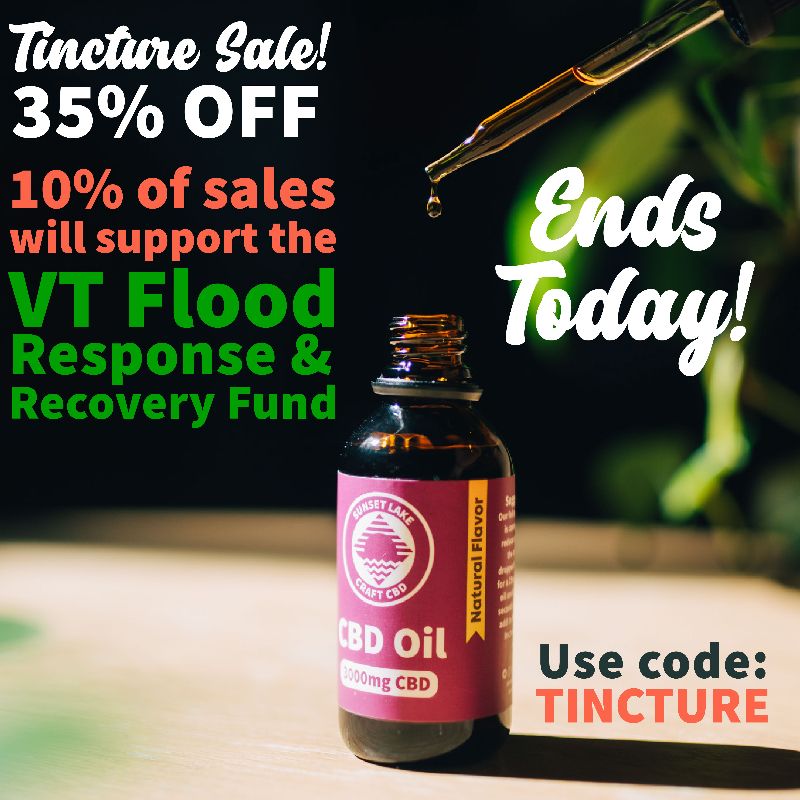 Sunset Lake CBD's summer tincture sale is back! Save 35% on their entire tincture lineupwith coupon code Tincture and keep a cool head during this hot weather. Act fast though—this deal ends today, July 17th!

Sunset Lake CBD is a majority-employee-owned farm that ships its handcrafted CBD products directly to your door. See their website for sale terms and conditions.
---
Subscribe to the AM Quickie's NEW paid newsletters here!
THE BIG NEWS
Heat Torments U.S. as GOP Aims to Gut Climate Funding
It's going to be disgustingly hot this week in much of the country, particularly in the South and West. Heat indexes will be above 100 degrees every day of the week for cities like Houston, Las Vegas, and New Orleans, according to the Washington Post. More than two thirds of the population will experience heat levels warranting caution, extreme caution, or that are dangerous to human health.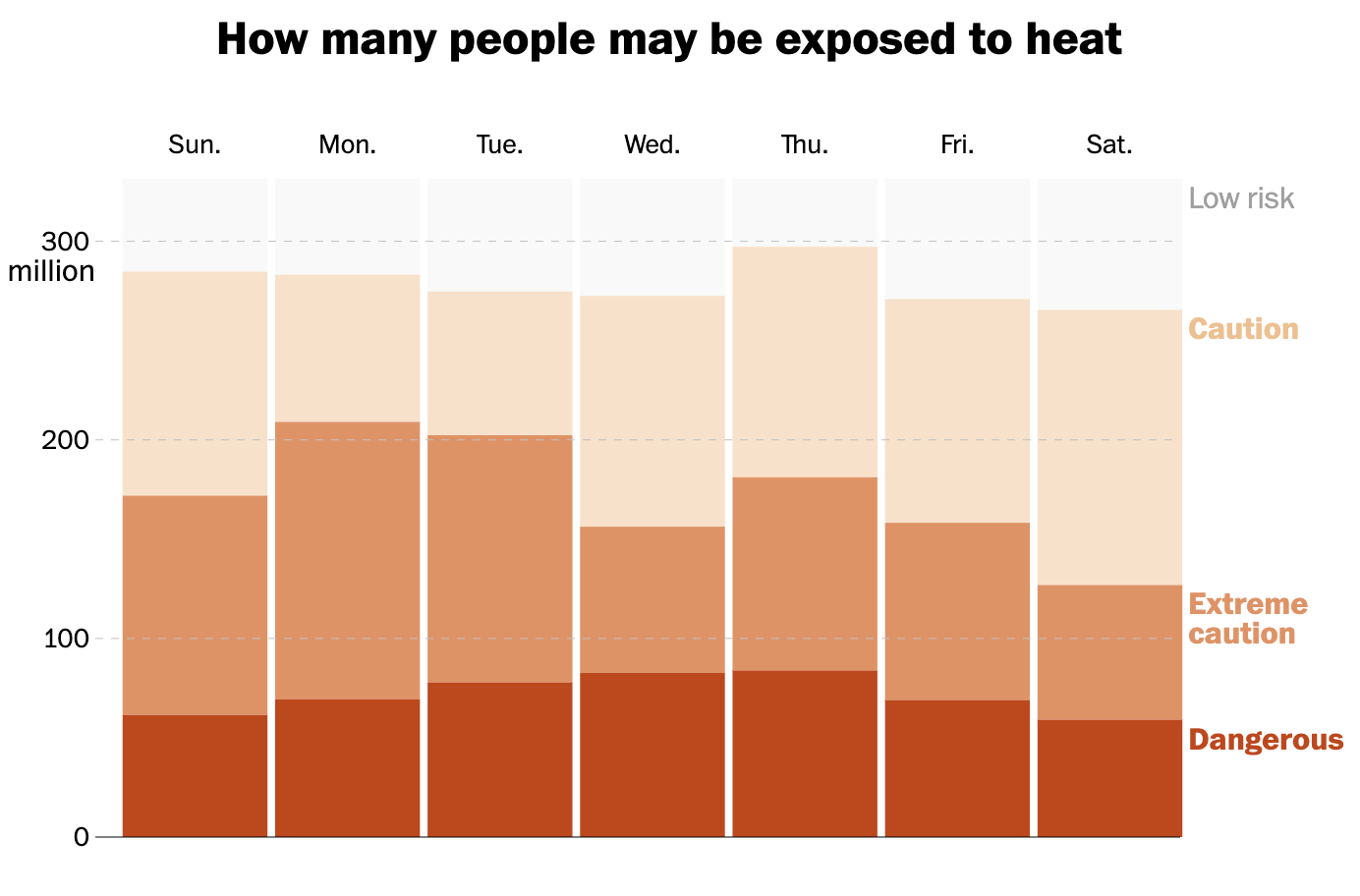 ER doctors in Phoenix, Arizona told NBC that the heat is bringing patients to hospitals with severe sunburns, organ failure or have fallen into comas -- some patients have temperatures as high as 109 degrees:
What makes the intense heat so deadly is that a patient often has disruptions to the cooling mechanisms of the body— such as the brain's hypothalamus, which regulates temperature — that prevent a person from sweating to cool off.
"You're kind of cooking from the inside, unfortunately," [Dr. Aneesh Narang, an emergency medicine physician at Banner-University Medical Center in Phoenix] said.
Extreme heat kills more Americans per year than any other weather phenomenon, according to the Post. Look out for heat watches for your area issued by the Weather Service at weather.gov, where you can also find safety advice.
Extreme heatwaves are set to become longer and more common as global temperatures rise. This reality hasn't stopped Republicans from attempting to strip President Biden's budget proposal of climate-related funding for National Oceanic and Atmospheric Administration (NOAA), National Aeronautics and Space Administration (NASA), National Institute of Standards and Technology (NIST), and National Science Foundation (NSF).
Ted Cruz, along with fellow Republican members of the Commerce Committee, wrote that federal efforts to combat climate change and pursue goals of environmental justice were "zealous effort[s] to micromanage global temperatures," per Fox News. Their preferred method of governance is to let climate change rip and leave much of the planet unihabitable. Deranged doesn't even begin to describe that way of thinking.
It's not just the heat that's been extreme. NBC reports that over 1,300 flights were canceled over the weekend in the Northeast as Vermont and other states recover from flooding and severe storms. And who can forget the noxious wildfire smoke?
MORE STORIES TO WATCH
DeSantis Lays Off Staff as Campaign Languishes
Now for a little bit of good news. Presidential hopeful Ron DeSantis has laid off about a dozen staffers, according to NBC News, as his campaign appears strapped for cash. The DeSantis campaign burned through $7.9 million in his first six weeks alone, and now has $12.2 million in his war chest compared to Trump's $22.5 million. Many of Ron's major donors have already hit the legal maximum for campaign donations, and others have ditched him. His super PAC still has $130 million though, so our meatball-ish friend isn't going anywhere anytime soon, despite his already double-digit unfavorability and trailing Trump by almost 30 points.
Abortion Bans Weaponized by Domestic Abusers
Calls to the National Domestic Violence Hotline about "reproductive coercion," the practice of being denied an abortion or being forced to get one, nearly doubled in the year after the Supreme Court struck down Roe vs. Wade, reaching almost 2,500 calls, according to Vice. Advocates warned that this would happen should the right to an abortion be overturned at the federal level, and they were correct, per Vice:
"When you have laws that come along that are now stripping survivors of their bodily autonomy and right to control their own lives and health—which is exactly what abusive partners are trying to do—it is taking the harm even further," said Crystal Justice, chief external affairs officer for the National Domestic Violence Hotline. Abusive partners, Justice said, now feel "emboldened and justified in their use of reproductive coercion to control the survivor, which in many cases includes survivors being forced to become pregnant."
The National Domestic Violence Hotline takes calls 24/7 at 1-800-799-SAFE (7233), or 1-800-799-7233 for TTY. If you cannot speak safely, you can log onto thehotline.org or text LOVEIS to 22522.
QUICKEST QUICKIES
SOME NUMBER
$300 million
That's the value of a Walmart heiress's "superyacht" defaced by climate activists. via the Daily Beast.
ON THE SHOW TODAY
7/17: Happy Monday! Sam and Emma host Daniel Bessner & Derek Davison, co-hosts of the American Prestige podcast, to discuss last week's NATO summit in Lithuania.
DON'T MISS MR CLIPS‌
"We can't keep rearranging the furniture on the Titanic."
How do we know that Jimmy's show isn't a Psyop?
PARTING WORDS
"Covid-19. There is an argument that it is ethnically targeted. Covid-19 attacks certain races disproportionately. Covid-19 is targeted to attack Caucasians and Black people. The people who are most immune are Ashkenazi Jews and Chinese."
-- Robert F. Kennedy Jr., crank presidential candidate, revealing at a press dinner that he's not immune to antisemitic and racist conspiracy theories, and perfectly happy to spread them. via the New York Times.
---
Quickie Discount Code Corner
Hey check it out! Stuff on sale!
IAC Laser Engraving: IAC Laser Engraving is a Leftist-owned Worker Collective started by long time listener, Ryan Lubin in September of 2021. Visit iaclasers.com to order your custom item today and  enter in Coupon Code: "MAJORITY10" at purchase to receive a 10% discount on their AMAZING products."
ExpressVPN: Secure your online data TODAY by visiting this link. That's https://www.expressvpn.com/majority and you can get an extra three months FREE.
Fast Growing Trees: Go to this link right now, and you'll get FIFTEEN PERCENT OFF your entire order.
Ritual: Get key nutrients without the B.S. Ritual is offering our listeners 10% off during your first three months. Visit here to start your Ritual today.
Aura: Protect yourself from America's fastest-growing crime. Try Aura for 14 days for free: https://aura.com/majority
ZBiotics: Go to https://thld.co/zbiotics_majority_0722  and get 15% off your first order of ZBiotics Pre-Alcohol Probiotic by using my code MAJORITY at checkout. ‌‌‌‌HoldOn Bags: HoldOn plant-based compostable kitchen/trash bags: Get 20% OFF with code MAJORITY at https://holdonbags.com/majority
StoryWorth: StoryWorth is an online service that helps every other figure in your life share stories through thought-provoking questions about their memories and personal thoughts. Get started right away with no shipping required by going to https://storyworth.com/majority you'll get $10 of your first purchase!
Henson Shaving: Go to https://hensonshaving.com/majority  and use code MAJORITY for a free 100-pack of blades!
Quip: If you go to this link RIGHT NOW, you'll get your first refill FREE.
Shopify: Go to this link here for a FREE fourteen-day trial and get full access to Shopify's entire suite of features.
LiquidIV: You can get 25% off when you go to liquidiv.com and use code MAJORITYREP at checkout.
Stamps.com: Start mailing and shipping with stamps.com, and keep more money in your pocket every day. Sign up with promo code MAJORITYREPORT for a special offer that includes a 4-week trial, plus free postage and a digital scale.
ZipRecruiter: Find the right employees for your workplace with ZipRecruiter. Try it FOR FREE at this exclusive web address.
Nutrafol: For FIFTEEN DOLLARS OFF go to https://nutrafol.com/men/ with promo code MAJORITY.
Outer: See the difference at go.liveouter.com/MAJORITY. Plus, for a limited time, get $300 off and FREE shipping.
Sunset Lake CBD: Visit sunsetlakecbd.com.
Grove: Go to this link here today to get a free gift set worth up to fifty dollars with your first order. Plus, shipping is fast and FREE.
Headspace: Try this link, with discount code MAJORITY and get one month FREE of their entire mindfulness library.
StartMail: Start securing your email privacy with StartMail. Sign up today and you'll get 50% off your first year! Go to this link here for our special promotion!.
CozyEarth: Go to this link here and enter the special promo code MAJORITY at checkout to SAVE thirty-five percent now