Pentagon Prepares to Evacuate U.S. Embassy in Sudan - The Friday AM Quickie 4/21/23
I never had a blue check on Twitter, and now I certainly never will: most journalists, celebrities, and public figures lost verification on the platform yesterday, and it's now a disaster capitalist free-for-all full of scammers and chaos agents impersonating government agencies. Anyway, I'll be covering for Robert all next week, so it's back into the isolation chamber for me. Have a nice weekend, folks! - Corey
---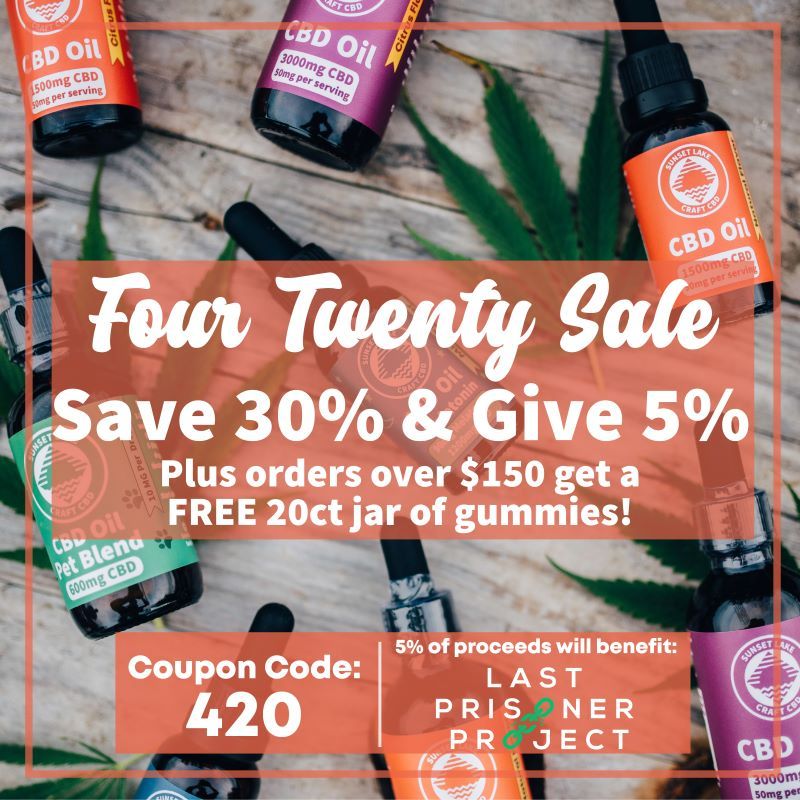 Sunset Lake Say Bay Days' biggest sale of the year is finally here! Head to www.sunsetlakecbd.com and use coupon code "420" for 30% off everything. Orders over $150 will be able to add a 20-count of gummies to their order for FREE!
That's not all— Sunset Lake will donate 5% of sale proceeds to the Last Prisoner Project, an organization redressing the past and continuing harms of cannabis prohibition laws and policies. The Majority Report will match the donation!
Sale ends April 23rd. Additional restrictions apply.
---
Subscribe to the AM Quickie's NEW paid newsletters here!
THE BIG NEWS
No One Sounds Optimistic About the Situation in Sudan
There's not a lot of independent on-the-ground reporting from Sudan in the best of times, but now, with the capital Khartoum and parts of the countryside descending into violence, the world is relying on delayed descriptions of the chaos from people who've managed to escape it. Per the New York Times, it's unclear "who, if anyone" is in control of Africa's third-largest country. Here's how the Washington Post, reporting from Nairobi, summarizes the dilemma people are facing:
Across Sudan, desperate families are weighing their chances of survival: Stay in homes with dwindling food and water as mortars and artillery shells rain down, or grab your loved ones and head into streets crackling with gunfire, dodging checkpoints, tanks and battling soldiers? ...
The major hospitals in Khartoum have mostly shut, either hit by heavy weapons or out of power, water or vital supplies. Doctors have been killed, children have bled to death trying to reach help, and armed men are invading private homes to rob, rape and kill. Some have evicted residents, taken their supplies and set up military positions on the roof.
"Khartoum is a ghost town. Not one living being," one resident wrote after fleeing the city. "The shooting didn't stop throughout the day... [O]ur family who picked us up said bodies were strewn on the roads. Can't believe we've come to this."
The shooting seems likely to continue through the Eid holiday, which begins this weekend. The Associated Press reports that Sudan's military has ruled out negotiations with the paramilitary group it began trading fire with last Saturday, the Rapid Support Forces. RSF leader Gen. Mohamed Hamdan "Hemedti" Dagalo claims he has called for a "humanitarian truce"; military leader Gen. Abdel Fattah al-Burhan says he will accept no resolution short of the RSF's defeat or surrender.
Meanwhile, Politico reports that the Pentagon is moving U.S. forces to Djibouti "in anticipation of a potential mission to evacuate U.S Embassy personnel in Khartoum." Deputy Secretary of State Wendy Sherman privately told lawmakers this week that the plans for the mission won't include a "military-led general evacuation of American citizens."
At last report, the World Health Organization says more than 330 people have been killed, and ten times that number wounded -- but those numbers are likely undercounts, as it's still too dangerous to collect bodies from the streets. Some 20,000 Sudanese have already fled to Chad and aid groups are calling on all neighboring countries to keep their borders open to refugees. Sudan's cities were largely spared during the Darfur war. Not now.
MORE STORIES TO WATCH
Senate Judiciary Advances 7 Nominees without Feinstein
Senate Judiciary Committee Chair Dick Durbin took a new approach to the backlog of judicial nominees yesterday, advancing seven nominees with bipartisan support and without the crucial tie-breaking vote of ailing and absent California Democratic Sen. Dianne Feinstein. But five more of President Joe Biden's nominees who lacked any Republican support have been "shelved" indefinitely, as NBC News reports. Meanwhile, NBC reports, Biden's Labor Secretary nominee Julie Su "appears to be in jeopardy" as conservative Democratic Sens. Joe Manchin of West Virginia, Jon Tester of Montana, and Mark Kelly of Arizona -- in addition to "independent" Arizona Sen. Kyrsten Sinema -- have "expressed skepticism" about Su's nomination. Su appeared before the Senate Health Education Labor and Pensions Committee yesterday, and endured idiotic questioning from Republicans.
Autopsy Shows Georgia Cops Shot Protester Shot 57 Times
Georgia State Sen. Nabilah Islam yesterday responded to the release of the DeKalb County Medical Examiner's autopsy report on "Cop City" protester Manuel Terán, better known as Tortuguita, by calling for legislative hearings and an independent investigation. The autopsy report showed that law enforcement left Tortuguita with at least 57 gunshot wounds. Police had claimed the protester fired on them first, but the medical examiner found no gunpowder residue on their hands. "We must hold those who shot and killed Tortuguita accountable," Sen. Islam wrote. There is no police footage of the killing, which was ruled a homicide by the medical examiner, and Islam also plans to introduce a bill to require the Georgia State Patrol to wear body cameras.
QUICKEST QUICKIES
SOME NUMBER
$5 million
That's how much a private arbitration panel ruled that "MyPillow Guy" Mike Lindell must pay to Robert Zeidman, a computer forensics expert who responded to Lindell's "Prove Mike Wrong" challenge, which offered that sum to anyone who could disprove his fantastical claims about Chinese interference in the 2020 U.S. elections. Zeidman, a Trump voter, submitted a 15-page technical report debunking Lindell's theories, but he refused to honor the deal; per the Washington Post, the arbitrators have given Lindell 30 days to pay up.
ON THE SHOW TODAY
4/21: It's Casual Friday! Sam and Emma host Heather Digby Parton, contributing writer at Salon.com and proprietor of the blog Hullabaloo, to round up the week in news.
DON'T MISS MR CLIPS
Also, the Times takes a look at the First Amendment implications.
Dude really needs a new hobby.
PARTING WORDS
"I believe he holds racist tendencies and beliefs. ... He was fully into [racist conspiracy theories], he would sit and watch Fox News all day every day, blaring in his living room."
-- Klint Ludwig speaking to CNN about his grandfather, Andrew Lester, who shot 16-year-old Ralph Yarl when he rang the doorbell of Lester's Kansas City home by mistake.
---
Quickie Discount Code Corner
Hey check it out! Stuff on sale!
IAC Laser Engraving: IAC Laser Engraving is a Leftist-owned Worker Collective started by long time listener, Ryan Lubin in September of 2021. Visit iaclasers.com to order your custom item today and  enter in Coupon Code: "MAJORITY10" at purchase to receive a 10% discount on their AMAZING products."
ExpressVPN: Secure your online data TODAY by visiting this link. That's https://www.expressvpn.com/majority and you can get an extra three months FREE.
Fast Growing Trees: Go to this link right now, and you'll get FIFTEEN PERCENT OFF your entire order.
Ritual: Get key nutrients without the B.S. Ritual is offering our listeners 10% off during your first three months. Visit here to start your Ritual today.
Aura: Protect yourself from America's fastest-growing crime. Try Aura for 14 days for free: https://aura.com/majority
ZBiotics: Go to https://thld.co/zbiotics_majority_0722  and get 15% off your first order of ZBiotics Pre-Alcohol Probiotic by using my code MAJORITY at checkout. ‌‌‌‌HoldOn Bags: HoldOn plant-based compostable kitchen/trash bags: Get 20% OFF with code MAJORITY at https://holdonbags.com/majority
StoryWorth: StoryWorth is an online service that helps every other figure in your life share stories through thought-provoking questions about their memories and personal thoughts. Get started right away with no shipping required by going to https://storyworth.com/majority you'll get $10 of your first purchase!
Henson Shaving: Go to https://hensonshaving.com/majority  and use code MAJORITY for a free 100-pack of blades!
Quip: If you go to this link RIGHT NOW, you'll get your first refill FREE.
Shopify: Go to this link here for a FREE fourteen-day trial and get full access to Shopify's entire suite of features.
LiquidIV: You can get 25% off when you go to liquidiv.com and use code MAJORITYREP at checkout.
Stamps.com: Start mailing and shipping with stamps.com, and keep more money in your pocket every day. Sign up with promo code MAJORITYREPORT for a special offer that includes a 4-week trial, plus free postage and a digital scale.
ZipRecruiter: Find the right employees for your workplace with ZipRecruiter. Try it FOR FREE at this exclusive web address.
Nutrafol: For FIFTEEN DOLLARS OFF go to https://nutrafol.com/men/ with promo code MAJORITY.
Outer: See the difference at go.liveouter.com/MAJORITY. Plus, for a limited time, get $300 off and FREE shipping.
Sunset Lake CBD: Visit sunsetlakecbd.com.
Grove: Go to this link here today to get a free gift set worth up to fifty dollars with your first order. Plus, shipping is fast and FREE.
Headspace: Try this link, with discount code MAJORITY and get one month FREE of their entire mindfulness library.
StartMail: Start securing your email privacy with StartMail. Sign up today and you'll get 50% off your first year! Go to this link here for our special promotion!.
CozyEarth: Go to this link here and enter the special promo code MAJORITY at checkout to SAVE thirty-five percent now.