Fox Settles Dominion Defamation Lawsuit for $788 million - The Wednesday AM Quickie 4/19/23
Matt Walsh's Twitter was hacked yesterday, or so we think. Maybe he really meant to tweet "I Ain't A Gangsta, I'm a Sassy Shoota" and far more scandalous things (shout out to Matt Binder for saving the screenshots).- Robert
---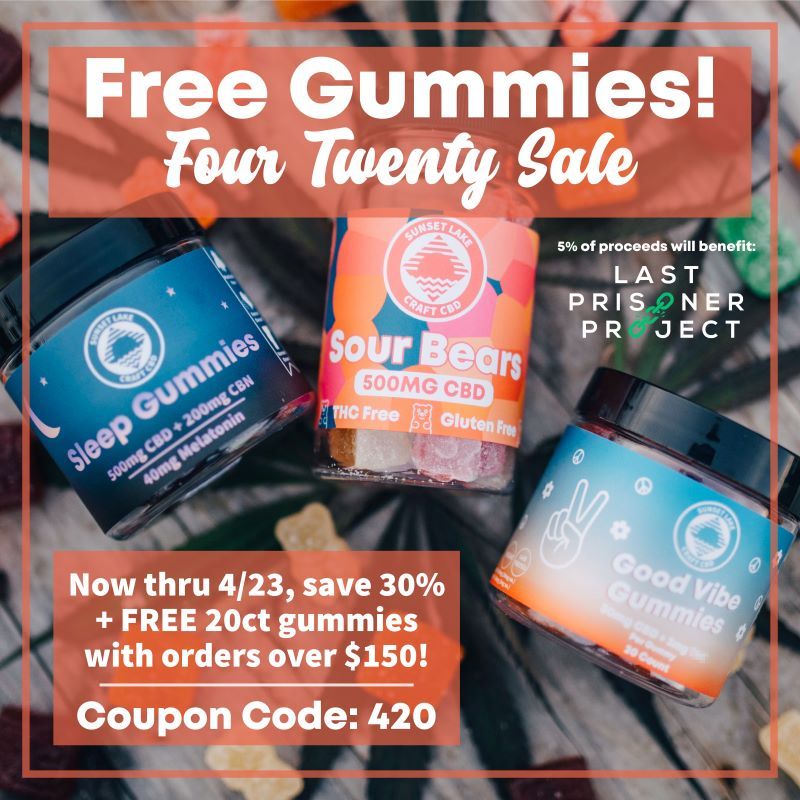 Sunset Lake Say Bay Days' biggest sale of the year is finally here! Head to
www.sunsetlakecbd.com and use coupon code "420" for 30% off everything. Orders over $150 will be able to add a 20-count of gummies to their order for FREE!
That's not all— Sunset Lake will donate 5% of sale proceeds to the Last Prisoner Project , an organization redressing the past and continuing harms of cannabis prohibition laws and policies. The Majority Report will match the donation!
Sale ends April 23rd. Additional restrictions apply.
---
Subscribe to the AM Quickie's NEW paid newsletters here!
THE BIG NEWS
Fox Pays Dominion $787.5 Million to Settle Defamation Suit
Shucks. The much anticipated six-week trial laying out Fox's many lies about the 2020 presidential election came to an abrupt end yesterday before it even really began. Dominion Voting Systems, the party that brought the defamation suit, settled with Fox for $787.5 million, a little less than half of the $1.6 billion Dominion had initially demanded, but still nearly 20 percent of Fox's cash-on-hand.
The trial would have put propagandists like Sean Hannity and Tucker Carlson, as well as Fox chairman Rupert Murdoch and his son, on the stand. It would have been nice to watch them sweat.

The lawsuit did shed light on Fox personalities' comfort with confidently saying things they didn't believe to rile up their viewers. The case unearthed a text exchange between Carlson and Ingram that will live on in infamy. Per the New York Times:
"Sidney Powell is lying by the way. I caught her. It's insane," Mr. Carlson wrote to Ms. Ingraham on Nov. 18, 2020.
Ms. Ingraham responded: "Sidney is a complete nut. No one will work with her. Ditto with Rudy."
Mr. Carlson continued, "Our viewers are good people and they believe it," he added, making clear that he did not.
Dominion got some of the cash it wanted, Fox got spared an embarrassing trial, but the public, especially the Fox viewing public, were robbed of a chance to see Fox's lies laid bare. And if they tuned into Fox yesterday evening, they probably still wouldn't know about it.
According to the Times, Fox faces more lawsuits about its election lies, including a $2.7 billion lawsuit from another election technology company Smartmatic. And other Dominion defamation cases may still go to trial against OAN, NewsMax, MyPillow CEO/conspiracy theorist Mike Lindell, CEO of Overstock.com Patrick Byrne, and the dynamic duo, Sid and Rudy.
MORE STORIES TO WATCH
Feinstein's Judiciary Replacement Blocked by Republicans
Senate Republicans blocked Chuck Schumer's attempt to temporarily remove the ailing, 89-year-old Senator Dianne Feinstein from the Senate Judiciary Committee. Her nearly two-months-long absence has held up confirming judicial nominees. The only solution remaining is the most obvious one – she should just resign already. David Dayen at the American Prospect explains that Republicans would be less likely to block a replacement appointment in this scenario because they wouldn't want their own incoming senators denied committee slots.
We'll see what happens, but it's a real failure that people around her didn't intervene earlier. Feinstein's cognitive decline is an open secret, yet influential Dems like Nancy Pelosi continue to throw flak at anyone who places the public over shallow displays of personal loyalty that are frankly harmful to Feinstein's person and legacy.
Iowa Senate Repeals Child Labor Protections; Texas House Limits Labor Protections in Blue Cities
State-level Republicans are busy dismantling as many labor protections they can get their hands on, particularly for kids recently. According to More Perfect Union, the law would allow children as young as 14 olds to work in notoriously unsafe meatpacking plants, soda bottling assembly lines, and fast-food kitchens.
Another bill in Texas targeting Democratic cities, would, among other things, prevent local governments from implementing ordinances such as mandatory paid sick leave or required water breaks. But the bill is so broad, its full extent in dismantling labor rights is fully not understood, according to the Texas Tribune. Sounds bad!
QUICKEST QUICKIES
SOME NUMBER
29%
That is the percentage of hospitals that use Epic systems electronic medical record software. According to ArsTechnica, Epic will use GPT-4 to analyze medical records to "help" health care workers draft messages to patients. My money's on this making Epic even more annoying to use.
ON THE SHOW TODAY
4/19 It's Hump Day! Sam hosts Patrick Rucker, finance reporter for The Capitol Forum and contributor at ProPublica, to discuss his recent piece entitled "How Cigna Saves Millions by Having Its Doctors Reject Claims Without Reading Them". Then, he's joined by percussionist Andy Blanco with the Musician's Union Local 802, to discuss their recent organizing efforts against Distinguished Concerts International New York (DCINY).
DON'T MISS MR CLIPS
Trump baiting DeSantis into "defending" Social Security is *chef's kiss*.
As bad as you think that title sounds, it's worse.
PARTING WORDS
"[The application of the law] is creating this narrative that if you're ever in trouble, you can't stop and ask a homeowner for assistance in case you're shot."
-- Law professor S. David Mitchell discussing the castle doctrine in the New York Times. The doctrine could be used to defend Andrew D. Lester, the man who shot Ralph Yarl, a Black teenager who came to his door by mistake looking for his siblings.
---
Quickie Discount Code Corner
Hey check it out! Stuff on sale!
IAC Laser Engraving: IAC Laser Engraving is a Leftist-owned Worker Collective started by long time listener, Ryan Lubin in September of 2021. Visit iaclasers.com to order your custom item today and  enter in Coupon Code: "MAJORITY10" at purchase to receive a 10% discount on their AMAZING products."
ExpressVPN: Secure your online data TODAY by visiting this link. That's https://www.expressvpn.com/majority and you can get an extra three months FREE.
Fast Growing Trees: Go to this link right now, and you'll get FIFTEEN PERCENT OFF your entire order.
Ritual: Get key nutrients without the B.S. Ritual is offering our listeners 10% off during your first three months. Visit here to start your Ritual today.
Aura: Protect yourself from America's fastest-growing crime. Try Aura for 14 days for free: https://aura.com/majority
ZBiotics: Go to https://thld.co/zbiotics_majority_0722  and get 15% off your first order of ZBiotics Pre-Alcohol Probiotic by using my code MAJORITY at checkout. ‌‌‌‌HoldOn Bags: HoldOn plant-based compostable kitchen/trash bags: Get 20% OFF with code MAJORITY at https://holdonbags.com/majority
StoryWorth: StoryWorth is an online service that helps every other figure in your life share stories through thought-provoking questions about their memories and personal thoughts. Get started right away with no shipping required by going to https://storyworth.com/majority you'll get $10 of your first purchase!
Henson Shaving: Go to https://hensonshaving.com/majority  and use code MAJORITY for a free 100-pack of blades!
Quip: If you go to this link RIGHT NOW, you'll get your first refill FREE.
Shopify: Go to this link here for a FREE fourteen-day trial and get full access to Shopify's entire suite of features.
LiquidIV: You can get 25% off when you go to liquidiv.com and use code MAJORITYREP at checkout.
Stamps.com: Start mailing and shipping with stamps.com, and keep more money in your pocket every day. Sign up with promo code MAJORITYREPORT for a special offer that includes a 4-week trial, plus free postage and a digital scale.
ZipRecruiter: Find the right employees for your workplace with ZipRecruiter. Try it FOR FREE at this exclusive web address.
Nutrafol: For FIFTEEN DOLLARS OFF go to https://nutrafol.com/men/ with promo code MAJORITY.
Outer: See the difference at go.liveouter.com/MAJORITY. Plus, for a limited time, get $300 off and FREE shipping.
Sunset Lake CBD: Visit sunsetlakecbd.com.
Grove: Go to this link here today to get a free gift set worth up to fifty dollars with your first order. Plus, shipping is fast and FREE.
Headspace: Try this link, with discount code MAJORITY and get one month FREE of their entire mindfulness library.
StartMail: Start securing your email privacy with StartMail. Sign up today and you'll get 50% off your first year! Go to this link here for our special promotion!.
CozyEarth: Go to this link here and enter the special promo code MAJORITY at checkout to SAVE thirty-five percent now.

"It's created this narrative that if you're ever in trouble, you can't stop and ask a homeowner for assistance in case you're shot.